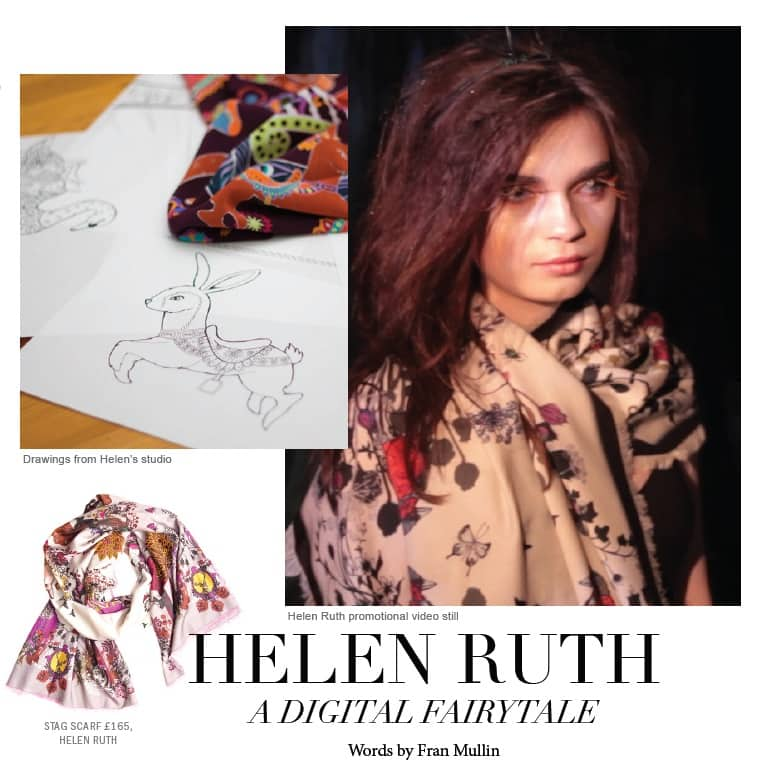 30 miles east of Aberdeen, on the boarder of civilisation and wilderness, lurks poetic print designer, Helen Ruth. Strolling through the hinterland, Helen draws inspiration from the feral landscape to concoct the prints that make up her visual anthology. Set in unreal worlds, she invents stories without definite time or locality, pulled together to form the basis of her collections. After winning a print studio placement in Lake Como, Italy, Helen was spurred on to create further designs of her own and produced a small collection for an exhibition in Scotland. It was at this point a friend pointed her in the direction of Wolf & Badger.
Last year Helen took a break from stocking with us while she developed her brand which is now producing menswear accessories. 'There was a kind of customer, especially in the Notting Hill store, that liked the quirkiness of having a formal mens accessory but with a slightly unexpected element', states Helen. A keen observation and assertion on our Notting Hill customer base who are known to flirt with the bolder, more attention-grabbing garments.
Taking inspiration from sinister fairytales, Helen cites feminist novelist, Angela Carter, and author/poet, Hans Christian Andersen, as influencers in creating her 'own kind of fairy story'.  Of these, one particular reference shines through, that of Hans Christian Andersen's 'The Nightingale'. A tale of the Emperor of China and the song of this special bird - said to be one of the most beautiful things in his empire. The Emperor orders a nightingale be brought to him. Later he is gifted a bejeweled mechanical version which pleases him so much so that he forgets about the original bird. The false-nightingale eventually breaks, and the real bird, hearing of the Emperor's now ill health, returns to him resulting in his miraculous recovery. No amount of over-compensation and unnecessary frills can make up for the quality of the genuine artifact, in fiction or reality. The journey from conception to sale for Helen's pieces is so short, the narrative is still very much embedded in each piece.
Just as the nightingale returned to the Emperor, Helen Ruth has returned to us at Wolf & Badger. Helen's work not only stands as a thing of beauty in its own right, but is a statement on the progression of story telling. Traditionally passed by word of mouth, moving on to literary forms, only the physical versions survive, unchanged, through time. Helen's prints represent a move towards visual methods of story recording as a response to evolving visual culture. Traditional fairytales were believed to be grounded in historical truth. Helen's concoctions represent a lessening naivety and willingness to believe without question, instead acting as a platform for self discovery and imagination.
With a small team of fellow Scottish creatives, Helen has produced a promotional video. The story depicts a woman leading a man through the woods to a banquet scene. Throughout the film the man morphs ever more wolf-like, resulting in a wild animal encased in a tuxedo. Rather than going for a typically folkloric character, Helen's story draws parallels with 'Little Red Riding Hood', the Perrault version. 'Who does not know that these gentle wolves are of all such creatures the most dangerous!'* Intricate and relevant, one could get entangled in the many layers of fantastical plot lines embedded in a Helen Ruth piece, pretty stimulating for an accessory and rather perfect for Wolf & Badger.
*please note – our wolves are more 'pedigree pooch' than 'predator'.