We spoke to Ronald Abdala, the designer behind the brand House Of Ronald. After studying at internationally renowned colleges such as Fashion Institute of Design and Marketing in Los Angeles and Central Saint Martin's, he launched his own brand in 2007.
You were born in London, studied in LA, Lebanon and London, and have lived your life in countries including Paris, Lagos, Beirut and the US. How is your work influenced by your travels?
I consider myself fortunate to have had the chance to live and visit all these places. Obviously, in one way or another, they have all impacted both, the way I view fashion, and the manner in which I approach design. I am influenced in terms of how much I absorb the imagery, information, music and landscapes in my surroundings. I keep a mental note of these forms of inspiration or I sketch the objects of interest in my sketchbook so as to recall the details, possible colour combinations, and shapes... Whenever I visit a new city, I like to live it as authentically as possible as opposed to simply being a tourist passing through. I like to delve into the new and varied cultures I encounter, wherever I may be. I find more inspiration in the streets than I do in museums, for instance.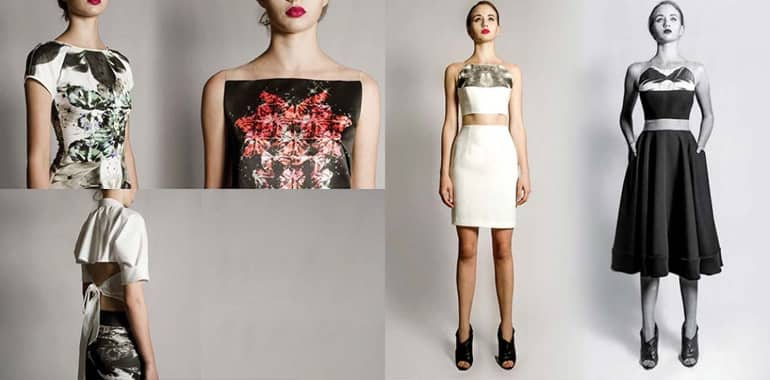 Your designs are a real partnership of East meets West. Why is it important to you to merge the two? Are there elements you particularly favour from each?
I tend to try to work on balance. It's something that has always been a focal point throughout my collections. My occidental upbringing, combined with my oriental heritage often comes into play while I am designing. That is not to say that it is the typical embroidered silhouettes, generally associated with Middle Eastern designers that you will find in my collections. The balance usually comes in the detailing, the fabrics chosen, the look, body conscious cuts, combined with modern contemporary elegant clothing. Lately the focus has been more about "cool" clothes with edgy details, with an emphasis on all-over print.
In the past you have been compared to Jean-Paul Gaultier and Alexander McQueen. How do you feel about such comparisons?
I should be so lucky, and I am extremely humbled by the comparison to either or. Both Gaultier and McQueen have been a major source of inspiration for me throughout my life as a designer. Their work, in my opinion, is unrivalled. I would only hope to ever be regarded as talented as either.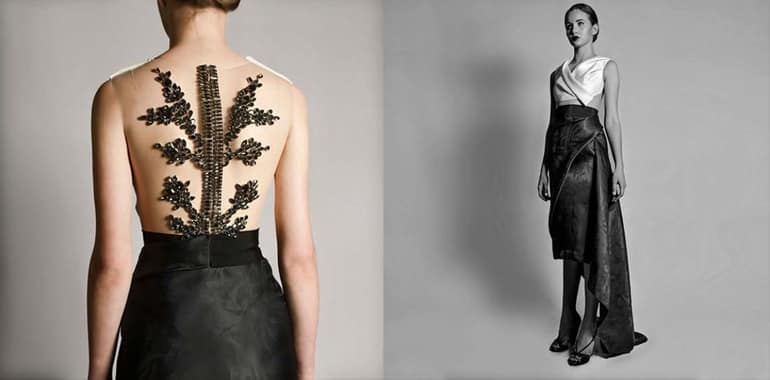 The SS14 collection features strong shapes, peplums and signature prints, alongside more simple, masculine pieces. What were your inspirations for the collection?
The collection is entitled "ILLUSIONS", and is focused around the trompe l'œileffect. "Is it there? Is it not there?" were questions I wanted people to ask themselves while glancing at the garments. I much prefer structured pieces to dreamy ones. I'm not a floral designer, and would rather incite curiosity and controversy over pretty and pink. The print I chose for the collection was inspired by the Rorschach print, inviting the eye to interpret different shapes through the illusion of colour. The netting on the shoulders made the dresses appear to be hanging as if from the skin, and embroideries seemingly sewn to the skin.
How would you describe your customer base?
Youthful, powerful, successful, feminine, edgy, classy, and sophisticated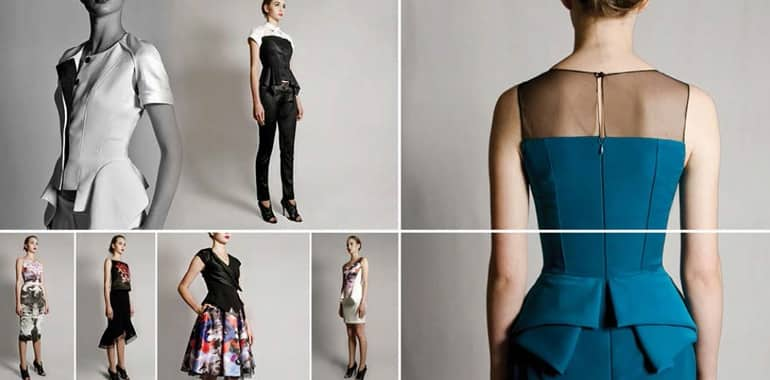 Who would be the dream haute couture client for you as a designer?
Anyone willing to think beyond the box, and that does not want just another chiffon embroidered dress, would be my dream clientele!
Where do you see House of Ronald in five years? What are your aspirations for the label?
Global, with a men's line in the works! I would like House Of Ronald to be recognized and considered as a major competing brand.
House of Ronald is available online and in our Mayfair store.