Maria Lamanna Handbags is the eponymous label from accessories designer Maria Lamanna. Using clean lines and modern shapes Maria Lamanna bags have a distinctly contemporary feel. Maria designs for a woman with an independent spirit who follows her instincts. The bags are made from the highest quality leather and produced by skilled Italian artisans.
-Can you give us a bit of background on your brand, when you started it and why?
It all begins in 2009 in the fertile land of South Africa, where Maria Lamanna gains experience growing her own know-how on materials, leather first of all, and its manufacturing. An inborn creative spirit gives life to the first Maria Lamanna's handbags. From the very beginning her creations are oriented towards a style with an unique and assertive personality. The lines are born from the inspired imagination of the designer, following her rock soul, nerve centre of the brand, synonymous of the revolutionary spirit that leads her pencil.
Relocating to Italy in 2012 generated a significant refinement of manufacturing techniques, thanks to the support of highly skilled Italian artisans in working with the finest leather and material used on her designs. In addition to this, the creative and commercial growth is supported by a passionate and driven entourage, essential to add value to the brand. The result is a product of great impetus, which passes on rhythm and energy though a style with no compromises. Prevailing classic designs and fleeting trends, imposing its eclectic personality with designs of simple lines, bold and of a severe elegance.
-What inspires your work?
The energy that music gives me, my team and the enthusiasm for life of my two-years-old
-What is the most difficult aspect of running your own label?
When you truly believe in something, like your own business, even the less exciting or more difficult aspects of it, for instance administration issues, or being able to be completely self-sustainable, become a further motivation to be determined to go on.

-Which part of the creative process do you enjoy most, and least?
Creativity is never an individual thing, working with people with whom you have empathy allows you to express your own thoughts, these thoughts become handbags, a label, a world on its own that you can put out there to be seen by anyone.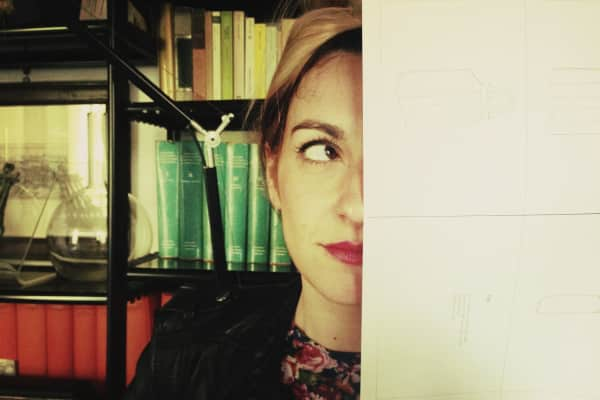 -Is music important in your working day, what is on repeat at the moment?
Music is the bood in my creative vein. Three songs are constantly on repeat at the moment:
The dog days are over by Florence + The Machine, The Passenger by Iggy Pop and an old italian song by Piero Ciampi called L'Amore è tutto qui (Love, that's all it is) These three songs deeply represent the world I am living in right now. The prespectives of my life will change but the songs will always stay.

http://youtu.be/iWOyfLBYtuU
-If you had a chance to do it all again, what advice would you give to a younger you?
Everything is still a learning curve…I think I am still too young to give myself advices.
-What is your guilty pleasure?
Small iced cold beer at the end of a working day.
-Where is your favourite city/place?
At the moment could only be my garden but I am about to go to New York for the first time and I am sure it is going to be an interesting competition.

http://youtu.be/ucOQudeHRPI
-Who inspires you?
Ping Fu, co-funder and CEO of Geomagic, an American 3D software and technology software. She believes that "Corporations need to have a soul and that soul is the reflection of the leader" as well as "The people in your company is the most important asset. (…)It's not about how smart you are, it's about how much they are in there with you. A company doesn't run if its people don't run with it." Something that I feel has been long forgotten these days.
-Wolf or Badger?
If I were a man I would have not hesitated in saying Wolf…but being a woman I like to think of myself as a Badger because they are fierce, able to fight much bigger animals such as wolves! They protect themselves and their young at all costs.