NS By Noof stands for rich craftsmanship and timeless statements. The collection of unique handbags are finished with semi precious stones and are designed in Bahrain by Noof Al Shekar, wife, mother and a true enthusiast to what is pure luxury. Her bags combine luxurious modernity and a deep rooted reflection of rich Middle-Eastern heritage. Each semi-precious stone, handmade and one of a kind, makes every piece an exclusive object of art.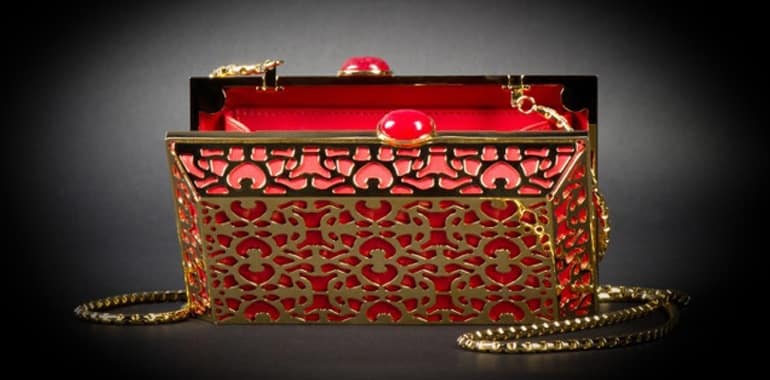 Can you give us a bit of background on your brand, when you started it and why?
NS By Noof explores the reinvention of classics with the highest of quality and sophistication. Each piece has its own personality. Rich is another word that plays a big part in the DNA of the brand, each piece is crowned with unique semi-precious collectors stones handpicked and accumulated throughout travels around the world.
The brand echo's timeless luxuries. Like a framed moment in time, one of a kind, for the beholder to call truly their own. The clutches have been designed for the true luxury connoisseur. Exclusive is important, with the 'logo' intentionally unseen.
As for why this came together, to express and celebrate my passion for bags and jewelry bringing them together has spun out into a wonderful mix, almost merging jewelry and handbags. It's an accessory, a precious one, both fashionable and timeless in its own distinct way.
What inspires your work?
First and foremost, jewelry, jewels, gems, the kind that leaves me awe struck and makes me squint at the unbelievable amount of detail. Then come the monuments, unsung art forms in architecture and treasures that mark history. Whether it's a stone, a pattern, historical visuals from my archives of regal personalities and their treasured belongings.
There are lifetimes of inspirations and research is fun, but dreaming things up are the most exciting, that moment when you wake up to a fresh idea and rush to the drawing board, that said I always have a little sketchpad in reach.
What is the most difficult aspect of running your own label?
Not much really. Well expect keeping track of seasons, almost all the pieces created are so timeless I feel like seasons come and go so quickly, much faster than I've enjoyed seeing the piece materialize and go in store.
Which part of the creative process do you enjoy most, and least?
The creative process is a flow of ideas constantly; at this stage there is a signature style that has emerged. That's always nice to look into a interrogate, its almost like the DNA and personality of NS BY NOOF.
Designing is quite particular, its a formula of what is felt and what is dreamt, then comes the practicality of the bag. Its all part of the joy in designing and until all these aspects are done I don't feel like the bag has actually become an actual design.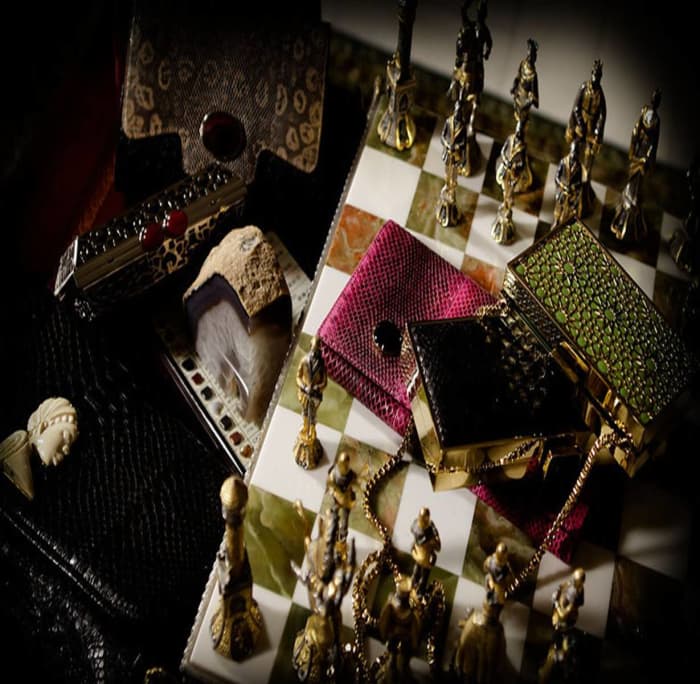 Is music important in your working day, what is on repeat at the moment?
My days vary, some are purely design based, sourcing and others are managing the operations part. On the topic of music in my day, having my four boys around is like having to listen to live rock and pop everyday. So most of my time spent working I look for pure silence.
If you had a chance to do it all again, what advice would you give to a younger you?
Follow your heart, these three words say it all. I honestly don't feel like a would like a chance to do it all again because life, experiments, discoveries and things you stumble upon make you who you are, everyday adds a little some days more than others, so if I was to do it all again I would lose all of that. That's more valuable then a second chance, point is although today is a new day, I wouldn't be here if I hadn't gone through yesterday.
What is your guilty pleasure?
Shoes, cant get enough of them. I really believe a bag is to have and to hold an art piece that becomes ethereal in your collection, as for shoes just keep them coming. O and denim mini shorts have an extremely diverse and explosive cupboard full of those! No further comments...
Where is your favorite city/place?
Italy, by the beach with Husband and Four boys.
Who inspires you?
Having really stepped back to think about this, I can't highlight a person per say. Inspiring for me are the stones, travels, stories, origins, time, so many facets that make each stone uniquely beautiful. Then again many speak of connections people find with 'their stone'.
Wolf or Badger?
Wolf. As worrying as it seems that wolfs regurgitate their food to feed their pups, they have this sense of elegance and mystery, whether its in their posture or eyes. They howl, they command they run through forests wild, no underground lets laze around and starve all winter business.