Marie Hélène Polo- the creator of Ellapolo had been a lawyer in intellectual property law for six years when she decided to commit herself to creativity and beauty. She had always been fascinated by all forms of art – like painting, sculpture, music. It was during one trip to Indonesia that she decided to convert her artistic flair into a project and start looking into jewellery design. The first step for Ellapolo was to form a coherent, original and recognisable style, which came about through research and study.
How did the Ellapolo journey begin?
Following my original inspiration, I initially tried to open production in Bali. But the physical and cultural distance convinced me I needed higher standards, and what endorsement could be higher than "Made in Italy"? So now I have an Italian workshop. Prototypes are created by artisans with a handmade look, while main production takes place in a plant where we use the finest materials and finishes.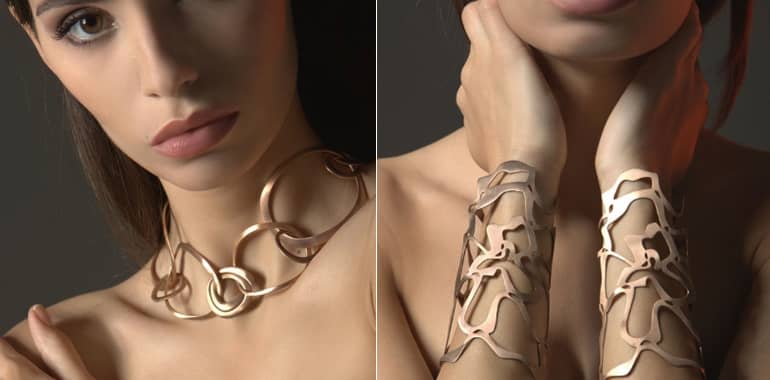 What have been the highest and lowest points on your journey so far?
When I see one of my pieces on people in the street, or when I find a new retailer that appreciates my creations. That's the best satisfaction. Of course you have low points, when things don't go quite the way you hope. But this is part of every business!
What is your greatest fear?
Missing life's opportunities. I wish I could have more time, to do more and more.
How would you describe your customer base?
The Ellapolo customer is a modern, cultivated, self-confident lady who appreciates real design. She prefers to have a piece of jewellery which is unique for its design rather than precious stones.
What are the morals you run your brand by?
Quality. Innovation. Research.
Who is your mentor?
In terms of method and discipline; my lawyer boss. In terms of inspiration; main artists, designers and architects. But in the end in terms of strategy, you learn best from your own mistakes!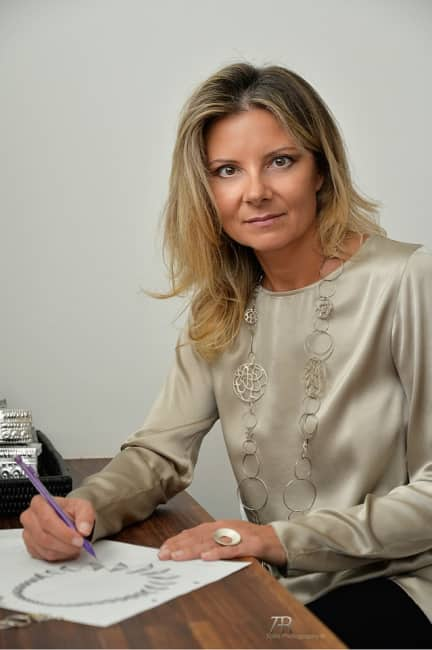 What inspires you?
Beauty in general. I search for beauty in interior design, architecture and modern art. I look for shapes and combinations of shapes – what really works. A small detail can be crucial. Where I live in Sardinia, the real beauty is nature. That's why you can find both abstract and natural features in my designs.
What building holds the most sentiment for you?
I recently visited Yad Vashem Israel's Holocaust Museum. The architecture of the building is so suited to its purpose and the history represented. It is the perfect complement to the visitor's emotions and experience.
What book changed your life?
When I was a child, I read the biography of Heinrich Schliemann. I learned how willpower, strength and resolution can change your life.
What is your most treasured possession?
My best friends. My son. My family.
What motto do you live your life by?
Never give up!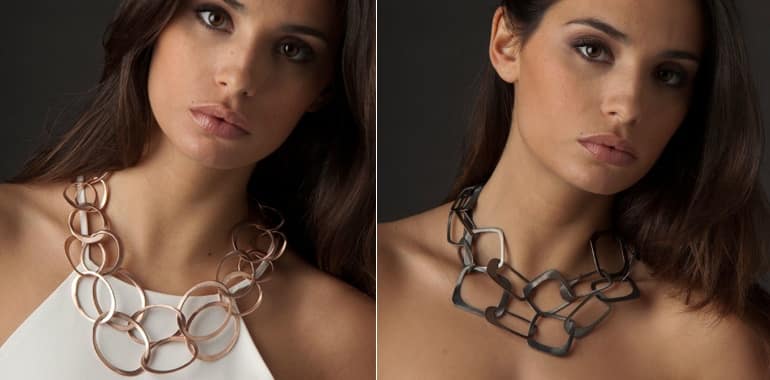 How do you keep your body and mind healthy?
Your mind has to be in tune with nature to some degree – that's essential. Reading. My piano. Friends. Family. Love. For the body, all kinds of sports!
Where do you see the brand in five years?
I'd like to see the brand reaching new customers and new places – Europe and further.
What drew you to Wolf & Badger?
Wolf & Badger brings together an intelligent selection of independent brands in a beautiful location. It draws cultivated customers looking for something a bit different – original and unconventional pieces.
What one thing would make your life better?
Success of course!
Come along to our Notting Hill store next week to meet Marie Hélène the designer and enjoy a glass of Vermentino! All purchases on the day will receive a complimentary gift and a 10% discount on selected items.