Ellie Lines
is a luxury British brand with a heavy focus on prints, inspired by the book Poolside by Slim Aarons.  The collection is colourful, stylish and fun; with each dress having been designed with one of Ellie's friends in mind, to capture their personality.  We spoke to Ellie to find out more about the brand. 
How did Ellie Lines begin?
For years I knew that I wanted to start a dress label and felt strongly about making it a British brand manufactured in the UK. Just over two years ago, I began researching manufacturers and before I knew it, the label was launched. 
Have you always been interested in fashion?
I have been interested in fashion since I was a child and I knew that it was what I wanted to do. My sketch books started from a very early age, and I have worked as a stylist for the last 15 years.  
What have been the highest and lowest points on your journey so far? 
I don't think I have yet to reach to reach the highest and I hope I never reach the lowest..... 
What was the inspiration behind your latest collection? 
For the inspiration for SS15 I continued to reference Slim Aarons' photography. The Candy Rain print colours were inspired by Flying Saucer sweets. The London Palm print came from my love of palm trees and vintage post cards. I wanted the collection to have a real holiday feel. 
For the new AW15 collection I drew my colour inspiration from the film Gone With The Wind. We introduced the fan print because of my love of fans and it was inspired by a rather fabulous bright pink fan some friends gave me. I also commissioned the amazing artist Katy Smail to paint a print for me which we used for the Fiona dress as a Pre-Fall collection piece. 
Do you ever struggle to stay inspired? 
Thankfully I have never had trouble staying inspired. Staying sane maybe, but always inspired.
Where is your go-to meeting spot? 
My go-to meeting spot is the Dover Street Arts Club. Also, Muriel's Kitchen Champions breakfast sets you up for day. 
How would you describe your customer base? 
The label is still very new so I am just discovering and figuring out my customer base.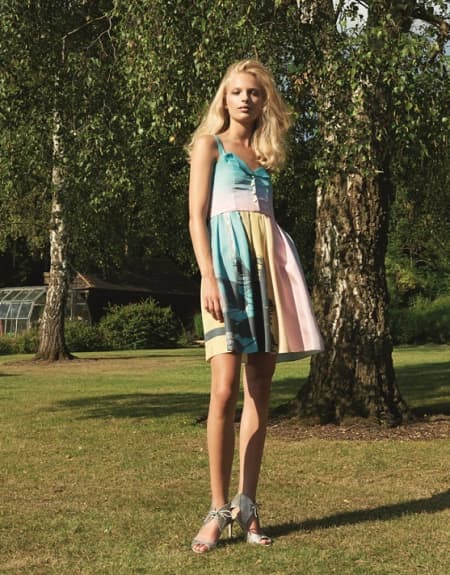 Is there anyone you would love to see wearing your designs? 
Claudia Schiffer has my SS15 Ellie maxi dress, I would love to see a picture of her in it. 
What are the morals you run your brand by? 
As mentioned before, it was very important to me to actually have the brand manufactured here in the UK, especially that it is made right here in London. 
My manufacturer has been a brilliant mentor. I could not have done it without my right hand Miss Carmichael and both my boyfriend and my mum who listen to me talking frocks 24 frocking 7! 
Being app free keeps me sane! 
If you could only wear one piece from your collection, what would it be and why? 
To choose only one piece is just too hard..... Gemma the shirt dress I could wear every single day. Georgie can take you any where. If I lived I a warmer place I would wear the Carly every day. Julia is one I could not be without...... 
What's the biggest style mistake you've ever made? 
Biggest style mistake.... probably a shell-suit back in the late 80's. What on earth......!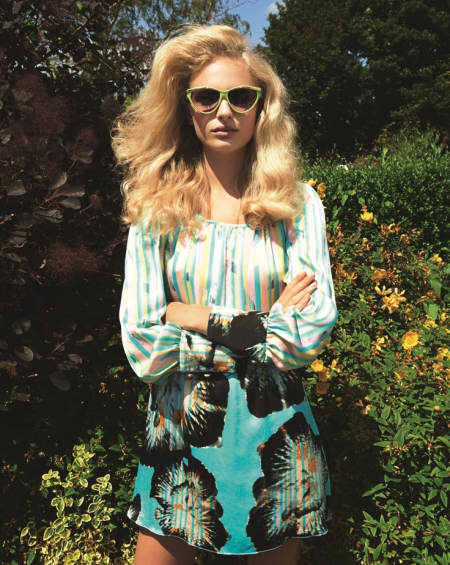 Is there another designer whose work you particularly admire? 
Designers I most admire of old have to be Chanel, Halston and Yves Saint Laurent. Today I adore Erdem, that man can do no wrong. Deliciousness designs. 
What's the best piece of advice you've ever been given? 
Best piece of advice is probably to back yourself and follow your dream.
What drew you to Wolf & Badger? 
I was drawn to Wolf & Badger as I think it is a brilliant platform for new emerging designers. I love all of their staff and think their two boutiques are super stylish and in great locations. 
Where do you see the brand in 5 years? 
In five years time I hope the brand will be fully established as a British luxury dress label, known for its prints and timeless styles.