One Wolf is a premium jeanswear brand, based on innovative design, breaking the conventions of clothing, the styles are unisex and can be worn by both men and women. Their mission is to encourage alternative ways of thinking and empower a positive change and new experience by inspiring our community through fashion. We spoke to the designer Agnese Narnicka to get a closer look inside the brand. 
How did One Wolf begin as a brand?
It all started with the NUMBERS collection, the first 3 jeans models, 2 t-shirt models, and 1 sweater model. Two of the jeans models are still our most popular and most sold jeans. Prior to beginning manufacturing, One Wolf created comparatively large collections, however we only developed a small selection of products for manufacturing, so that we could gradually grow. Much thought went into the One Wolf name, we looked for a name that would be able to characterise our identity. We wanted to create a symbol that deeply and broadly communicates my convictions. The wolf is untameable, a symbol of intelligence and courage. He does not succumb to training and, even while living in a wolf pack, remains himself. The name, One Wolf, completely expresses the character of the brand and is in line with my nature. I also highly value people's commitment to their principles.
How did your career lead you to this point?
Despite the fact that the One Wolf brand is relatively young, I've been working as a fashion designer for more than ten years. I have a master's degree from the Faculty of Design at the Art Academy of Latvia and have broadened my horizons by studying for a semester at the Accademia di bella Arti di Brera in Milan as part of the Erasmus programme. Currently, I also teach at the Art Academy of Latvia - it's been already four years that I've been sharing my knowledge and experience with aspiring fashion design students. I have successfully participated in several international competitions, for example, Baltic Fashion Awards, "Who's next" blog, and the Festival of Fashion and Photography in Hyères.
Have you always been interested in fashion?
Around the age of 16, I had two options for myself – fashion design or architecture, which is probably why I am currently very interested in the construction of the clothing. I think that it's possible to continually grow and develop in this aspect.
What have been the highest and lowest points on your journey so far?
This is a difficult question. I've never thought about it. There have been many surprising successes, unexpectedly good orders, for example, from Japan and the US, and victories in competitions. As low points, I suppose it is worth mentioning the sum of several small errors, which in their own sense create experience. Let's call it an "expensive school" – noticing the wrong buttons in a rushed order or fabric delivery that arrives a month late. Mishaps are often directly related to deadlines.
What was the inspiration behind your latest collection?
The 2015 autumn/winter collection of One Wolf is called "The Tourist", and its central element is the bowtie accessory. The accessories are reproduced in the actual proportions, colours, and textures of real butterflies. It was four years ago that I first had the idea about creating a collection around this men's wardrobe accessory – the butterfly. Last summer, I began to intensively think about the idea and research butterflies themselves, as well as the people who study them. It was specifically butterfly researchers who interested me the most. While studying seven of the world's significant butterfly researchers, I was fascinated by the personalities of these researchers, their passion, clothing, and its detailing in the respective historical period. That's how the latest collection's theme was created – the tourist, a traveller who is dressed in "safari" style clothing that unites the classic suit with the silhouettes and details of a tourist's wardrobe.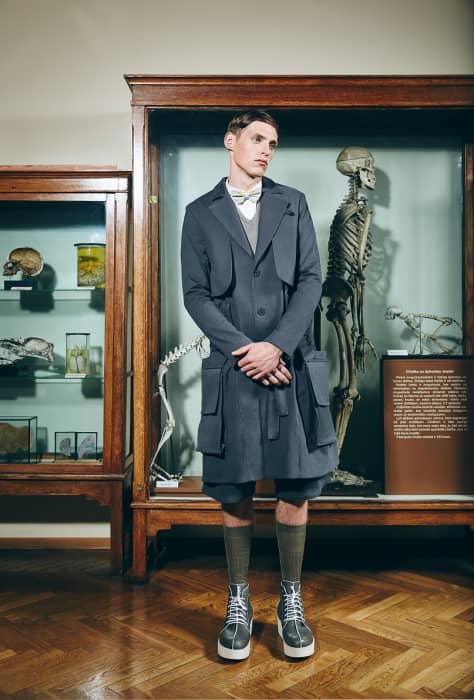 Do you ever struggle to stay inspired?
Not really. I more so struggle to decide between one of many ideas. For me personally, the most exciting part is the "catching" of an idea. The moment when an idea and new trends appear in your head is usually an unplanned process, not a deliberate one. Then I work towards developing the idea and my vision by researching the topic of interest. Sometimes, I dive very deep into research and look not only for visual materials but also study literature about the specific topic.
Where is your go-to meeting spot?
My favourite meeting place is the One Wolf studio and the nearby MIIT cafe.
How would you describe your customer base?
They are mostly 25-40 year young urban dwellers. They are young at heart, creative people, irrelevant of their actual age or profession. They yearn for adventures and new experiences.
Is there anyone you would love to see wearing your designs?
I would like it more if they were many people, rather than one specific person. But of course, I would be flattered if One Wolf clothing was chosen by a person such as Thom Yorke of Radiohead.
What are the morals you run your brand by?
To design clothing for life and inspiration. One Wolf clothing provides comfort and aesthetic pleasure at the same time. We strive to create clothing that is long-term in the sense of design and quality.
Do you have a mentor?
Officially no, however I consider my mentors to be my sister Sarmite Mickevica, who is One Wolf's co-founder and manager, and my friend Konstantins Smirnovs, with whom every collection's idea is assessed and developed.
What apps keep you sane?
Instagram, which speaks directly in visual language and serves as both an inspirational source and helps to disconnect from daily routine.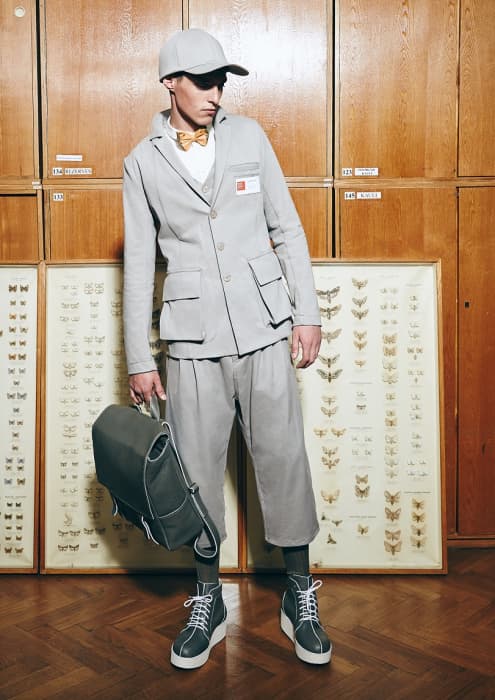 If you could only wear one piece from your collection, what would it be and why?
Unisex jeans UNIFORM. Because they are very universal, comfortable, ascetic, easy to combine with tops of various styles, while being like no others in the world.
What's the biggest style mistake you've ever made?
There was an attempt to design something more romantic, choosing to use some lace in the collection.
Is there another designer whose work you particularly admire?
Craig Green, Yohji Yamamoto, Walter Van Beirendonck
What's the best piece of advice you've ever been given?
What drew you to Wolf & Badger?
The possibility to be in London, to introduce and sell One Wolf collections to London's residents and tourists. We think that London and the One Wolf style and pace of life are a great match.
Where do you see the brand in 5 years?
Definitely available on a much broader scale. I see One Wolf being more available in England, the Netherlands, France, Belgium, Japan, and the US. It would be great to open One Wolf's first store outside of Latvia in the next five years.