Before launching her label, Tanya Miller spent time working on the design teams for French Connection and Savannah Milller.  Her experience working with fashion houses that use only overseas factories inspired her to start a brand that would support growth of British manufacturing.  As a result Tanya Elizabeth was born, a label that is solely made in Britain.
Have you always been interested in fashion?
Yes, since I was 12 I have always dreamt of having my own brand. I used to make the most hideous clothing but was always very proud of it!
What have been the highest and lowest points on your journey so far?
The highest has definitely been getting into Wolf & Badger. Such an amazing reputation, I was just so proud to be selected to sell in your boutique.
The lowest was probably exhibiting at the Pure London trade fair. This is not such a great place for emerging designers, which I learnt the hard way.
What was the inspiration behind your latest collection?
Kaleidoscopes and the way they create amazing shapes within shapes. My AW15 print started as a picture of leaves that I took on a trip to Kew Gardens. The kaleidoscope affect I created from this image brings the leaves to life.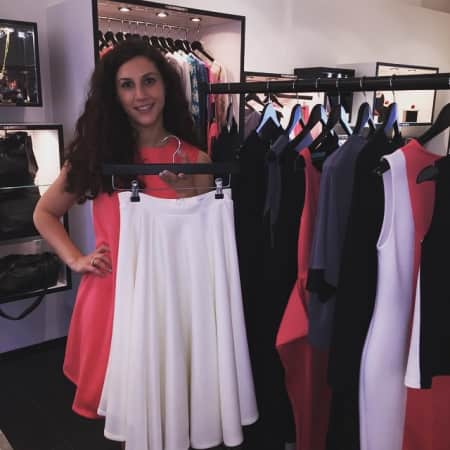 Do you ever struggle to stay inspired?
Never. Inspiration is everywhere. There is never a point in the day when my mind switches off (which doesn't help at bed time). This allows me to be constantly taking everything in. I am certainly one of those annoying people who has to feel the fabric that anyone around me is wearing if I think it looks interesting.
Where is your go-to meeting spot?
A beautiful café in the park near my studio in North London. They do the best falafel!
How would you describe your customer base?
My customer is a woman who is looking for something to find that is a bit different and will make them look and feel amazing when they wear it. A piece that is great quality and a style that is timeless.
Is there anyone you would love to see wearing your designs?
Yes! Daisy Lowe
What are the morals you run your brand by?
My entire collection is made in London.
The design teams I have previously worked within, everything was produced overseas. After leaving, I decided that I wanted to focus on creating a brand that was solely made in Britain. It is so important to support British manufacturing as it will eventually create jobs and will also pump money back into the economy. We need more brands to bring their manufacturing home so that we can start investing time and money into the manufacturing industry as we are severely lacking skills.
As my manufacturer is based in North London, I can pop in at any point and know that I can trust them with my business and with the way that they treat their employees. I would feel too uncomfortable making my collection overseas because I would only be able to visit during my planed trips and it would be very difficult to regularly see the factories on a random visit to check the working conditions.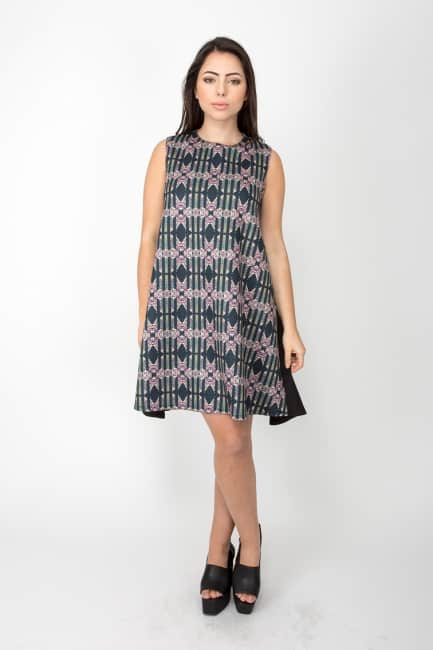 Do you have a mentor?
Jenny Holloway is definitely my mentor. Jenny owns my manufacturer, which is part of a social enterprise company called Fashion Enter. Jenny has also worked in the fashion industry for years and has a world of knowledge and experience to pass on to me. I go to her whenever I need advice or a push to keep going and she is always happy and keen to help.
What apps keep you sane?
I'm not a massive app person but Stylist magazine is definitely my go to. That and my bank accounts.
If you could only wear one piece from your collection, what would it be and why?
My Philippa dress. It is so easy to wear and is perfect for every occasion and any time of day. It doesn't even need accessorizing because it is such a stand out piece that the dress speaks for itself.
What's the biggest style mistake you've ever made?
So many for me to think of. The one that pops to mind is definitely my Schott jumper that I used to wear all the time! I got it during my 'rude gal' phase at school.
Is there another designer whose work you particularly admire?
Jil Sander. I love her clean lines and beautiful fabrics that she uses in every collection. Truly inspiring.
What's the best piece of advice you've ever been given?
If you believe something will happen, it will happen.
What drew you to Wolf & Badger?
The support for emerging designers that Wolf & Badger offer combined with the carefully and perfectly curated designers and collections that Wolf & Badger stock, is what drew me in.
Where do you see the brand in 5 years?
In five years I see my brand still going strong and having several stockist in the UK as well as expanding internationally and flying the flag for Made in Britain!