The idea behind Tom Cridland was simple: to focus on making luxury clothing in unique colours, starting with trousers. To make this a possibility, Tom applied to the government's start up scheme and presented his idea in front of a panel of judges to secure funding to develop the brand.
How did your career begin?
I first started making my own clothing aged 18, when a friend and I came up with the concept of "Swine 09" t-shirts at school during the height of the epidemic. It was during the week where no-one was allowed back to school to minimise the spread of Swine Flu. In 7 days, we managed to sell enough of these t-shirts to raise £3,000 for Médecins Sans Frontières. This gave me a taste for designing clothing, despite the slightly questionable slogan!
I started Tom Cridland just a year ago, selling our first four trouser designs via our website directly to our customers. Our loyal following meant we could quickly expand our range to eight colours in July last year and, later on in 2015, we will have sixteen.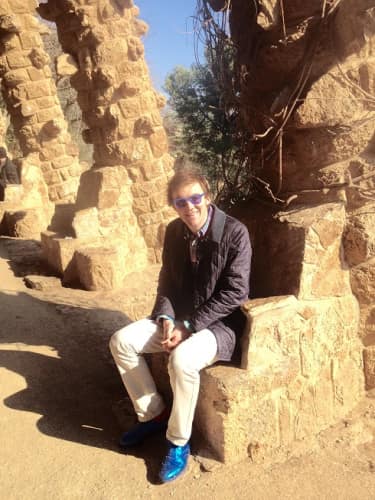 Tom Cridland wearing Rolling Stone trousers.
What have been the highest and lowest points on your journey so far?
The lowest was borrowing money off a friend to source a higher quality of fabric than was deemed necessary. The highest was being backstage with the Elton John band, with their drummer, Nigel Olsson, sporting one of his six pairs of Tom Cridland trousers.
What is your greatest fear?
It is not a fear, but putting my name behind my brand makes me even more determined to design clothing that I am proud of and want to be associated with.
How would you describe your customer base?
Our customers are pretty diverse, as our trousers are versatile. A lot of our orders come from London, but everywhere from Shoreditch to Chelsea. We've had orders from all over the world though: lots of Europe, America, even the Far East and Australia. We're also particularly proud to be an official sponsor for Elton John's world tour.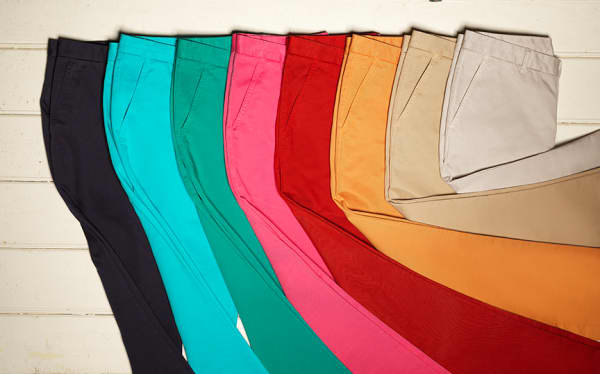 What are the morals you run your brand by?
We want to be fair to our customers and to our incredibly talented seamstresses. We offer our customers handcrafted trousers in luxury fabric at the best value we can. I'm half Portuguese and our seamstresses are from the country's Serra da Estela region. I think Portugal is often overlooked unfairly, so it's really important to me that our trousers are made there.
Who is your mentor?
My Dad is my mentor. I have a close relationship with my family and it's great to be mentored by someone I can easily just call up for an opinion every day. He is not afraid to criticise, which is extremely important albeit occasionally rather irritating.
What inspires you?
I'm mainly inspired by creative people with a passion for what they do. Musicians and record producers like Rick Rubin, Nile Rodgers, Kanye West, Thom Yorke, Prince, Bob Dylan and the late Nina Simone as well as other brands such as GREATS, l.a. Eyeworks and Mark Thomas Taylor, who's also stocked at Wolf & Badger.
What building holds the most sentiment for you?
My family home, in a little village called Lilford in Cambridgeshire.
What book changed your life?
Less Than Zero by Brett Easton Ellis.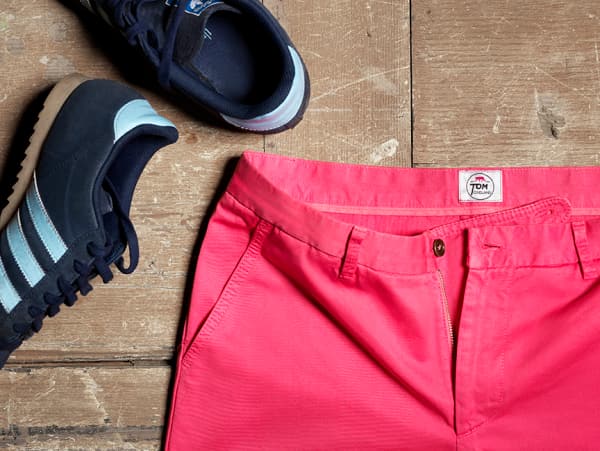 What is your most treasured possession?
My custom made Silverman glasses by l.a. eyeworks with electric blue frames and lenses.
What motto do you live your life by?
I try to live like Larry David in Curb Your Enthusiasm.
How do you keep your body and mind healthy?
By eating at least five rashers of bacon every morning.
Where do you see the brand in five years?
Stocked internationally in boutiques that we love, like Wolf & Badger. By then, we will also have a collection of beautifully made shirts, t-shirts, brogues and socks, alongside our trousers all in our unique signature colours.
What drew you to Wolf & Badger?
I was drawn to Wolf & Badger because I admired your support of young talent and wanted your guidance as I continue to develop my brand.
What one thing would make your life better?
Remembering to use my Nando's card, missing out on those loyalty points is a real nightmare.