Find this season's sweetest pastel shades in the dreamy town of Positano. Carved out of a cliff, it's one of Italy's most beautiful towns on the Amalfi Coast. Drive through the sharp twists and bends of the famous Coastline where majestic, azure waters meet cliffside villages. Spend your days lazing around grabbing boats to beautiful beaches, having long laid-back lunches and wandering the beautiful little cobbled streets, which in Positano means endless winding stairs. Back in 1953, John Steinbeck took up residence in Le Sirenuse, writing about the town, "Positano bites deep. It is a dream place that isn't quite real when you are there and becomes beckoningly real after you have gone". And to this day this description is still spot on, making the town just as appealing as it was then. 
A day in Capri: La Fontelina is the most beautiful location for sunbathing, right opposite Capri's famous Faraglioni rock formations. You can arrive by their boat and we guarantee that you will never want to leave.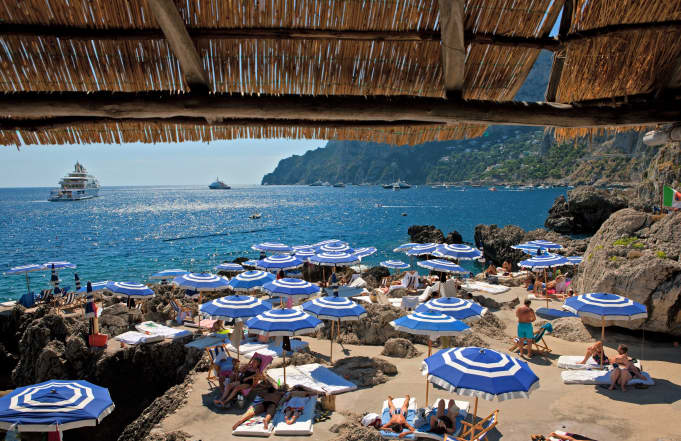 This shabby-chic shack on tiny Laurito Beach is one of Positano's most fun, relaxed beaches. Spend time having lunch here, it's worth it - you can rent a sunbed and sleep off the post-lunch haze.
This is the hotel where Steinbeck stayed in the '50s, and Le Sirenuse still remains at the heart of Positano.