# 1 – Eat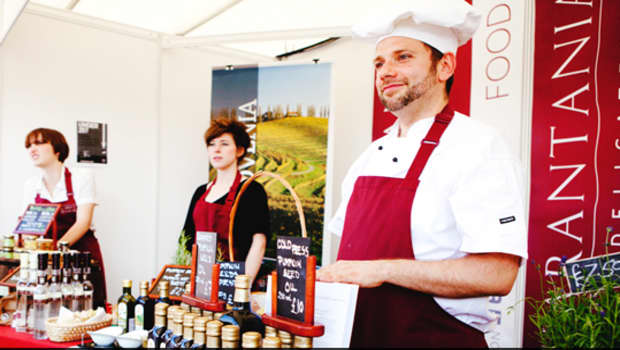 What: Foodies Festival
Where: Battersea Park, Albert Bridge Road, Battersea Park, Battersea, London, SW11 4NJ
When: Fri 17th, Sat 18th, Sun 19th August (11am – 7pm)
Why: Indulge your appetite with over 100 stalls of artisan food products and learn as top chefs pass on their hints and tips! In the Chef's Theatre will be Levi Roots, Clare Smyth from Restaurant, Gordan Ramsay and Master Chef finalist Andrew Kojima. Hourly Food and Drink Masterclass Theatres will also provide the opportunity for tastings and samplings. This festival will be a real foodies treat with a delicious range of cocktails, champagne, live music, and a beach fully equipped with deckchairs and ice creams.
# 2 – See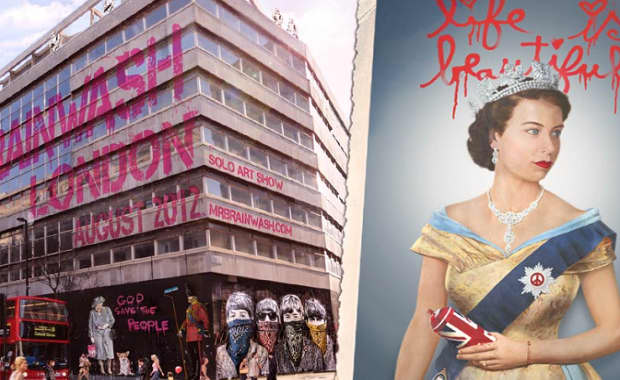 http://www.youtube.com/watch?v=hzNKZ9xMwPA
What: Mr Brainwash
Where: The Sorting Office
When: 1pm everyday until Wednesday 29th August
Why: Mr Brainwash is also known as Thierry Guetta of Banksy's 2010 film 'Exit Through the Gift Shop'. The exhibition is spread over five floors of the Old Sorting office, presenting large-scale installations, murals and stencils. His works largely appropriate iconic pop culture imagery including Obama, Kate Moss, the Queen, Madonna, Andy Warhol and Damien Hirst.
(The first 200 people on each day of the exhibition will receive a collectable Mr. Brainwash spray can!)
# 3 – Watch
What: Portobello Pop Up (digital microplex cinema)
Where: Portobello Pop Up, 3 Acklam Road, London, W10 5TY
When:
Friday 17th, 8.00p, (£5) – London: The Modern Babylon
Saturday 18th, 8.00pm (£5 suggested donation) – Joint Enterprise: Not Guilty by Association
Sunday 19th, 7.30pm (£5) – Cinema Paradiso
Why: Because cinemas don't have to be multiplex boxes. The Portobello Pop Up is London's only cinema built around reclaimed and recycled materials. The 'Summer Staycation' season invites you to this unique and special place to experience film in a colourful setting and local community. The Pop Up is a not-for-profit digital Microplex cinema and was conceived as a community Arts venture, with the aim to offer a diverse and inspiring programme of films and events open to all.
Have a lovely weekend x