# 1 – See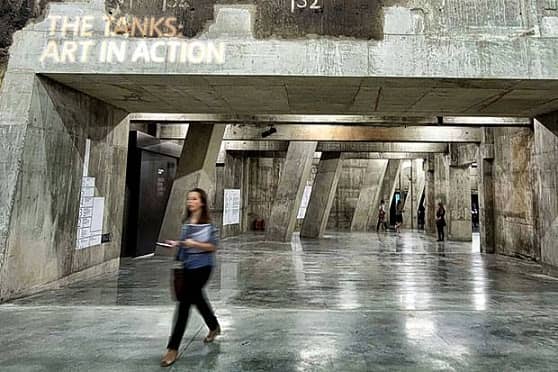 What: The Tanks
Where: Tate Modern, Bankside, London
When: A fifteen-week festival from Wednesday 18 July – Sunday 28 October 2012
Why: With the help of architects Herzog & de Meuron's conversion of the oil tanks, this new space beneath Tate Modern seeks to bring 'Art in Action' to the wider public. For 15 weeks the industrial spaces offer a line-up of performance and events. Be one of the first to enjoy this pivotal moment in history of art with the incorporation of marginal forms of artistic expression into the museum-going experience. With performances changing almost daily, the Tate invites the public to wander the £90m redeveloped Bankside Power Station chambers and become captivated by live work and performance art.
# 2 – Taste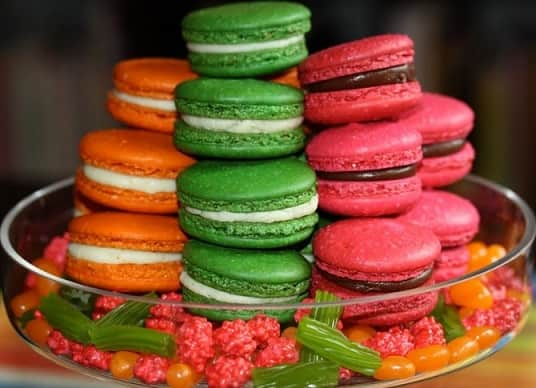 What: Spitalfields International Food Festival
Where: Venues around Spitalfields. See the website for full details. (Liverpool Street, Aldgate, Aldgate East)
When: Saturday 21 July – Sunday 9 September 2012
Why: The festival highlights the eclectic array of restaurants, bars and cafes of this distinctive and exciting culinary district. Spitalfields promises to cater to all with haute cuisine to street food and specialist shops. Offering free admission and free tastings, why not embrace this opportunity to expand your taste buds with international dishes from all over the world. Take the opportunity to also explore the vibrant Spitalfields area with an impressive selection of artists, galleries, famous markets and quirky boutiques. For further information, Spitalfields International Food Festival is co-ordinated by Alternative Arts.
# 3 – Buy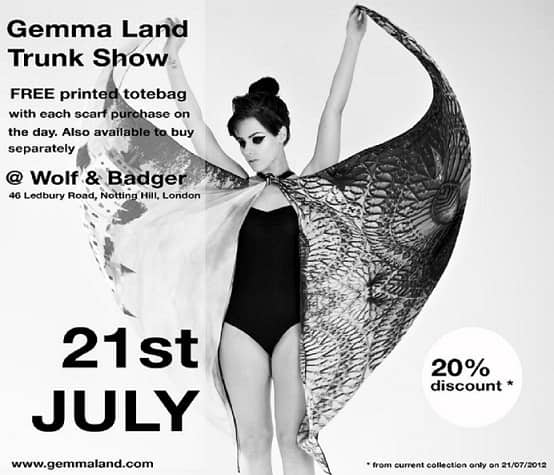 What: Gemma Land Trunk Show
Where: Wolf & Badger Lab
When: Saturday 21 July 2012, 12-6pm
Why: Gemma Land's first collection 'Bourgeois Utopias' was a great success and now the awaited second collection of Gemma's photographic print silk scarves has arrived. Winning the Wolf & Badger Graduate Design Award in 2011 and the Creative Archive Award in 2010, Gemma's unique scarves are not to be missed. Her style is original, combining photographic art with the function of scarves. Gemma's designs incorporate architecture and symmetry to create structures and individual hallucinogenic patterns. Gemma will be providing a free printed totebag with each scarf purchased on the day in addition to an exclusive 20% discount on her current collection.
This week Wolf & Badger will also be hosting a second Trunk Show…

What: U.Mi-1 (YouMeOne) Trunk Show
Where: Wolf & Badger Dover Street
When: Saturday 21 July 2012, 12-6pm
Why: Usually stocked in Notting Hill, the talented designer Gozi Ochonogor will be holding U.Mi-1's Trunk Show in our Dover Street store. An Eclectic mens fashion brand, U.Mi-1 pairs sophisticated tailoring/detailing with casual styles and fabrics. With the idea to create a fashion as a commercial art brand, Gozi is inspired by architecture and art, cubism in particular, and the collection show cases strong lines. Established in Tokyo in 2008 and now based in London, U.Mi-1 is certainly a brand to watch. On the day the designer will be offering a preview of the De Stijl Spring/Summer 2013 men's collection, along with special discount.
Where ever you are in London, catch one or both if you're in the area!
Have a lovely weekend! Xx