After leaving the circus where she was costume designer & performance artist (mime magician) Emma Kempton made a 40 piece costume-fashion collection centred around black, white and red vintage magical props for a budget film which previewed back in 2006 at London Fashion Week. The genre of fashion film was relatively new then and the film went on to win several awards.
Fast forward a decade to 2016 to the February London Fashion Week, where A - M M - E exhibited 10 key designs focused around the central piece, the Victoriana Riding Coat. This was the inspiration for the entire collection and will remain an A-MM-E signature staple for the unforeseeable future.
The A - M M - E Riding Coat was originally designed for the circus ring, Emma needed some stylish-wow-factor-but-subtle coats with secret inner pockets for one of her acts, so it was originally tailored with that in mind. She ended up wearing it again and again to art openings and events and even after a decade she kept returning to it as a staple in her wardrobe. Out of 40 pieces, this was the one design that just resonated and had a great aura. So with few alterations such as removing the secret pockets, the collection was built around this piece. It's a design that hums; it's beautiful, special, and can be worn in so many different circumstances for so many types of women. 
Like the riding coats, each of the 10 A - M M - E designs have a story behind them and blend contemporary fashion with vintage classics. The collection draws on the designer's life between Italy, Devon and London by combining London attitude with Italian classics. The pieces are easy to breathe in, they're easy to wear but a little bit different for women that do their own thing, who have nothing to prove and no concept of beauty to strain for.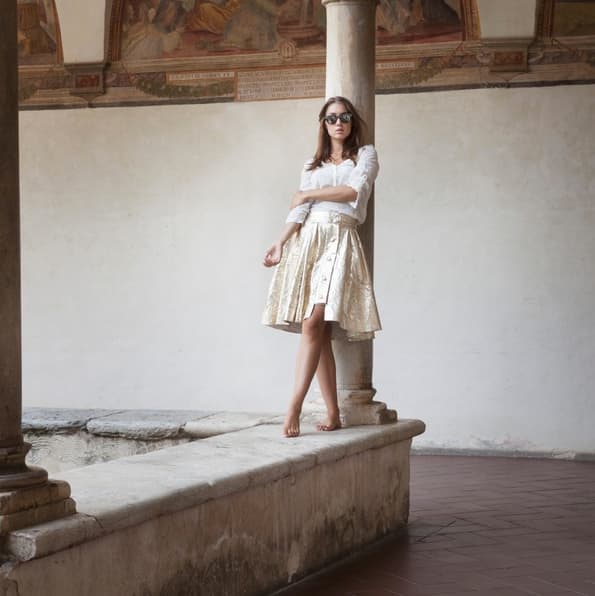 The A - M M - E woman is a strong woman who is always true to herself and her sense of style. Sometimes we might wear a dress and feel amazing in it, then put on the same dress on a different day and feel dull, which is all down to sense of self. A - M M - E aims to celebrate the natural creativity that forms from being an empowered individual. The focus is on clothing that resonates in a way that every good designer aims for and occasionally hits upon; clothes that make you feel truly amazing as yourself; clothes that have the power to shift a negative mind state and enable you to feel beautiful as you. So if you throw on the signature the riding coat and see how it makes you feel.