Orlagh McCloskey and Henrietta Rix are the queens of boho. Their vintage inspired prints are breathtakingly beautiful and have caused a stir within the fashion circuit this past summer; with celebrities, influencers and stylish women alike trying to get their hands on a piece of RIXO. It seemed only natural that we team up with them for our Autumn / Winter '16 tote bag, to try and channel some of their whimsical, nostalgic energy into the design.
The pair met when studying at London College of Fashion and they were both struck by how similar their ideas and visions were. They both had a penchant for all things vintage and would trawl fairs, flea markets and charity shops in search of anything old and beautiful that no one else would have. The pair travelled to California and Ibiza, stopping off at every goodwill store and hippy market along the way to take inspiration from old pieces, prints and colour schemes for their own designs.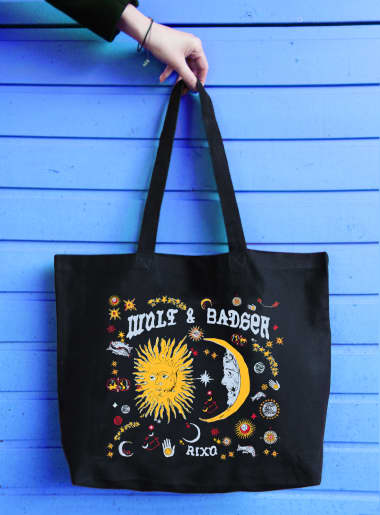 The first iconic Rixo print actually came about by accident, a friend was going to create a print based on their mood board but pulled out at the last minute, forcing the girls to draw upon their own painting skills. The design duo cite this as the moment that made Rixo what it is now; they hand paint all of their own prints setting them apart from so many other brands that rely on digitals printing. They now start every collection in the same way, with a drawing or painting based around a specific theme, which is then evolved using watercolour and acrylic. The prints are then scanned in and printed onto silk, where the pair then fuss over the fit of the actual garments to get the shape exactly right.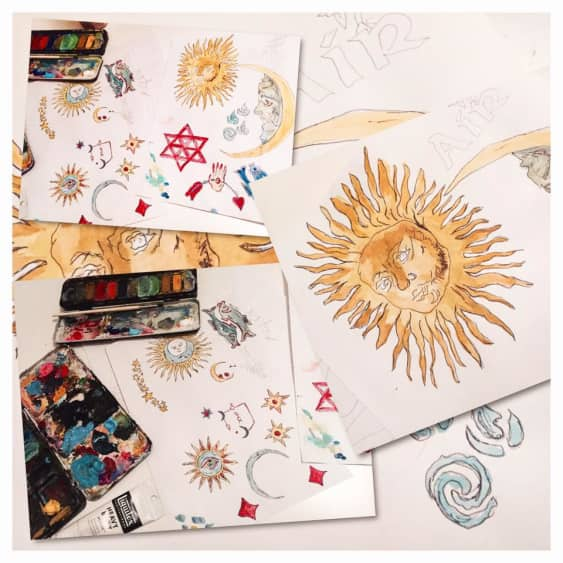 To create the limited edition tote bag, Rixo were set a brief to incorporate 'the elements' into their design. They began by creating a mood board for their ideas, collecting symbols and motifs for earth, wind and fire. Orlagh and Henrietta are both obsessed with the sun, moon and stars so these elements played a big part in the design. They then took both the Wolf & Badger and Rixo logos and transformed them using the writing that they found on old tarot cards and gypsy letters.
We expect to see big things in the future from Rixo, their plan is to expand into accessories, to offer a service where a whole outfit can be built in the Rixo aesthetic from their London flagship store as well as one day expanding into the interiors world… Stay tuned; these are two women on a mission.
Get your free limited edition tote bag with your next order, simply enter the code TOTE at the checkout.