The business of fine jewellery has seen a shift in recent times, from a dedication to diamonds and precious gems in traditional settings, to something more considered and decidedly more individual. No longer just a creator of accessory or bedazzlement, today's modern jeweller seeks to do more than simply bejewel, looking instead to tell a story and capture a fantasy within gilded pieces that will remain achingly current and transcend the trends of each season.
Embracing this new attitude in stunning fashion are two of Wolf & Badger's jewellery designers Tessa Metcalfe and Vasundhara Parakh. Tessa and Vasundhara's designs differ greatly in terms of style, yet both encapsulate a refreshed approach with their pieces, creating a sort of otherworldly combination of fine jewellery and painstaking craftsmanship.
A purveyor of unique narrative pieces, Tessa Metcalfe has built her style on her own personal longing for a fairytale lifestyle, contradicted against the harsh grey reality of a childhood in Croydon, East London. It is this unique outlook that saw Tessa yearning to create a fantasy world through her work, capitalising solely on the status of the pigeon as an underdog and symbol of London Life to 'find beauty in the gutter'.
Working to a fantastical narrative, Tessa casts pigeons feet to create a sort of modern talisman, even gold plating their nails and adorning their claws with miniature rings set with precious gemstones, communicating what she describes as a 'feral lust for jewels'. Claws of Engagement and Pigeon Grasp are two styles in the current collection; both ring designs featuring the trademark clawed grip cast alongside the likes of smoked quartz, moonstone, amethyst and peridot. Clasp clawed necklaces in the collection perfectly combine fantasy with fashion, satisfying a sense of escapism whilst remaining not just wearable but incredibly coveted.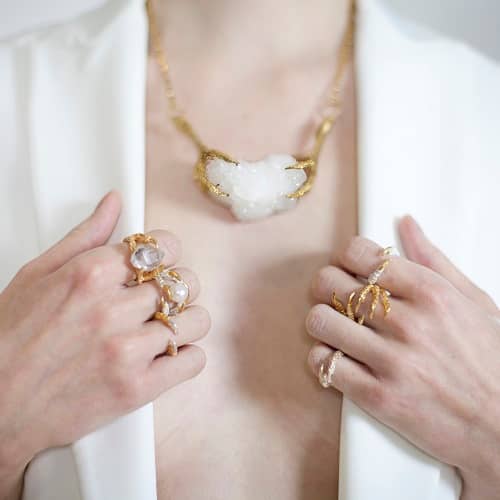 Embracing a similar narrative approach to design, Vasundhara Parakh is combining past with present by meshing the traditional Indian craft of jewellery making with a globally appealing contemporary twist. Echoing the combination of her Indian origin and her London roots, Vasundhara creates sculptural pieces which utilise some of the finest of gemstones and crafting techniques. All gemstones are sourced in India, before being cut to Vasundhara's exacting specifications and crafted into her designs by a small expert team.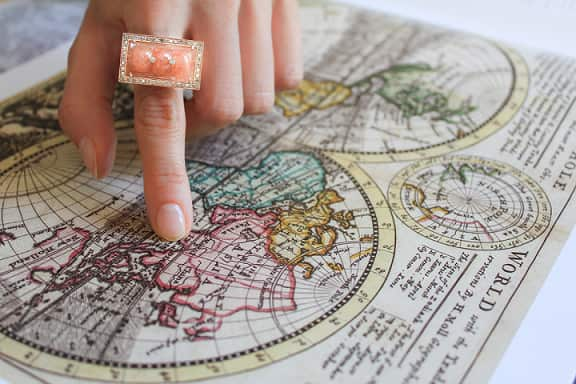 Vasundhara Parakh's three collections convey the rich tones of her heritage alongside a unique contemporary style. The Indian Summer collection features bold discs of black onyx and orange aventurine, inlaid with tourmaline and turquoise edged with 18ct and 24ct gold. The Terraces collection continues this structural aesthetic with shards of stacked black onyx and orange, blue and green aventurine, set alongside delicate diamond accents and 18ct rose gold. Testament to Vasundhara Parakh's skill in combining East and West lay in the fact that each design fits as comfortably amidst the red carpet attire of silver screen royalty as it does bejewelling the princesses of Bollywood.
Though vastly different in design, Tessa Metcalfe and Vasundhara Parakh both convey the same narrative aspect in their art. Pieces are incredibly wearable and lustworthy on merit of their appearance, whilst at the same time whispering a tale of two worlds combining. For those seeking fine jewellery with a deeper meaning, these are two designers fitting the bill perfectly.
Tessa Metcalfe is available in our Notting Hill store and online, and Vasundhara Parakh is available online.