Introducing Bella Singleton, providing prismatic accessories to the style conscious for whom personal expression trumps fashion trends.
How did Bella Singleton begin as a brand?
The first step on the formation of my brand was getting my grant from the UKFI to go to Paris Premiere Vision and then designing like mad for months! It was a mad trip and very eye opening in terms of what I did and didn't want in starting a brand.
I did some print internships in London after Art College. Then set out to get my grant which was hard work! I began designing freelance and went to Paris to sell my prints to fashion houses and on returning decided I wanted to build my own brand so the first collection was put into production and I headed to Top Drawer for my first tradeshow which was a success. I have worked part time along the way of course, living in London it hasn't been too easy but I'm glad I've been here.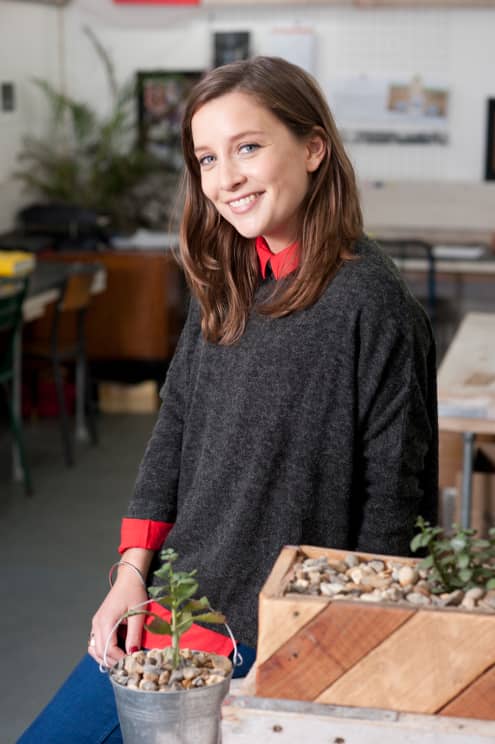 Have you always been interested in fashion?
Since a very young age I was drawing up outfits, 6 on a page and each page was a different style or collection. I would keep files and files of them.
What have been the highest and lowest points on your journey so far?
The highlight so far was getting a very recent commission from a large institution to be revealed in June 2016, this really ensured myself that I was on the right track and has given me a new wave of confidence. The lowest point has been the very beginning when everyone else is doing their jobs and the scary prospect of me doing it all alone, now it is beginning to pay off!
What was the inspiration behind your latest collection?
My latest collection and my first has been inspired by the surrealist movement which has forever found its way into my work. The way that one image merges into the next, usually based around themes of nature and wacky creatures hidden within a weird and wonderful world of pattern.
Do you ever struggle to stay inspired?
No never, especially with the endless supply of visual imagery at our fingertips with the internet and living in London the amount of galleries and shops is always a great place to escape and begin with a fresh mind again. I do sometimes find it hard in London to focus as there is always so much going on and for me to really be creative I need to vanish into my own little world for days on end.
Where is your go-to meeting spot?
Usually any small cafe that I can fit best into my working week.
How would you describe your customer base?
My customer base is those that want to be super stylish yet practical and who want something that's long lasting. They are interested in creative disciplines and appreciate art and fashion coming together.
Is there anyone you would love to see wearing your designs?
Olivia Palermo would be my ideal customer. I love her style. I've just sent her one so you never know. Emma Watson would be lovely too.
What are the morals you run your brand by?
Bella Singleton is focused on original design, everything is hand illustrated and crafted in Britain. I am very much a do it myself person as I know exactly how I want it.
Do you have a mentor?
I have no mentor but I did get a grant and some great advise from UKFI when I begun the brand which really helped me. My dad runs his own antiques business so I can turn to him for advise and my mum is an Art Historian so again a big help in getting me interested in the arts.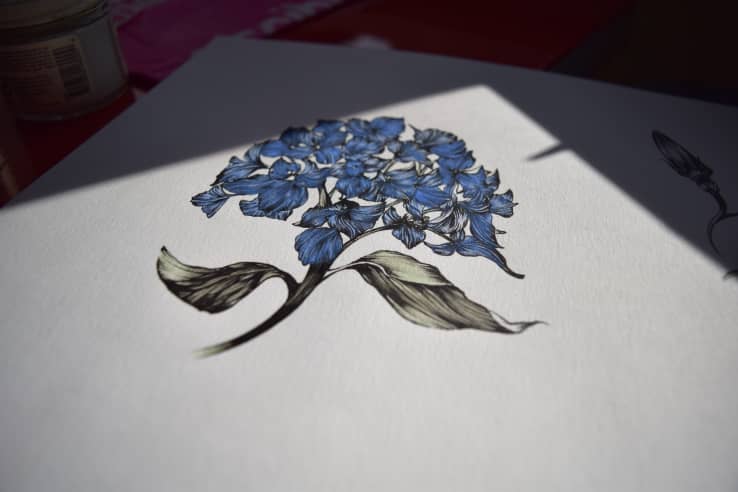 What apps keep you sane?
Citymapper! In London I'm always nipping somewhere to pick something up or to a new show so this is my savior.
If you could only wear one piece from your collection, what would it be and why?
To date, it would be the Sea of Beauty scarf in Egyptian Blue. It has a deep blue which is so rich against the silvery background, I wear It with all black. Large scarves work for me too. I like to be drowning in it!
What's the biggest style mistake you've ever made? 
Wearing a very short, falling apart, tartan skirt for about a year when I was studying. I get laughed at now by my friends about my used to be very eclectic wardrobe, nothing ever went together!
Is there another designer whose work you particularly admire?
Large brands would be Kenzo and Preen. A new brand that is doing wonderful things in my eyes is Jardine of London and I love Veja trainers.
What's the best piece of advice you've ever been given?
It's that annoying saying of if it was easy everyone would do it but that's advise to myself - I don't think I've ever had really words of wisdom thrown at me and I'd find it a bit cheesy but an amazing group of people that encourage me and that I'm very lucky to have.
What drew you to Wolf & Badger?
The huge array of amazing designers that I haven't come across before, it's incredible. Wolf & Badger seem to have found a missing part and have made sure that people actually hear about it. It's contemporary and fresh, giving us something new to look at everyday.
Where do you see the brand in 5 years?
In five years time I would love to be stocked in many lovely boutiques worldwide with many more of my collections to come, this really is just the very beginning. Creating bespoke designs is something I would like to begin too.