Jiri Kalfar is a Czech based fashion designer. Working as a model and dancer before starting his label has given him an invaluable understanding of both the human body and movement, which is reflected in his collections. We spoke to Jiri to find out 
How did the brand Jiri Kalfar begin?
I have always been creative in the way that I dress and I have always adapted my clothes to how I wanted them to look. But it is very different to experiment and create on yourself and then create for others.  I did not study fashion design, yet I am a designer. I think it requires mainly intuition, taste, an eye for fashion and… passion, a lot of it! And of course a certain knowledge of the body. It was my background which provided me all of the above. 
 I have studied and trained to be a ballet dancer, a profession where the most important things are the purity of movement, clean never-ending lines and above all, beauty and precision. I have had the great honour to meet, perform and cooperate with some of the most known and talented artist nowadays such as Pina Bausch, Wayne McGregor, Jiri Kylian  and others. To me, those experiences and people are and will be the utmost inspiration to my creativity and my style as a designer.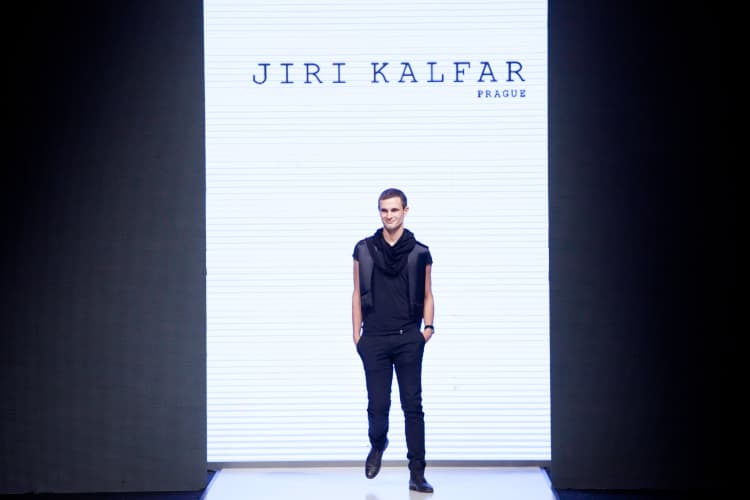 With time I traded my ballet shoes for catwalks and photo shoots where I stood in front of the camera. It wasn't an easy change but I was lucky. As a model I got the chance to work with some of the biggest names there are in fashion. I have been listening and absorbing their knowledge and opinions of cuts, trends, fabrics and the future of fashion. I taught myself the process of how clothes are being made, cut. I learned about fabrics, patterns and sewing.  
 I have lived most of my teenage and adult life abroad (from Barcelona, Stuttgart, Rome and NYC) and the impulse and need of creating my first collection and starting my own brand came from there. I have always wanted to create, and mostly all I knew was theatre, human body and fashion. I have been observing and I get inspired by stories and people I have met on the way. I wanted to come back to Prague where I am originally from and to do something with the inspiration which collected in me.  That is where the initial impulse was, I'd say.
I introduced my first women collection in 2012. In 2013 I was invited to participate and showcase my collection at Mercedes-Benz Prague Fashion Week Prague where I showcased men and women collection, year later I have won participation at Unique Fashion Week Prague where I was selected by Range Rover Young Talent.  In 2014 I was selected to be part of ORIGIN: Pasion & Beliefs in Italian Vicenza too, and a short movie I have created with my team for a.w 15.16 collection was at official selection in FashionClash festival in Holland.               
Have you always been interested in fashion?
I have. I wouldn't say fashion as such but I always have been more concerned about style of a person, of the expression of it, the meaning behind the individual. I have studied ballet and spend lot of time on stage in various costumes. Those costumes need to represent who you play, what your act is. They need to speak to the audience before you even move. And that is what interested me at first, the creation of character, without words, introduction or move.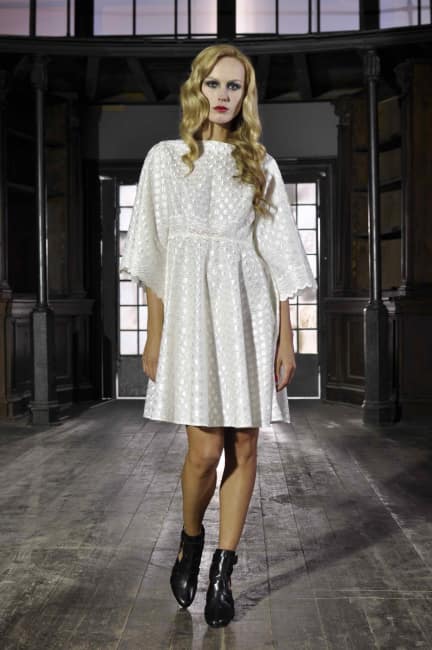 What have been the highest and lowest points on your journey so far?
I think the journey itself is rewarding. The lowest often changes to the highest and push you to work harder, look deeper into things, progress, innovate… It is a hard question as nothing is ever black and white.        
What was the inspiration behind your latest collection?
It is my interpretation of story and lives of two of the greatest artists. . Of their meeting, collaboration and their influence of each other. The official description goes:  
History has been made. Legends live on. It was when two people's paths crossed. It was the year 1961, when the story of Rudolf Nureyev, the greatest new ballet sensation and Margot Fonteyn, the prima ballerina, began. From entirely different cultures, social backgrounds and generation, the boy and the Dame would soon share with the public the gifts of their one-in-a-generation artistic marriage. I present this new collection inspired by the lives of Fonteyn & Nureyev, demons and angels, and yet one unique mind.
Do you ever struggle to stay inspired?
No, not really. Mostly I get inspired by my training, show or exhibition I have seen and that stuck in my head and people I have met on my journey so far. And the great artists and events I came across. Their stories, history. I like imagining it and re-creating it with my approach. Take a memory and make it alive again. 
Is there anyone you would love to see wearing your designs?
Oh yeah, Vanessa Paradis for sure. I think she is beautiful! And Jessica Chastain, Kate Moss, Sylvie Guillem, I would be honoured if one of them wore my clothes…
What are the morals you run your brand by?
I produce everything locally in Prague in our little studio. I mostly get my materials from European suppliers and manufactures. I think it is so important to support and sustain the local market and its workers too. There is so much experience which they have. I learned from my seamstress for example. She has been doing this job for 40 years and she is a great help to me. It is as well so important to have the human touch of each item.
I would never use fur for my collections at any point or price and only use recycled leather.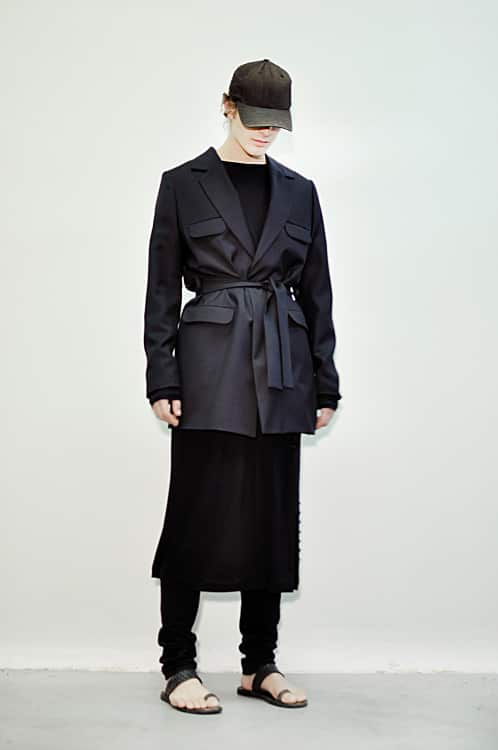 Do you have a mentor?
Not a mentor as such, I take advice from my friends, and people close to me. I always listen and try to improve on basis what clients and people in business say or fellow designers. It is important to get a feedback, I think I take criticism quiet well and try to improve but the direction of where the next collection will go and its inspiration always comes from me. That is not negotiable.
What's the biggest style mistake you've ever made?
I grew up in the 90's. The definition of 90's is a style mistake. And I miss it!  Lol.
 No but really, I don't believe in style mistakes. If you felt like wearing something in a moment, you should wear it. Style is reflection of each individual personality and mood. There is always an aspect of following social rules and dress codes you should have in mind but otherwise if you can pull your style, you wear it. No matter how eccentric or crazy, traditional or minimalist.
Is there another designer whose work you particularly admire?
Yes, I admire many actually. Vivienne Westwood, John Galliano, Alberta Ferretti, Dries VanNoten…. but above all there are the ultimate:  Alexander McQueen and Coco Channel.
I like to follow young independent brands too but there is so many of them I like…:D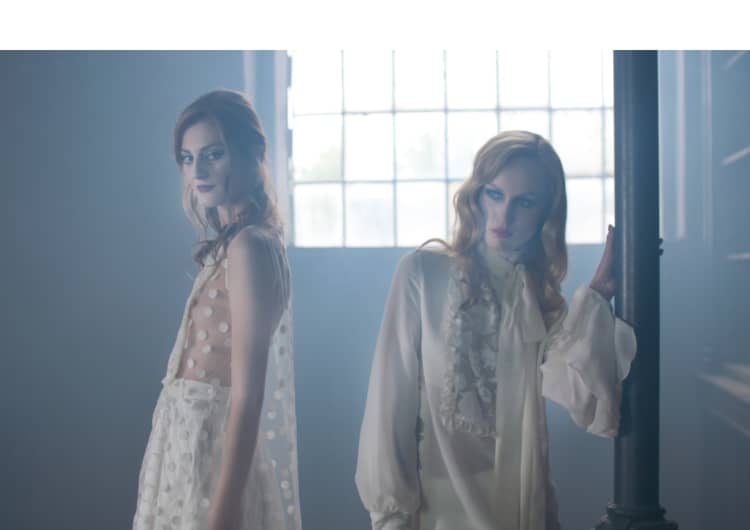 What's the best piece of advice you've ever been given?
Be honest.
What drew you to Wolf & Badger?
Its tradition, its reputation for selecting talent and location. To be honest, when I applied to showcase in Wolf&Badger I have not expect even answer so I truly was over the moon when I received a positive answer. It is so important to have boutiques such as yours which are looking for talent and give a chance to young designers.
Where do you see the brand in 5 years?
I would like my brand to be known and successful. There is many goals I would like to achieve in 5 years , particularly London Fashion Week, introduce haute couture collection, be featured in L'Officiel or create a multi-visual performance with cooperation with choreographer such as Wayne McGregor.