Mielini is a high end spiritual jewellery brand made for the "Sophisticated Hippie" – a woman who exudes style, grace, class and timelessness with a free-spirit attitude. Designer and Gemologist, Alexandra uses gemstones that carry special healing properties as her inspiration. We spent five minutes with Alexandra to learn more about her jewellery brand.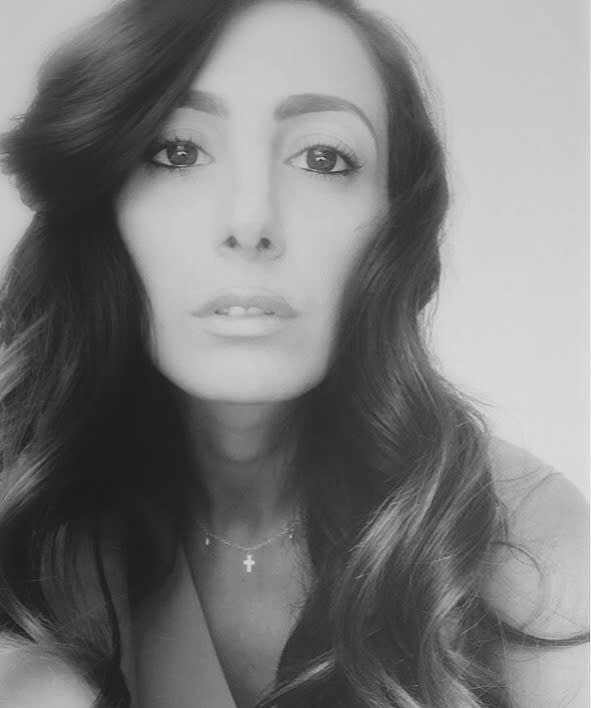 How did Mielini Jewellery begin? 
When I was a young designer I had a dream to create a jewellery line that was unique to the world. A line that would stand out. Mielini was inspired by love, my own personal process of self-realisation and all things related to spirituality. With my spiritual background and practice in Kundalini yoga, I had an awakening one day. It was basically one I couldn't turn my back on, I knew that I had to design jewellery that meant something important to me.  I design jewellery that is not only aesthetically pleasing to the eye but has great meaning behind it. As an energy healer, I've spent most of my time learning more and more about gemstones and their healing properties. I was so fascinated by this phenomenon that I had to implement this somehow in wearable jewellery - jewellery that has class and style. I looked at myself as being the "sophisticated hippie". With that in mind, designs started flowing on paper.  I consider myself  "old school" when it comes to designing. I still hand draw and render my designs with gauche.  Each piece has a meaning and takes a great amount of time to put together, as I take into consideration not only the design aesthetics for the finished product, but the harmony of the stones when placed together.  It is a process in which I enjoy greatly. I'm proud to say Mielini is doing well since launching in late 2016. Mielini has been placed in a few publications around the world.  My collection is growing and I'm excited to launch the upcoming " petite collection" which will be a more delicate line.  With brick and mortar and online stores across the nation and internationally, I'm proud to say Mielini is going as planned. It has been a great journey thus far and I cannot wait to see what's next.
Have you always been interested in fashion? 
I have always had a love for fashion, from clothing to accessories. I was fortunate enough to grow up in a family who appreciated fashion as well. i remember the days when my father would go to paris and bring back the latest fashion trends for us.  a season or two later, that style would finally make it's way to the us. 
What have been the highest and lowest points on your journey so far?
I would have to say the start is always difficult in any business you are building, there are many unknowns. having been a designer and gemologist for just a little over 15 years, the highs and lows never end. mielini is not my first brand. i had another jewelry line years ago and decided to change things up. sometimes you need to put yourself in an uncomfortable space in order to grow. I strive to stay unique. each time I design a piece I try to bring something new and of course with Mielini, the ideology behind it is what makes me unique. I'm at my highest when my ideas and inspiration is flowing. I also love to hear positive responses from my customers, it encourages me to keep going. The lows are usually times when I have designer's block. With a little bit of meditation and relaxation of the mind, this can be reversed and I'm back on track!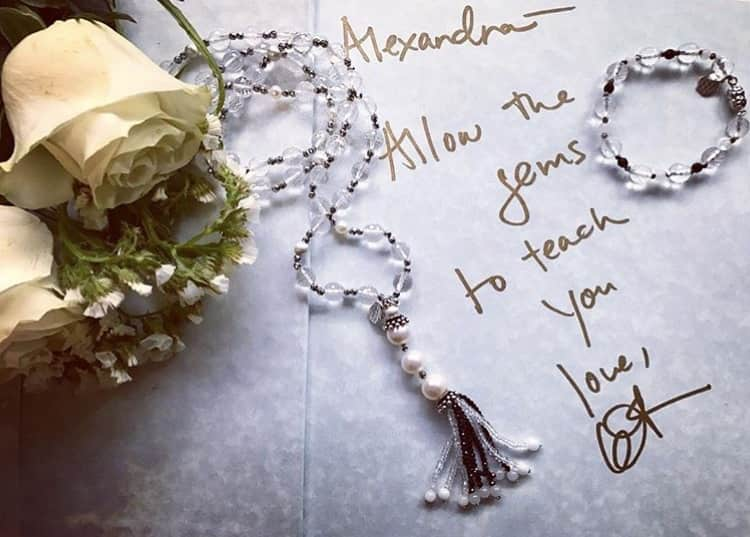 What was the inspiration behind your latest collection?
The inspiration behind Mielini is based on self-love and care. During my time of healing and self-realisation, I found I could put my feelings and love into jewellery. I practice Kundalini Yoga and through my practice I learned about gemstones and their healing properties. Everything just fell into place. It took one trip to the Las Vegas Jewellery Convention in 2016 and the purchase of a strand of super seven quartz and everything after that was the beginning of Mielini.
Do you ever struggle to stay inspired?
As with art, fashion and anything related to creativity there are times that inspiration can become hard to acquire. This is absolutely normal, we are not superheroes! 
How would you describe your customer base?
I believe my customer base goes anywhere from the very sophisticated classic lady/gent types to the relaxed boho-chic/hipster type. I design jewellery that grasps the attention of those who are spiritually aware. However, I have plenty of customers who just wear my jewellery because they like my designs.
How would you describe your customer base?
I would be happy to see anyone wear my jewellery, it brings me joy knowing there are people out there that appreciate my work. I would love to see celebrities wear my jewellery however, as my jewellery is made for everyone. 
What are the morals you run your brand by? 
I believe in compassion and love for mankind. These are the morals I live by and makes me who I am. When you give love and compassion to others, the universe rewards you, it's like karma. Mielini was inspired by love and all things related to spirituality. It's all interconnected. Our mission is to provide aid to needy families with children. A portion of proceeds go to those living in dire conditions, this is our promise to the world.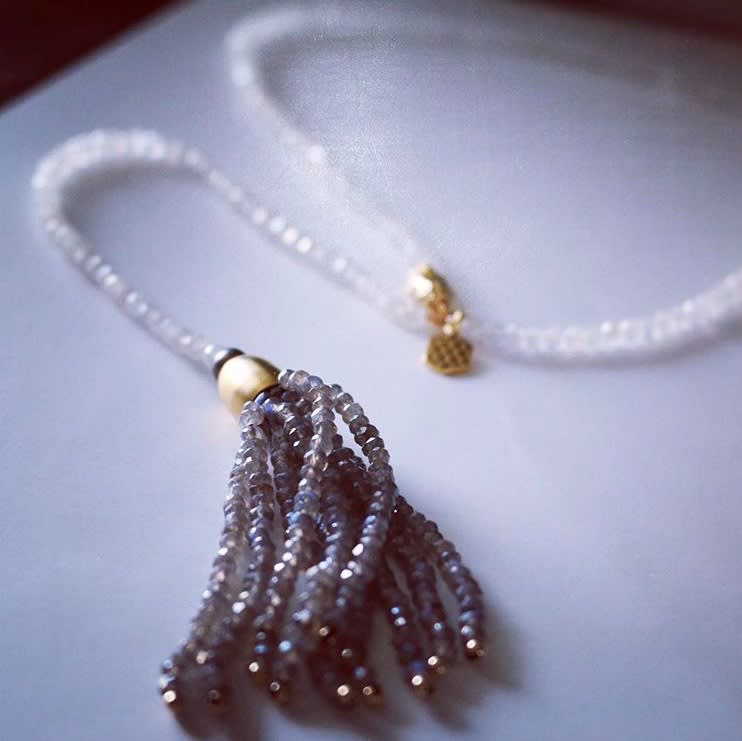 Do you have a mentor? 
My mentor has always been my father. I grew up in the world of luxurious jewels. i was truly fortunate enough to see all aspects of the jewellery industry at a young age. He was very strict with me when it came to jewellery making and designing. I can say I have learned from the best. With the love he had for jewellery passed onto me, I now take what I have learned and implement everything I know into my work. I remember particularly, when I was just eight years old, I made my first ring out of wax. I had carved my initials on it then had it casted into sterling silver. I still have that ring and it's a reminder of what I have learned through the years and how my passion has grown over the years to become a jewellery designer and gemologist. 
What apps keep you sane?  
My favorite app would have to be Instagram. I find this app very useful for various reasons - from finding out the latest trends in fashion, make-up and jewellery to celebrity news or just seeing what my friends and family are up to. It's fun but can be addictive! I try to use instagram to its' full potential. It is also a great place to find the 'it' spot when trying to book your next travel adventure. 
If you could only wear one piece from your collection, what would it be and why?
I would have to say it's the "Queen" necklace. My company stems from this necklace. I was at a trade show in 2016 and came across this beautiful strand of super seven beads. I was so fascinated by it. I had overheard a couple ladies talking to the owner about the special healing properties of this particular gemstone and I jumped in on the conversation wanting to learn more. I had never seen these beads before nor had ever heard of them. I held the beads and felt this incredible vibration go all the way down to my toes. I was in complete awe. I felt a surge in my body - kind of like an electric tickle.  I just had to buy the strand not knowing how it would be used in the future. A few days later, I started to draw out an idea for a necklace - now known as the "Queen". I had it strung and from that moment on - Mielini took a turn. I wear it as often as I can, as it brings a sense of peace and calmness in me. It's definitely my "go-to" piece. It can be worn with a simple solid tank top with jeans to a little black dress for a night out. 
What's the biggest style mistake you've ever made?
As designers we have to test the grounds and push our limits. There have been times I have designed pieces that were not as successful as others. It's a learning process. Through mistakes I have made, I learned what works and what doesn't. it's ok to make mistakes, this is how we grow.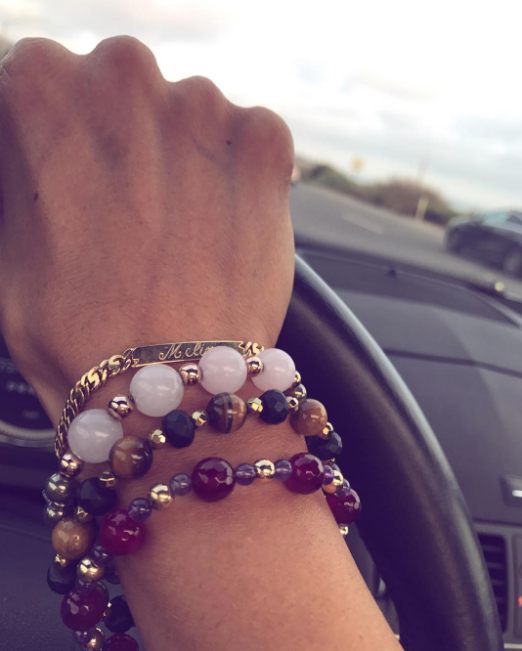 Is there another designer whose work you particularly admire?
My favourite designer to date would have to be Alexis Bittar. I love his background story, he is an inspiration to me. He started from the bottom and became one of the world's most famous fashion jewellery designers. I love his big and bold pieces, his jewellery has a distinct look. I truly admire his work as a designer. 
What's the best piece of advice you've ever been given? 
The biggest and best advice i have ever received is "surround yourself with positive and honest people". When you surround yourself with positive and honest people, you find love, compassion, empathy and loyalty. This brings a sense of comfort within, knowing I have good people around me and will push me to my highest potential, and that is priceless. 
What drew you to Wolf & Badger?
Wolf and Badger has a very unique take on online brand exposure. I love how they take independent designers from around the world and place us all together. From fashion to home goods designers, we are a community of designers bringing a fresh new take on the latest styles. I feel so honoured to be a part of Wolf and Badger.
Where do you see the brand in 5 years?
I hope to see my brand make a name for itself. It takes a lot of work to create your own company, but every moment spent is well worth it. i would like to bring spiritual awareness and help people heal through the power of gemstones. i hope to achieve this through my jewellery. Additionally, I launched a mission and hope to fulfill this and help families in need.