Israeli-born twin brothers, founders, and designers, Yossi and Shauli Sidi, were drawn to art from a very early age. Painting was and remains today a very vital part of their lives. As children, the brothers were introduced to the world of diamonds through family members in the industry. Combining their growing creativity and exposure to the world of diamonds, falling in love with the trade was inevitable. Motivated by a love for the industry, a love for art and a love for their families, the brothers embarked to fulfill a dream by transforming their artistic hobby into a business.
Must Jewelry began as a trading and manufacturing company. As their understanding and passion for the diamond industry heightened, the brothers knew it was time to start doing what they do best: designing. By becoming experts in the entire jewelry-making process, every single piece of jewelry is entirely handmade in Israel. From manufacturing their own diamonds, sketching elegant designs, and implementation into actual jewelry, the process starts in the mine and ends on the consumer's finger. Each piece is hands on polished to perfection.
What was the inspiration behind your latest collection?
We have explored every possible aspect of the diamond industry over the past 30 years. Diamonds use to be a symbol status, a sign of classic tradition - and as cliché as it may sound: a girl's best friend. With the experience that we gained came clarity; we understood that people are looking for something else. That's how we came up with a more modern concept, which merges the classic, timeless main stone (diamond) and a casual wax cord. In addition, we decided to create a variety of colors, that will enable each person to express himself - men and women alike.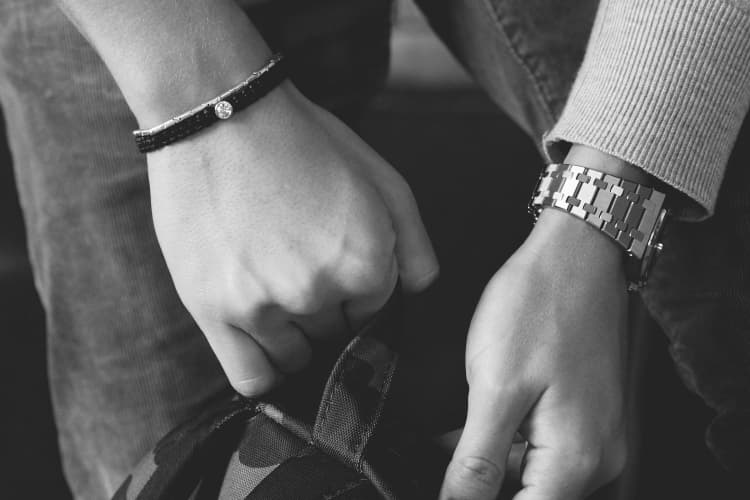 Do you ever struggle to stay inspired?
We are not going to lie, and say that we are able to "generate" inspiration on command. But there is no doubt that inspiration stands around the corner, especially when you don't expect it.
Where is your go-to meeting spot?
Since the core of the company are family members, our go-to meeting spot is the dinner table.
How would you describe your customer base?
They used to be affluent adults; but our new collection is the first step towards our new audience, which includes young adults as well. The bracelets are affordable - the price point is accessible to people from different socioeconomic backgrounds.
Is there anyone you would love to see wearing your designs?
Someone who never owned a diamond jewel before.
What keeps you sane?
The little things in life; enjoying the company of the kids, a good espresso, going to the beach. But we love what we do and that's why it doesn't take much to keep us sane.
If you could only wear one piece from your collection, what would it be and why?
The Blue Must Bracelet - the combination of rose gold, round brilliant diamond and a blue wax cord reflects our taste in fashion and is so comfortable to wear on a daily basis (at work, at home, in the shower and etc.)
What's the biggest style mistake you've ever made?
To think that we shouldn't work together as twin brothers.
Is there another designer whose work you particularly admire?
Pippo Perez
What's the best piece of advice you've ever been given?
"Don't be afraid of losing someone who doesn't feel lucky to have you" - you would be surprised how relevant this saying is to both business and art.
What drew you to Wolf & Badger?
W&B represents the latest trends in the world of fashion. We were looking for somwhere with high quality, tastefull items and audience, so Wolf & Badger was perfect.
Where do you see the brand in 5 years?
We would like to become what kleenex is to issue paper but in our industry - synonymous with diamond bracelets.