It's a simple question and one you may have heard before. But the answer is complex and usually you have no idea what it is. Every single piece of clothing in existence today was handmade by someone (or lots of someones). Who are they?
Manimekala was founded on the principle combining both aesthetics and ethics. We create unique contemporary fashion that empowers both the wearers and the makers of our designs. We want to invite you to journey with us and learn the stories behind the products, and introduce you to the women who make them.
We combine design with a social mission, working in partnership with social enterprises to making our products fairly and responsibly. We only work with partners that align with our values, empowering marginalised women and supporting them and their communities. Our designs are made either by us in London, or by our incredible partner, Saheli Women based in India.
Saheli Women is an ethical fashion manufacturer that works with underprivileged women in the desert village of Bhikamkor, Rajasthan. In this traditional rural community, women are expected to devote themselves to being wives and mothers and are often forbidden to leave the family home without permission from their husbands or in-laws.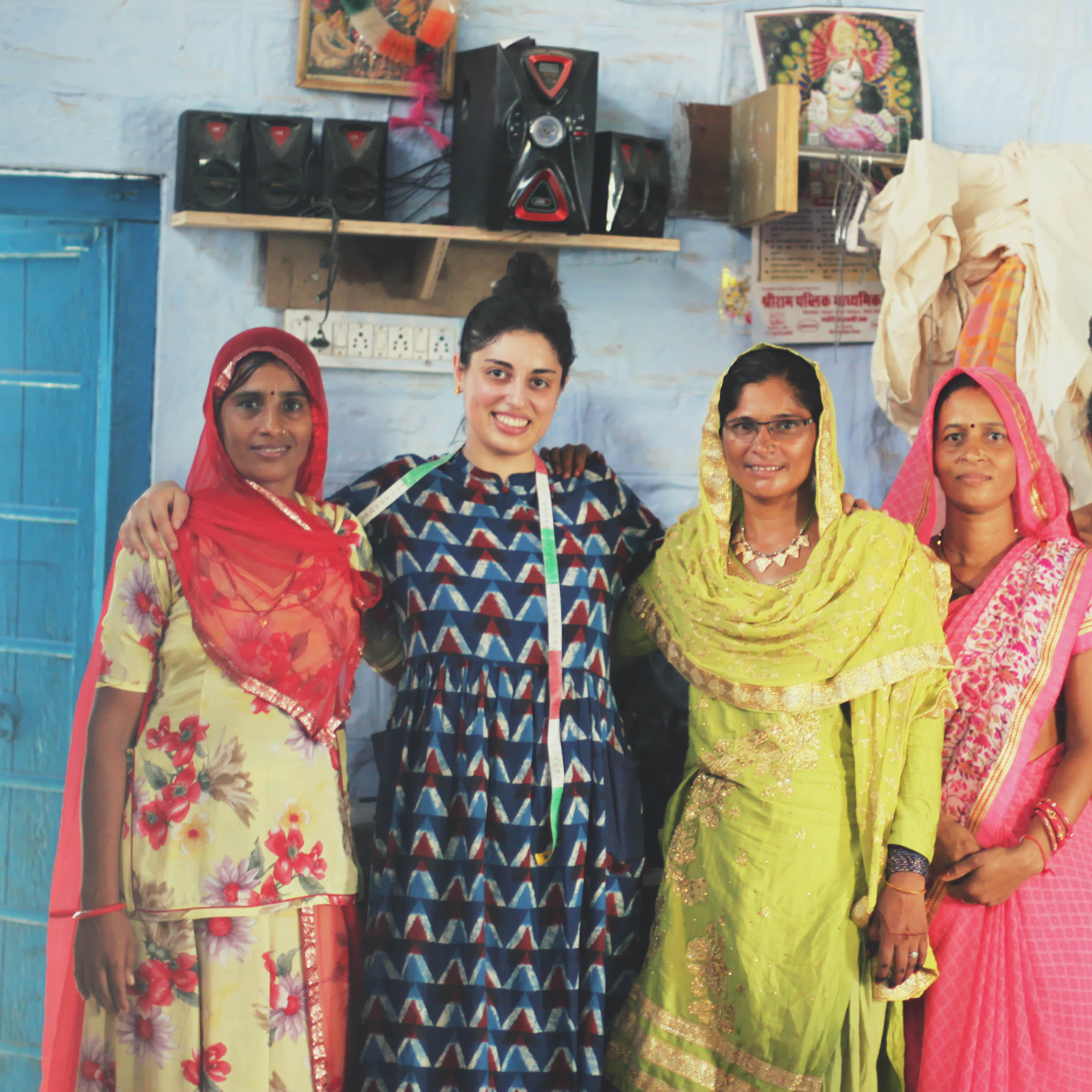 Mekala, the founder of Manimekala, visits the Saheli Centre. Pictured with Leela ji, Shanti ji, and Saraswati ji
The Saheli program works by first training local village women in sewing and embroidery, then employing them, and partnering with international brands to create conscious fashion products. The women are allowed the freedom to chose their own hours, to fit around childcare and household responsibilities. Saheli provides fairly paid, dignified, safe and discrimination-free work in a female-only environment, but it is still a struggle for local women to convince their families to allow them to participate. Through the simple act of coming to the Saheli Centre, the Saheli Women are truly trailblazers. We are proud to partner with them to support their individual journeys to self-empowerment.
Saheli Women is part of a larger grassroots non-profit called IPHD which run other social projects in and around Bhikamkor, such as a children's library, kitchen garden, health clinics and workshops on nutrition and menstruation. As schooling is expensive for many families, girls are typically forced to drop out so that their brothers can be prioritised. IPHD decided to sponsor the education of all the daughters of the Saheli Women, allowing them to go to school without financial pressure and opening up opportunities for the next generation.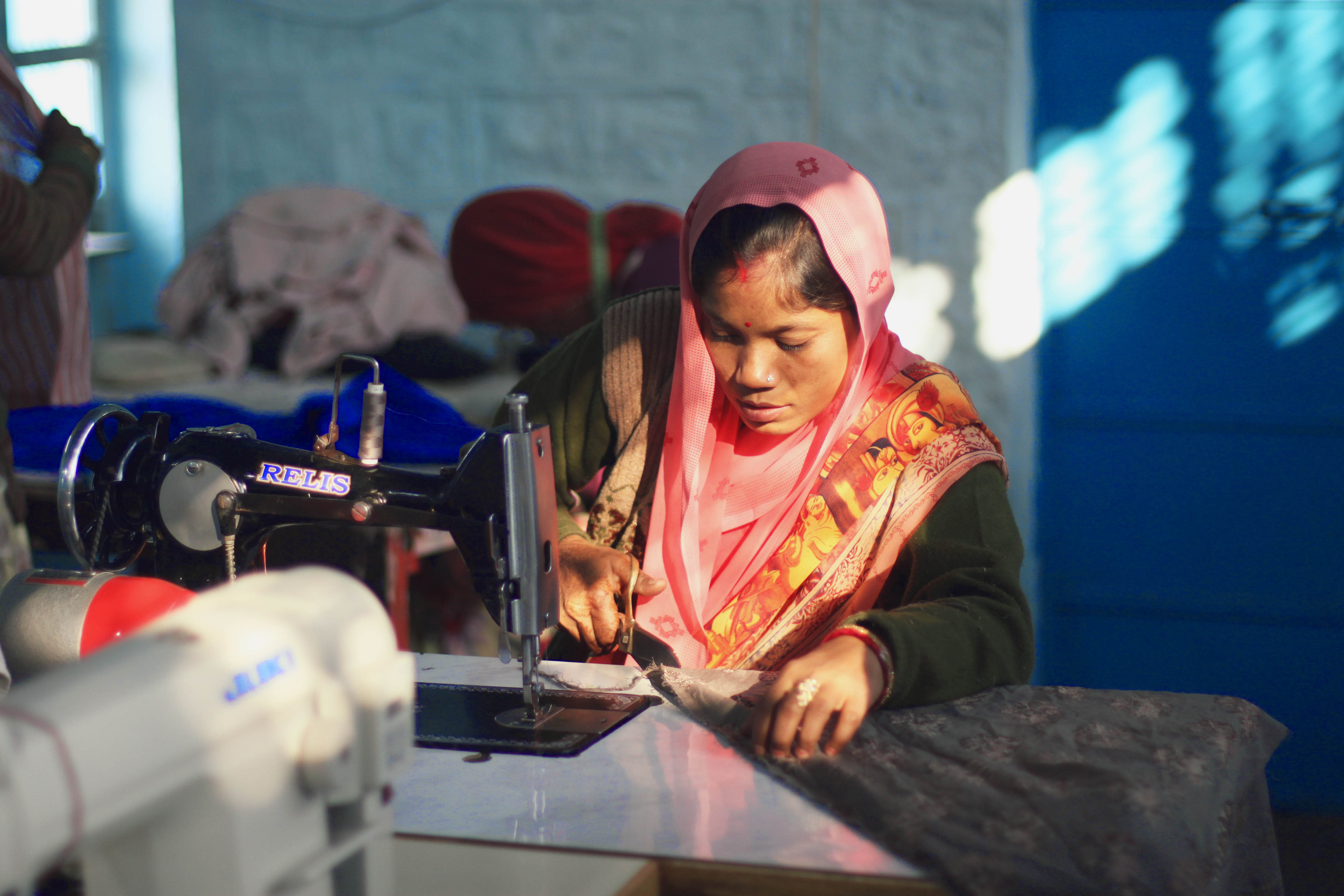 Anju ji sewing in the winter sunlight
Now that we've introduced you to the women who made our clothes, we want you to hear their voices.
Saheli Women have produced their own podcast, telling individual ladies' stories in their own words. Translated into English by Madhu Vaishnav, the pioneering founder of the Saheli Women initiative, you can listen here.
We live in our clothes, they protect us and comfort us, they give us confidence and pleasures. Clothes hold our memories and our dreams and the stories of those who touched them before us. We should honour those who made our clothes, treat them with respect and cherish them.
This is what we believe in and we you hope you will agree with us. We at Manimekala connect women though fashion, telling the stores behind each unique piece. Will you join us?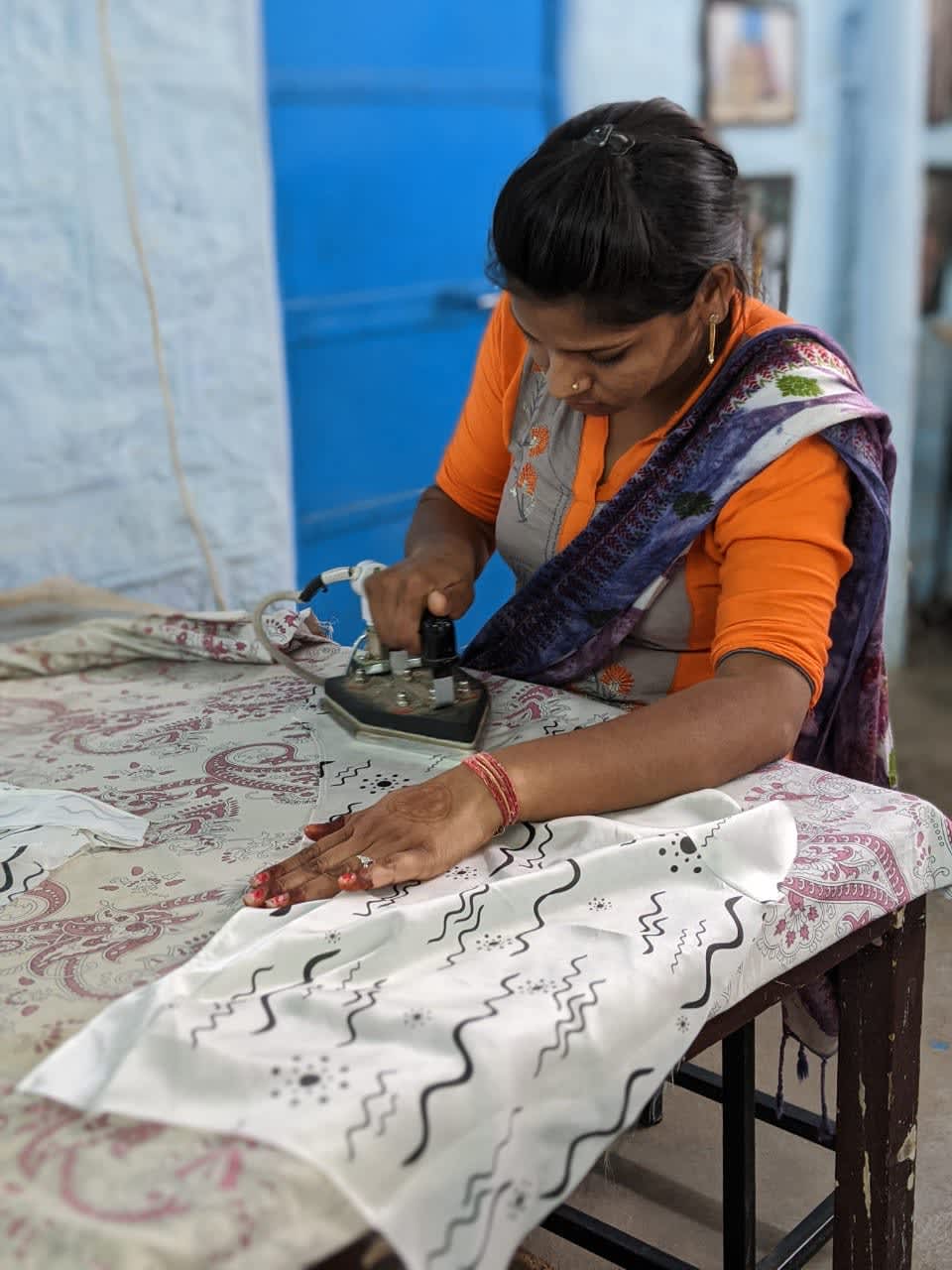 Rekha working on a Manimekala Chandra blouse