Press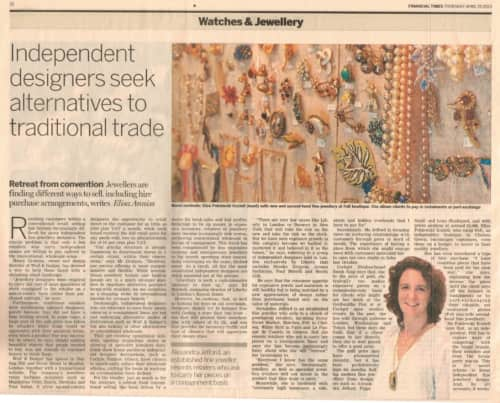 Financial Times
April 2013
Henry Graham, owner and design director of Wolf & Badger, has devised a way to help those faced with a shrinking retail landscape.
"Jewellery designers were required to carry the cost of large quantities of stock consigned to the retailer on a sale-or-return basis rather than purchased outright," he says.
Furthermore, traditional retailers were overlooking talented designers, purely because they did not have a long trading record. In some cases, a large part of the sale price was taken by retailers while some could be aggressive with their payment terms, even when a product line was successful. In others, he says, simply making beautiful objects that people wanted to buy was not enough to convince buyers to stock them.
Wolf & Badger has spaces in Notting Hill and Dover Street in Mayfair, London, together with a transactional website. The company's jewellery range includes designers such as Magdalena Tello, Ikuria, Hirotaka and Tina Zafari. It gives up-and-coming designers the opportunity to retail direct to the customer for as little as £250 plus VAT a month, while each brand receives the full retail price for any goods sold, less an administration fee of 18 per cent plus VAT.
"Our pricing structure is already happening in department stores to a certain extent, within their concessions," says Mr Graham. "However, our service offering is more comprehensive and flexible. While international jewellery brands and fashion houses are in a much stronger position to negotiate attractive payment terms with retailers, we see ourselves as a stepping stone to international success for younger brands."
Increasingly, independent designers who are reluctant to have their pieces taken on a consignment basis are not just embracing alternative modes of distribution such as Wolf & Badger's but also looking at other alternatives to conventional wholesale.