Press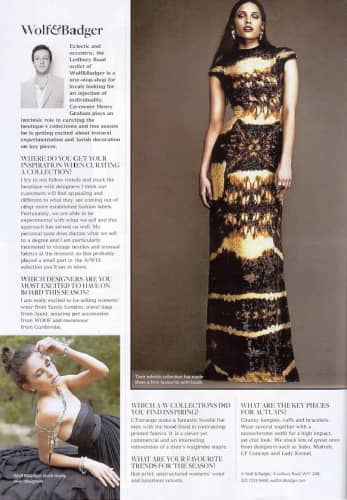 The Grove- Resident
September 2013
Wolf & Badger
Eclectic and eccentric, the Ledbury Road outlet of Wolf & Badger is a one-stop-shop for locals looking for an injection of individuality. Co-owner Henry Graham plays an intrinsic role in curating the boutique's collections and this season he is getting excited about textural experimentation and lavish decoration on key pieces.
Where do you get your inspiration when curating a collection?
I try to not follow trends and stock the boutiques with designers I think our customers will find appealing and different to what they are seeing coming out of other more established fashion labels. Fortunately, we are able to be experimental with what we sell and this approach has served us well. My personal taste does dictate what we sell to a degree and I am particularly interested in vintage textiles and unusual fabrics at the moment so this has probably played a small part in the A/W13 selection you'll see in store.
Which designers are you most excited to have on board this season?
I am really excited to be selling womenswear from Yanny London, travel bags from Jaunt, amazing pet accessories from WOOF and menswear from Garderobe.
Which A/W collections did you find most inspiring?
L'Estrange make a fantastic hoodie for men with the hood lined in contrasting printed fabrics. It is a clever yet commercial and interesting reinvention of a men's wardrobe staple.
What are your favourite trends for the season?
Ikat print, unstructured womens' wear and velvets.
What are the key pieces for Autumn?
Chunky bangles, cuffs and bracelets. Wear several together with a monochrome outfit for a high impact yet chic look. We stock lots of great ones from designers such as Sabo, Mutrah, CF Concept, Shoshanna Lee and Lady Kismet.