Press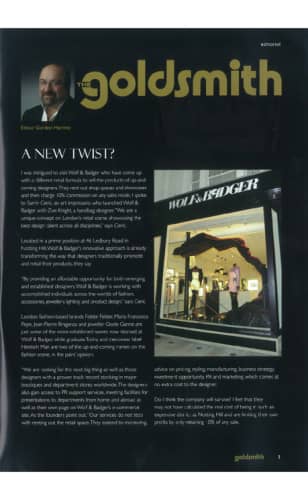 The Goldsmith
July 2010
A New Twist? - I was intrigued to visit Wolf & Badger who have come up with a different retail formula to sell the products of up-and-coming designers. They rent out the shop spaces and showcases and then charge 10% commission on any sales made. I spoke to Samir Ceric, an art impresario, who launched Wolf & Badger with Zoe Knight, a handbag designer. "We are a unique concept on London's retail scene, showcasing the best design talent across all disciplines," says Ceric.
Located in a prime position at 46 Ledbury Road in Notting Hill, Wolf & Badger's innovative approach is already transforming the way that designers traditionally promote and retail their product, they say.
"By providing an affordable opportunity for both emerging and established designers, Wolf & Badger is working with accomplished individuals across the worlds of fashion, accessories, jewellery, lighting and product design," says Ceric.
London fashion-based brands Felder Felder, Maria Francesca Pepe, Jean-Pierre Braganza and jeweller Gisele Ganne are just some of the more established names now stocked at Wolf & Badger, while graduate Tosha and menswear label Hentsch Man are two of the up-and-coming names on the fashion scene, in the pairs' opinion.
"We are looking for the next big thing as well as those designers with a proven track record stocking in major boutiques and department stores worldwide. The designers also gain access to PR support services, meeting facilities for presentations to department stores from home and abroad as well as their own page on Wolf & Badger's e-commerce site. As the founders point out, "Our services do not stop with renting out the retail space. They extend to mentoring, advice on pricing, styling, manufacturing, business strategy, investment opportunity, PR and marketing, which comes at no extra cost to the designer.
Do I think the company will survive? I feel that they may not have calculated the real cost of being in such an expensive district as Notting Hill and are limiting their own profits by only retaining 10% of any sale.