Press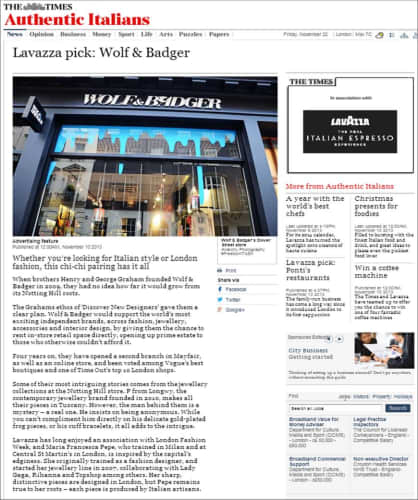 www.thetimes.co.uk
November 2013
Whether you're looking for Italian style or London fashion, this chi-chi pairing has it all
When brothers Henry and George Graham founded Wolf & Badger in 2009, they had no idea how far it would grow from its Notting Hill roots.
The Grahams ethos of 'Discover New Designers' gave them a clear plan. Wolf & Badger would support the world's most exciting independent brands, across fashion, jewellery, accessories and interior design, by giving them the chance to rent in-store retail space directly, opening up prime estate to those who otherwise couldn't afford it.
Four years on, they have opened a second branch in Mayfair, as well as an online store, and been voted among Vogue's best boutiques and one of Time Out's top 10 London shops.
Some of their most intriguing stories comes from the jewellery collections at the Notting Hill store. P from Longwy, the contemporary jewellery brand founded in 2010, makes all their pieces in Tuscany. However, the man behind them is a mystery – a real one. He insists on being anonymous. While you can't compliment him directly on his delicate gold-plated frog pieces, or his cuff bracelets, it all adds to the intrigue.
Lavazza has long enjoyed an association with London Fashion Week, and Maria Francesca Pepe, who trained in Milan and at Central St Martin's in London, is inspired by the capital's edginess. She originally trained as a fashion designer, and started her jewellery line in 2007, collaborating with Lady Gaga, Rihanna and Topshop among others. Her sharp, distinctive pieces are designed in London, but Pepe remains true to her roots – each piece is produced by Italian artisans.
An extraordinary take on jewellery comes from Florence-based designer Antonella Tanzini, who is also a trained sculptor. Her beautiful pieces, sculpted from metals, are often themed around appearances being deceptive, which lends her work multiple interpretations.
Just some of the innovative design that London and Italy have to offer.