Press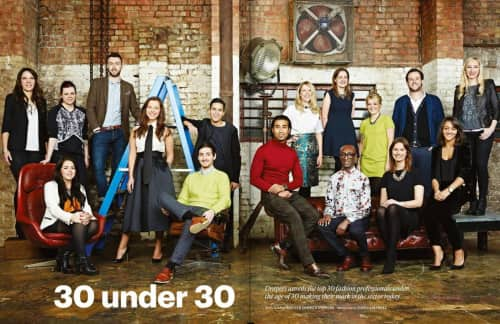 Drapers
January 2014
Drapers Next Generation 2014
The next big thing. 30 Under 30.
The talented individuals tipped to become fashion's future stars.
George Graham, Chief executive and co-founder of Wolf & Badger, aged 28
George Graham swapped the secure world of Pricewaterhouse Cooper for a life in fashion by opening a designer boutique in London with his brother Henry in February 2010. "We shared a clear vision to provide a unique opportunity for independent fashion brands to more easily gain exposure to customers, press and the industry," says Graham. "Together we have worked hard over the past four years to build Wolf & Badger into a well-recognised brand with two prime central London boutiques and a burgeoning web business.
We now work to help promote, support and retail more than 150 independent brands."
The implementation of this vision - Wolf & Badger has stores in Notting Hill and Dover Street Market - led British luxury goods body Walpole to bestow the Brand of Tomorrow title on this independent business in 2010, which includes mentoring from the Financial Times' Lucia van der Post and Annoushka chairman and co-founder John Ayton. "Wolf & Badger is really innovative, supporting young fashion brands while offering a clever and eclectic edit," says Ayton.
Graham's advice to budding entrepreneurs is to "go for it". He adds: "There are so many great opportunities out there for designers, people looking to launch a tech start-up, and much more. But don't necessarily dive in head first. In many cases it is possible to trial an idea or opportunity in evenings and weekends before committing to it full time. This can be a great way to not only test your concept, but also to see if running a business is right for you.