Press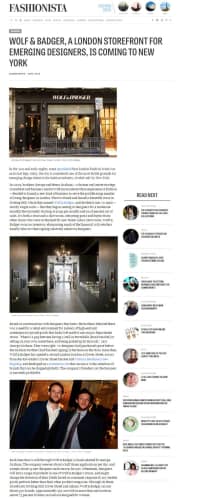 Fashionista.com
January 2015
WOLF & BADGER, A LONDON STOREFRONT FOR EMERGING DESIGNERS, IS COMING TO NEW YORK
BY LAUREN INDVIK
In the '90s and early aughts, some speculated that London Fashion Week was on its last legs; today, the city is considered one of the most fertile grounds for emerging design talent in the fashion industry, rivaled only by New York.
In 2009, brothers George and Henry Graham -- a former real estate strategy consultant and business analyst with more interest than experience in fashion -- decided to launch a new kind of business to serve the proliferating number of young designers in London. The two found and leased a beautiful store in Notting Hill, which they named Wolf & Badger, and divided it into 70 units -- mostly single racks -- that they began renting to designers for a moderate monthly fee (currently starting at £295 per month) and an 18 percent cut of sales. It's both a store and a showroom, attracting press and buyers from other stores who were on the hunt for new talent. Like a showroom, Wolf & Badger owns no inventory, eliminating much of the financial risk retailers usually take on when signing relatively unknown designers.
Based on conversations with designers they knew, the brothers believed there was a need for a retail environment for makers of high-end and contemporary-priced goods that hadn't yet made it into major department stores. "There's a gap between having a stall in Portobello [Road Market] or selling on your own somewhere, and being picked up by Harrods," says George Graham. They were right: 70 designers had purchased space before the Graham brothers had finished signing in the lease on the store. Since then, Wolf & Badger has opened a second London location at Dover Street, across from Rei Kawakubo's Dover Street Market and Victoria Beckham's new flagship, and developed an e-commerce site that carries a wider selection of brands that can be shipped globally. The company's founders say the business is currently profitable.
Each item that is sold through Wolf & Badger is hand-selected by George Graham. The company receives about a half dozen applications per day, and accepts about 15 new designers each season, he says. Oftentimes, designers will test a range of products in one of Wolf & Badger's stores, and might change the direction of their labels based on consumer response if, say, leather goods perform better than their other product categories. Through its three storefronts (Notting Hill, Dover Street and online), Wolf & Badger carries about 350 brands; approximately 150 are sold in more than one location. About 75 percent of items carried are designed for women.