Press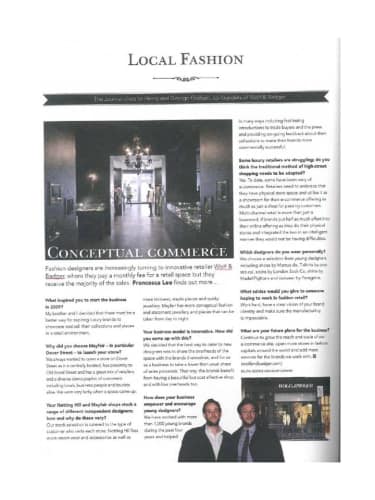 Mayfair Magazine
November 2014
Conceptual Commerce
Fashion Designers are increasingly turning to innovative retailer Wolf & Badger, where they pay a monthly fee for a retail space but they receive the majority of the sales. Francesca Lee finds out more...
What inspired you to start the business in 2009?
My brother and I decided that there must be a better way for aspiring luxury brands to showcase and sell their collections and pieces in a retail environment.
Why did you chose Mayfair – in particular Dover Street?
We always wanted to open a store on Dover Street as it is centrally located, has proximity to Old Bond Street and has a great mix of retailers and a diverse demographic of customers including locals, business people and tourists alike. We were very lucky when a space came up.
Your Notting Hill and Mayfair shops stock a range of different independent designers; how and why do these vary?
Our stock selection is catered to the type of customer who visits each store. Notting Hill has more resort-wear and accessories as well as more knitted, staple pieces and quirky jewellery. Mayfair has more conceptual fashion and statement jewellery and pieces that can be taken from day to night.
Your business model is innovative. How did you come up with this?
We decided that the best way to cater to new designers was to share the overheads of the space with the brands themselves, and for us as a business to take a lower than usual share of sales proceeds. That way, the brands benefit from having a beautiful but cost effective shop, and with low overheads too.
How does your business empower and encourage young designers?
We have worked with more than 1,000 young brands during the past four years and helped in many ways including facilitating introductions to trade buyers and the press and providing on-going feedback about their collections to make their brands more commercially successful.
Some Luxury retailers are struggling; do you think the traditional method of high-street shopping needs to be adapted?
Yes. To date, some have been wary of e-commerce. Retailers need to embrace that they have physical store space and utilise it as a showroom for their e-commerce offering as much as just a shop for passing customers. Multi-channel retail is more than just a buzzword; if brands put half as much effort into their online offering as they do their physical stores and integrated the two in an intelligent manner they would not be having difficulties.
Which designers do you wear personally?
We chose a selection from young designers including shoes by Marcus de, T-shirts by pop. see.cul, socks by London Sock Co, shirts by Made4Fighters and outwear by Peregrine.
What advice would you give to someone hoping to work in fashion retail?
Work hard, have a clear vision of your brand identity and make sure the manufacturing is impeccable.
What are your future plans for the business?
Continue to grow the reach and scale of our e-commerce site, open more stores in fashion capitals around the world and add more services for the brands we work with.
(wolfandbadger.com)