Press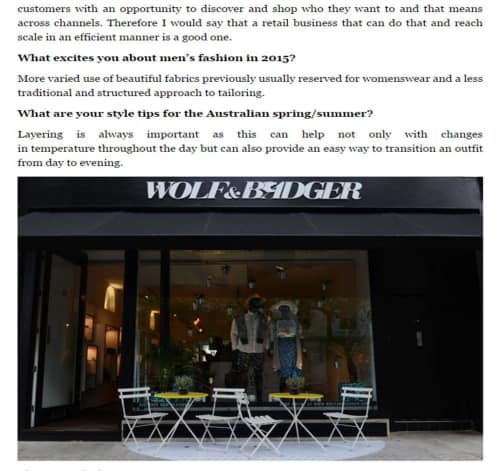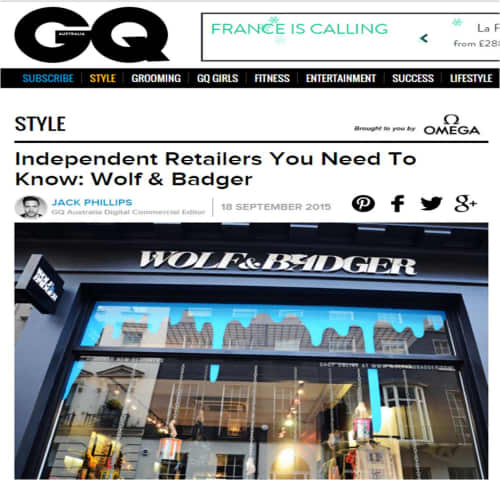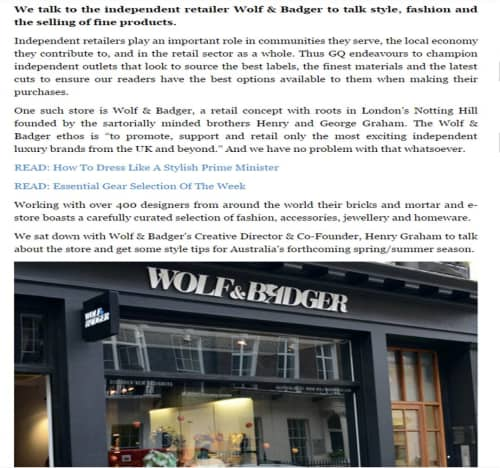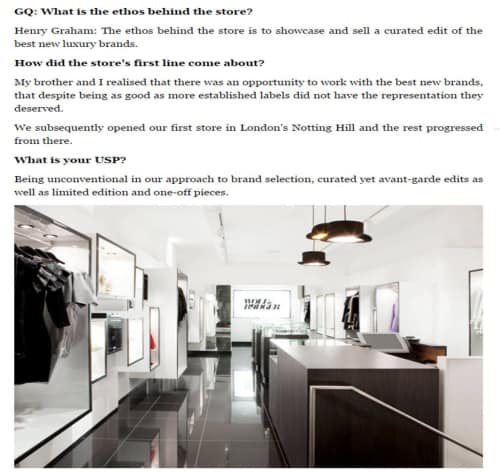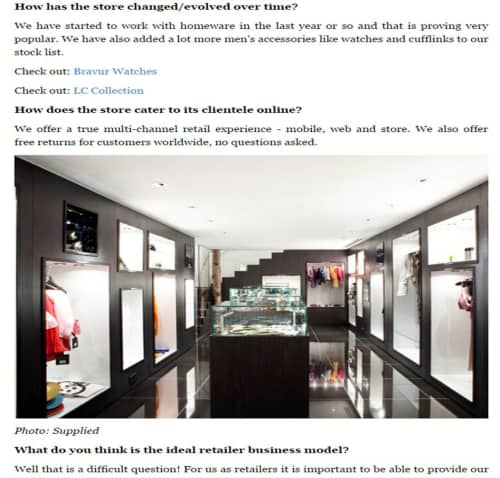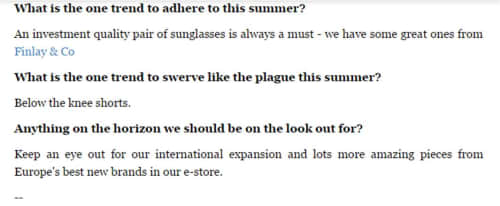 GQ Australia
September 2015
Independent retailers play an important role in communities they serve, the local economy they contribute to, and in the retail sector as a whole. Thus GQ endeavours to champion independent outlets that look to source the best labels, the finest materials and the latest cuts to ensure our readers have the best options available to them when making their purchases.
One such store is Wolf & Badger, a retail concept with roots in London's Notting Hill founded by the sartorially minded brothers Henry and George Graham. The Wolf & Badger ethos is "to promote, support and retail only the most exciting independent luxury brands from the UK and beyond." And we have no problem with that whatsoever.
Working with over 400 designers from around the world their bricks and mortar and e-store boasts a carefully curated selection of fashion, accessories, jewellery and homeware.
We sat down with Wolf & Badger's Creative Director & Co-Founder, Henry Graham to talk about the store and get some style tips for Australia's forthcoming spring/summer season.
GQ: What is the ethos behind the store?
Henry Graham: The ethos behind the store is to showcase and sell a curated edit of the best new luxury brands.
How did the store's first line come about?
My brother and I realised that there was an opportunity to work with the best new brands, that despite being as good as more established labels did not have the representation they deserved.
We subsequently opened our first store in London's Notting Hill and the rest progressed from there.
What is your USP?
Being unconventional in our approach to brand selection, curated yet avant-garde edits as well as limited edition and one-off pieces.
How has the store changed/evolved over time?
We have started to work with homeware in the last year or so and that is proving very popular. We have also added a lot more men's accessories like watches and cufflinks to our stock list.
Check out: Bravur Watches
Check out: LC Collection
How does the store cater to its clientele online?
We offer a true multi-channel retail experience - mobile, web and store. We also offer free returns for customers worldwide, no questions asked.
What do you think is the ideal retailer business model?
Well that is a difficult question! For us as retailers it is important to be able to provide our customers with an opportunity to discover and shop who they want to and that means across channels. Therefore I would say that a retail business that can do that and reach scale in an efficient manner is a good one.
What excites you about men's fashion in 2015?
More varied use of beautiful fabrics previously usually reserved for womenswear and a less traditional and structured approach to tailoring.
What are your style tips for the Australian spring/summer?
Layering is always important as this can help not only with changes in temperature throughout the day but can also provide an easy way to transition an outfit from day to evening.
What is the one trend to adhere to this summer?
An investment quality pair of sunglasses is always a must - we have some great ones from Finlay & Co
What is the one trend to swerve like the plague this summer?
Below the knee shorts.
Anything on the horizon we should be on the look out for?
Keep an eye out for our international expansion and lots more amazing pieces from Europe's best new brands in our e-store.