Press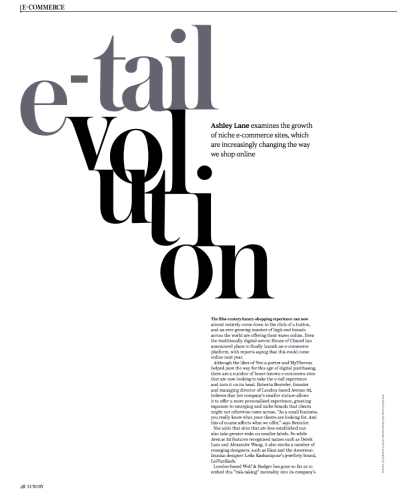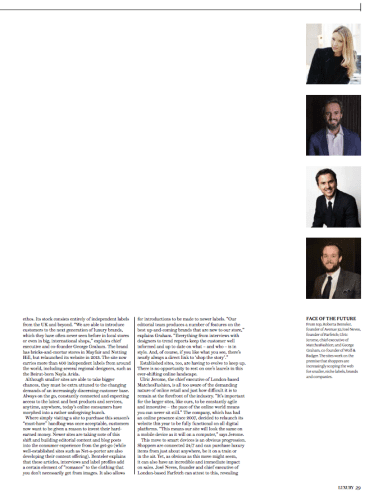 The National
October 2015
The 21st-century luxury-shopping experience can now almost entirely come down to the click of a button, and an ever-growing number of high-end brands across the world are offering their wares online. Even the traditionally digital-averse House of Chanel has announced plans to finally launch an e-commerce platform, with reports saying that this could come
online next year.
Although the likes of Net-a-porter and MyTheresa helped pave the way for this age of digital purchasing, there are a number of lesser-known e-commerce sites that are now looking to take the e-tail experience and turn it on its head. Roberta Benteler, founder and managing director of London-based Avenue 32, believes that her company's smaller stature allows it to offer a more personalised experience, granting exposure to emerging and niche brands that clients
might not otherwise come across. "As a small business, you really know what your clients are looking for.
And this of course affects what we offer," says Benteler. She adds that sites that are less established can also take greater risks on smaller labels. So while Avenue 32 features recognised names such as Derek Lam and Alexander Wang, it also stocks a number of emerging designers, such as Ekat and the AmericanIranian designer Leila Kashanipour's jewellery brand, LeiVanKash.
London-based Wolf & Badger has gone so far as to embed this "risk-taking" mentality into its company's ethos. Its stock consists entirely of independent labels from the UK and beyond. "We are able to introduce customers to the next generation of luxury brands, which they have often never seen before in local stores or even in big, international shops," explains chief executive and co-founder George Graham. The brand has bricks-and-mortar stores in Mayfair and Notting Hill, but relaunched its website in 2013. The site now carries more than 400 independent labels from around the world, including several regional designers, such as the Beirut-born Nayla Arida.
Although smaller sites are able to take bigger chances, they must be extra attuned to the changing demands of an increasingly discerning customer base. Always on the go, constantly connected and expecting access to the latest and best products and services, anytime, anywhere, today's online consumers have morphed into a rather unforgiving bunch.
Where simply visiting a site to purchase this season's "must-have" handbag was once acceptable, customers now want to be given a reason to invest their hardearned money. Newer sites are taking note of this shift and building editorial content and blog posts into the consumer experience from the get-go (while well-established sites such as Net-a-porter are also developing their content offering). Benteler explains that these articles, interviews and label profiles add a certain element of "romance" to the clothing that you don't necessarily get from images. It also allows for introductions to be made to newer labels. "Our editorial team produces a number of features on the best up-and-coming brands that are new to our store," explains Graham. "Everything from interviews with designers to trend reports keep the customer well informed and up to date on what – and who – is in style. And, of course, if you like what you see, there's nearly always a direct link to 'shop the story'."
Established sites, too, are having to evolve to keep up. There is no opportunity to rest on one's laurels in this ever-shifting online landscape.
Ulric Jerome, the chief executive of London-based MatchesFashion, is all too aware of the demanding nature of online retail and just how difficult it is to remain at the forefront of the industry. "It's important for the larger sites, like ours, to be constantly agile and innovative – the pace of the online world means you can never sit still." The company, which has had an online presence since 2007, decided to relaunch its website this year to be fully functional on all digital platforms. "This means our site will look the same on a mobile device as it will on a computer," says Jerome.
This move to smart devices is an obvious progression. Shoppers are connected 24/7 and can purchase luxury items from just about anywhere, be it on a train or in the air. Yet, as obvious as this move might seem, it can also have an incredible and immediate impact on sales.