Press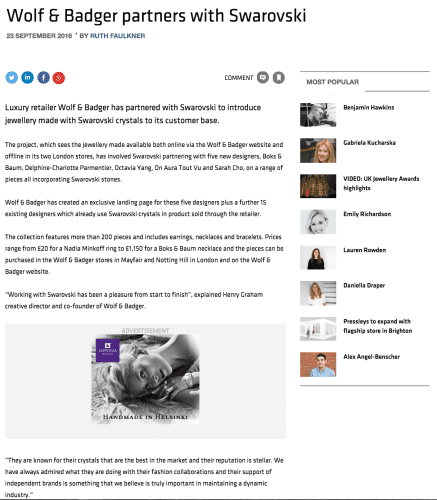 Retail Jeweller
September 2016
Wolf & Badger partners with Swarovski
COMMENT
Luxury retailer Wolf & Badger has partnered with Swarovski to introduce jewellery made with Swarovski crystals to its customer base.
The project, which sees the jewellery made available both online via the Wolf & Badger website and offline in its two London stores, has involved Swarovski partnering with five new designers, Boks & Baum, Delphine-Charlotte Parmentier, Octavia Yang, On Aura Tout Vu and Sarah Cho, on a range of pieces all incorporating Swarovski stones.
Wolf & Badger has created an exclusive landing page for these five designers plus a further 15 existing designers which already use Swarovski crystals in product sold through the retailer.
The collection features more than 200 pieces and includes earrings, necklaces and bracelets. Prices range from £20 for a Nadia Minkoff ring to £1,150 for a Boks & Baum necklace and the pieces can be purchased in the Wolf & Badger stores in Mayfair and Notting Hill in London and on the Wolf & Badger website.