Press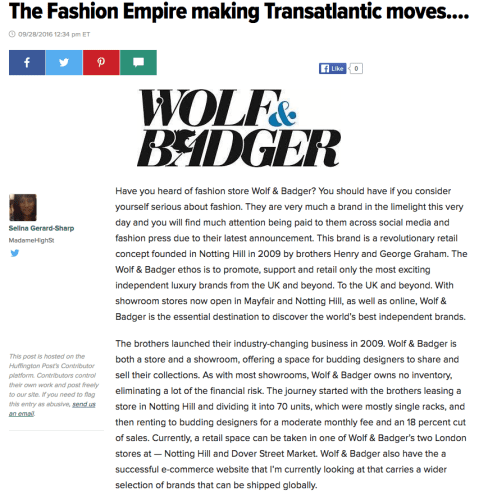 Huffington Post
September 2016
The Fashion Empire making Transatlantic moves....
Have you heard of fashion store Wolf & Badger? You should have if you consider yourself serious about fashion. They are very much a brand in the limelight this very day and you will find much attention being paid to them across social media and fashion press due to their latest announcement. This brand is a revolutionary retail concept founded in Notting Hill in 2009 by brothers Henry and George Graham. The Wolf & Badger ethos is to promote, support and retail only the most exciting independent luxury brands from the UK and beyond. To the UK and beyond. With showroom stores now open in Mayfair and Notting Hill, as well as online, Wolf & Badger is the essential destination to discover the world's best independent brands.
The brothers launched their industry-changing business in 2009. Wolf & Badger is both a store and a showroom, offering a space for budding designers to share and sell their collections. As with most showrooms, Wolf & Badger owns no inventory, eliminating a lot of the financial risk. The journey started with the brothers leasing a store in Notting Hill and dividing it into 70 units, which were mostly single racks, and then renting to budding designers for a moderate monthly fee and an 18 percent cut of sales. Currently, a retail space can be taken in one of Wolf & Badger's two London stores at — Notting Hill and Dover Street Market. Wolf & Badger also have the a successful e-commerce website that I'm currently looking at that carries a wider selection of brands that can be shipped globally.