Press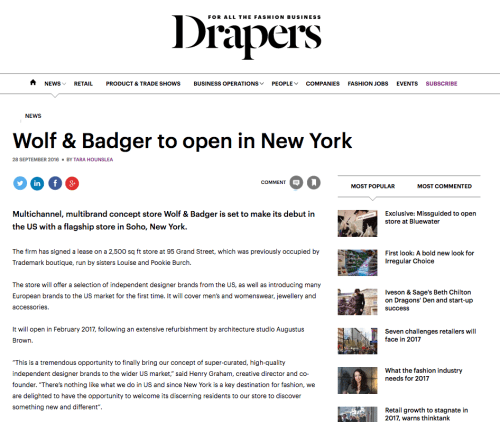 Drapers Online
September 2016
Wolf & Badger to open in New York
Multichannel, multibrand concept store Wolf & Badger is set to make its debut in the US with a flagship store in Soho, New York.
The firm has signed a lease on a 2,500 sq ft store at 95 Grand Street, which was previously occupied by Trademark boutique, run by sisters Louise and Pookie Burch.
The store will offer a selection of independent designer brands from the US, as well as introducing many European brands to the US market for the first time. It will cover men's and womenswear, jewellery and accessories.
It will open in February 2017, following an extensive refurbishment by architecture studio Augustus Brown.
"This is a tremendous opportunity to finally bring our concept of super-curated, high-quality independent designer brands to the wider US market," said Henry Graham, creative director and co-founder. "There's nothing like what we do in US and since New York is a key destination for fashion, we are delighted to have the opportunity to welcome its discerning residents to our store to discover something new and different".