Press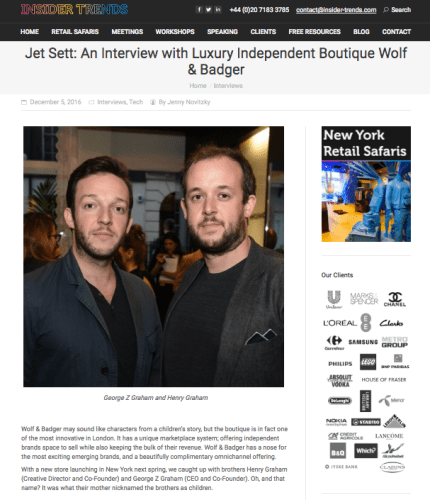 Insider Trends
December 2016
An Interview with Luxury Independent Boutique Wolf & Badger
Wolf & Badger may sound like characters from a children's story, but the boutique is in fact one of the most innovative in London. It has a unique marketplace system; offering independent brands space to sell while also keeping the bulk of their revenue. Wolf & Badger has a nose for the most exciting emerging brands, and a beautifully complimentary omnichannel offering.
With a new store launching in New York next spring, we caught up with brothers Henry Graham (Creative Director and Co-Founder) and George Z Graham (CEO and Co-Founder). Oh, and that name? It was what their mother nicknamed the brothers as children.
In a sentence or two, can you describe Wolf & Badger, and what makes it different and special?
Henry Graham (HG): We only work with independent brands. Our line-up of designers and products is always fresh and ahead of the trends. We look purely at the merit of the product we are selling and bring only the most exciting, innovative products to our website and stores.


Your multichannel system is really impressive – I love that the website, store, The Sett [Wolf & Badger's print magazine] and your social media reflect the brand so well and really carry that message of discovering new designers. Had you always planned to have physical spaces and e-commerce?
George Z Graham (GG): Absolutely. We launched them both at the same time way back in 2010, but until only quite recently our store sales outweighed our online sales significantly. Today, we are seeing 90% of our sales coming from online, as our web business has now really taken off.


How do the channels talk to one another – do you find one channel sends traffic to another, that one handles more of the sales and another more of the discovery?
GG: Both online and offline work well for both discovery and for purchases, just in different ways. We'll often see customers visiting us in-store for one of our great collaborative events with a brand, and subsequently start purchasing through us online; but we also see a lot of customers engaging with us online, via social and through visiting wolfandbadger.com, and then actually make their purchases in one of our stores. It works both ways, and that's why being active across channels is so important to us.