Press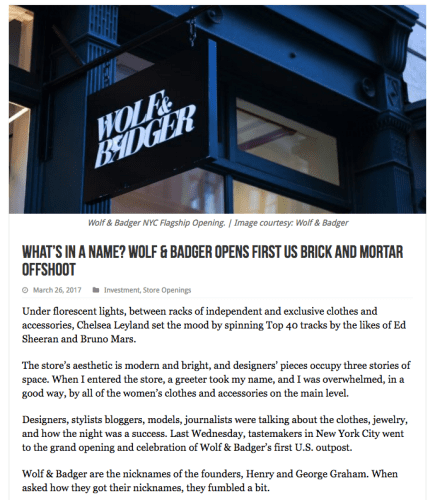 Fashinvest
March 2017
What's in a name? Wolf & Badger opens first US brick and mortar offshoot
Under florescent lights, between racks of independent and exclusive clothes and accessories, Chelsea Leyland set the mood by spinning Top 40 tracks by the likes of Ed Sheeran and Bruno Mars.
The store's aesthetic is modern and bright, and designers' pieces occupy three stories of space. When I entered the store, a greeter took my name, and I was overwhelmed, in a good way, by all of the women's clothes and accessories on the main level.
Designers, stylists bloggers, models, journalists were talking about the clothes, jewelry, and how the night was a success. Last Wednesday, tastemakers in New York City went to the grand opening and celebration of Wolf & Badger's first U.S. outpost.
Wolf & Badger are the nicknames of the founders, Henry and George Graham. When asked how they got their nicknames, they fumbled a bit.