Press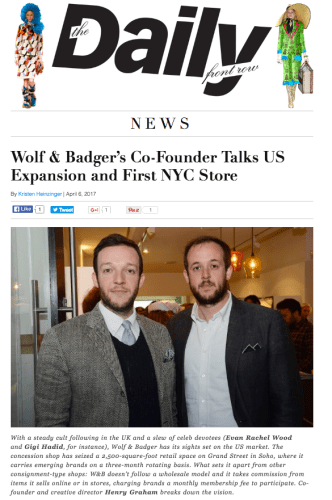 The Daily Front Row
April 2017
Wolf & Badger's Co-Founder Talks US Expansion and First NYC Store
With a steady cult following in the UK and a slew of celeb devotees (Evan Rachel Wood and Gigi Hadid, for instance), Wolf & Badger has its sights set on the US market. The concession shop has seized a 2,500-square-foot retail space on Grand Street in Soho, where it carries emerging brands on a three-month rotating basis. What sets it apart from other consignment-type shops: W&B doesn't follow a wholesale model and it takes commission from items it sells online or in stores, charging brands a monthly membership fee to participate. Co-founder and creative director Henry Graham breaks down the vision.
Where did the idea for Wolf & Badger begin?
My brother George and I wanted to create an easy way for largely undiscovered fashion and design brands to easily sell direct to consumers. We realized there was nothing available in the market that provided this in a high quality, luxury retail environment. So, we went about creating it in our first store in London's Notting Hill.