Press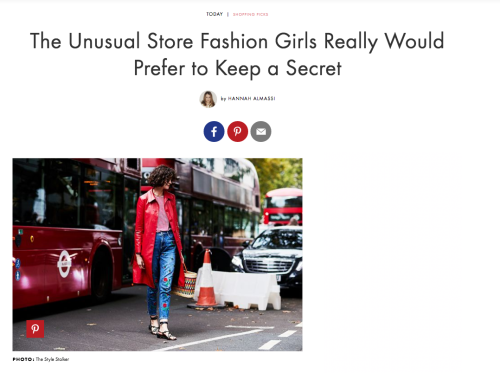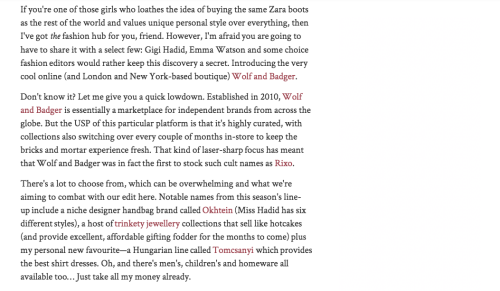 Who What Wear
October 2017
The Unusual Store Fashion Girls Really Would Prefer to Keep a Secret
If you're one of those girls who loathes the idea of buying the same Zara boots as the rest of the world and values unique personal style over everything, then I've got the fashion hub for you, friend. However, I'm afraid you are going to have to share it with a select few: Gigi Hadid, Emma Watson and some choice fashion editors would rather keep this discovery a secret. Introducing the very cool online (and London and New York-based boutique) Wolf and Badger.
Don't know it? Let me give you a quick lowdown. Established in 2010, Wolf and Badger is essentially a marketplace for independent brands from across the globe. But the USP of this particular platform is that it's highly curated, with collections also switching over every couple of months in-store to keep the bricks and mortar experience fresh. That kind of laser-sharp focus has meant that Wolf and Badger was in fact the first to stock such cult names as Rixo.
There's a lot to choose from, which can be overwhelming and what we're aiming to combat with our edit here. Notable names from this season's line-up include a niche designer handbag brand called Okhtein (Miss Hadid has six different styles), a host of trinkety jewellery collections that sell like hotcakes (and provide excellent, affordable gifting fodder for the months to come) plus my personal new favourite—a Hungarian line called Tomcsanyi which provides the best shirt dresses. Oh, and there's men's, children's and homeware all available too… Just take all my money already.