Press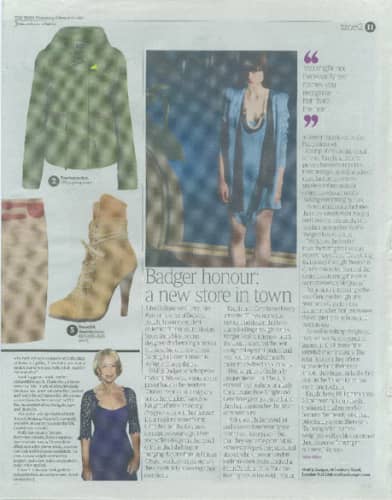 The Times
February 2010
John Galliano was lucky; Mrs Burstein, owner of Browns, bought his entire student collection for her South Molton Street shop. Most young designers find retailing a trickier business, but one new shop in Notting Hill, West London is trying to change things.
Wolf & Badger, which opened its doors this week, wants to give power back to the creatives. "Our concept is that designers act as the retailers," says Zoe Knight, a former handbag designer who, with her partner, the art gallery owner Samir Ceric, had an idea for a new concept two years ago. Their shop offers designers the rental of individual shelving or hanging displays from as little as £35 per week, giving designers the opportunity to manage their own stock.
Knight and Ceric have already attracted 70 new names in fashion and design that have started selling through Wolf & Badger. To find this new talent, the couple searched the best design colleges in London, and received, by word of mouth, many more direct applications.
This is a place to find really unique pieces — a fabulous cocktail ring, perhaps or a Lady Gaga-esque shoe. Knight and Ceric have great judgement, and the shop is untouched by brash commerciality.
Related Links
Flick through the brand list and you won't necessarily see names you recognise — but that, they say, is the point. Maria Francesca Pepe (design pictured above), who shows at London Fashion Week and is stocked at Henri Bendel in New York has taken space, as has Felder Felder, a German label loved by the Pixie/Alexa set.
On top of the unique rental scheme, Knight and Ceric provide business support to their protégés, as well as a list of manufacturing contacts — priceless information for designers who are used to making everything by hand.
By recommending factories that they already trust, Knight and Ceric can ensure that the production matches Wolf & Badger's luxury status.
"We know the level of manufacturing that we can expect," says Ceric. "Everything that comes through the door is quality controlled. Some of the designers are using the same seamstresses as McQueen."
Particularly interesting is the way Ceric has brought the structure of a gallery to a fashion market. Not just owners, the couple try to be hosts and curators too.
As well as a sharp design eye, they seem to have a genuine interest in the future of the British fashion industry. The retail freedom they offer is unrivalled and their store should, they hope, make the first step on the fashion ladder an easier one to climb.
Knight herself fell victim to the 2.3 per cent mark-up used in traditional retailing models because the measly wholesale price barely covered her costs. "By being with us, these designers will be able to increase their chances of staying in business," she says.