Press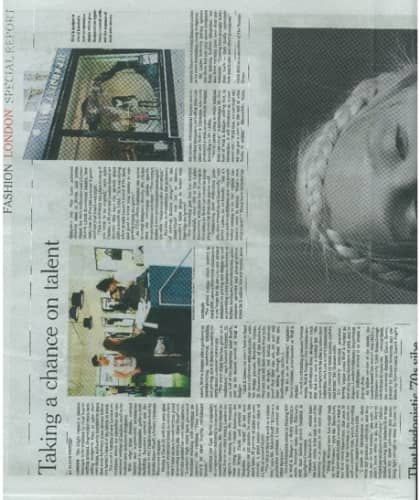 International Herald Tribune + New York Times
December 2010
LONDON — You might expect a fashion boutique to be troubled by rival buyers sniffing around, disgruntled when best-selling designers want to open their own shops, and surely horrified to learn that even fashion's most devout followers haven't heard of the labels in stock.
Not so at a handful of new London enterprises, which are upending the conventional notions of fashion retail to introduce new, unknown designers.
With edgy print dresses, twisted blazers and asymmetric accessories displayed in a minimalist, gallery-style backdrop, Squatters opened last November in the Pimlico neighborhood by Karolin Maier-Hauff, a former Vivienne Westwood designer.
Facing a Catch-22 with her own label (in such straitened times, most retailers won't take on new brands without proof of existing sales), Ms. Maier-Hauff realized she needed her own sales platform. "London's high rents have prevented boutiques working with emerging designers," she explains. "They reason they'd be safer buying established brands."
Applying her East Berlin sensibility of co-operative endeavor to overcome financial limitations, Ms. Maier-Hauff invited five or so other young London designers — among them, the women's wear rising star Louise Amstrup, the shoe brand Finsk and jewelry by Miquella — to "squat" in her new boutique for six months. In return, the store takes 60 percent of sales as commission; a good month sees sales of £1,700, or around $2,650.
"The idea is that we work as a collective," says Ms. Maier-Hauff. "If I have a production problem, I can contact another squatter."
On a fashionable street in Notting Hill is Wolf & Badger, a slickly monochromatic boutique open since February, with luxe fashion pieces hanging in spotlighted recesses.
Tamara Sariachvili, 24 — whose fashion label, Tosha, is for sale in one of the recesses — is often in the store doing private fittings.
"Being stocked here has really built up my business," says Ms. Sariachvili, who now sells £2,000 a month in what is her first retail experience. She pays 10 percent of her revenue to the store, as well as monthly rent, which, depending on space, ranges from £210 to £650.
"I made an appointment to show them my graduate collection, and they took me on last season," she says. "I didn't know what to do, but they've helped me on all sorts of issues." That included advising Ms. Sariachvili to scale down her show collection into something light enough to wear. To some 72 labels, Wolf & Badger offers guidance on manufacturing, marketing, branding and pricing, and it delivers monthly reports about customer comments.
"The main thing this has given us is confidence," says Samuel Kientsch, 23, one half of the menswear label Braille, now in its second month at Wolf & Badger.
"And it means we won't have to fund our next collection with side jobs," adds his design partner, Benjamin Vorono, 29. Outsourcing some of the business, they say, has left their minds freer to focus on design, and having received proof that they can sell, the pair will start selling through their Web site, brailleman.com, on Oct. 1.
"We act as an incubator," explains Henry Graham, a co-founder at Wolf & Badger.
As well as attending graduate fashion weeks, Wolf & Badger also receives several applications from designers each day and now runs a waiting list. "We want designers to be able to refine their collection, work out what's commercial, and be noticed by trade buyers, stylists and press," Mr. Graham adds.
It's certainly attracted attention: British Vogue voted Wolf & Badger as one of its best boutiques of 2010, and, in August, London's visionary department store Selfridges invited it to create a pop-up shop.
An online version of the model, the London-based Not Just a Label (NJAL), represents nearly 5,000 breakthrough labels from 81 countries — among them, the menswear designer Damir Doma, jewelry by Fannie Schiavoni and creations by Gemma Slack, Gareth Pugh's protégée.
The global e-shop, which started in April 2008, takes a 30 percent commission in exchange for its services and advises designers on pricing and display as well as providing a free business directory of buyers, boutiques, manufacturers, public relations agencies and photographers. From its 11 million hits per month, some designers say they have achieved monthly sales of £6,000. And Stefan Siegel, the site's co-founder and a former Merrill Lynch investment banker, forecasts that the £150,000 turnover it generated last year could soon triple.
"This is definitely the place to shop if you want to be original," says Anya Parkes, a 26-year-old London-based art director who says she spends about £500 a month on NJAL. "It is satisfying when people haven't heard of the label, and good to know your money is supporting young designers."
As NJAL offers customers the option to e-mail designers directly, Ms. Parkes says she sometimes checks specific measurements with them: "That contact makes it more personal and meaningful," she adds. "Some even offer alterations."
But who is shouldering the problems of start-up fashion design? As Ms. Maier-Hauff was led to believe, wouldn't these shops do better with blue-chip designers?
One launching pad that has worked successfully since 1999 is The Laden Showroom, with more than 70 young labels using its Brick Lane store as a stepping-stone up from the market stall.
"Swallowing their difficulties probably does impact on us financially," says Barry Laden, its co-founder, "but it's what makes us different and why people bother coming to us. Our regular customers come in saying, 'What's new, what's new?"' These have included talent scouts, international buyers and established designers, including John Galliano and Dolce & Gabanna, who even produced a twist on one of their designs, according to Mr. Laden.
"We're never going to make millions from one shop," acknowledges Mr. Graham of Wolf & Badger, adding that, in November, it will introduce an e-commerce site. "With that, we can scale up; we can put a zero on the end of what Tosha is selling." Meanwhile, NJAL sees its future in having financial stakes in its most promising young designers.
Mr. Laden believes having options like these has not only saved designers from quitting fashion altogether, but also from opening their own shop prematurely: "Coming here actually holds them back — they finally appreciate how much cost and effort is required."