Press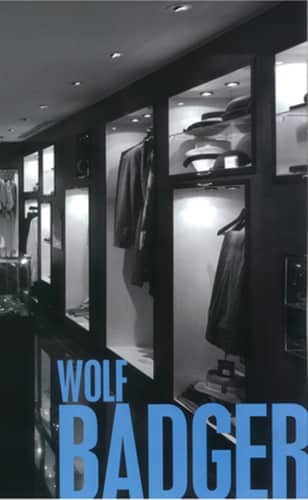 1883 Magazine
June 2011
Wolf & Badger – If you haven't heard of Wolf and Badger by now, you must be living under a rock, named one of Britain's best boutiques in the April 2010 issue of British Vogue.
Wolf & Badger is a unique lifestyle boutique that provides a platform to showcase the best innovative design talent from the UK and beyond.
It's December and I'm walking through London's trendy Notting Hill en route to Wolf and Badger. Everything's so calm and serene on this cold afternoon and I'm envious of all the Audi A3's that keep driving past.
Notting Hill's a cool place. I reach Ledbury Road and can see the shops' creativity bursting out from a distance. On arrival I was welcomed by a trendy young boy who seemed to epitomise what the area was all about. He liked my bag so I took a liking to him.
The shop was bright and pristine, filled with an artistic vibe. Having a quick browse around I fell in love with a beige asymmetrical dress by designer Tosha. For £750 I will ask my daddy with puppy-dog eyes intact. It was then Henry Graham arrived, co-founder of Wolf and Badger, alongside his brother George. As we started to chat at the back of the store I knew I was going to like the people behind Wolf and Badger. They offered me sweets before I'd even sat down.
Did you ever believe the shop would be a big success as it has become?
Well yes, we always knew the shop would be well received by shoppers and designers, but it's always a pleasant surprise when things go according to plan. I do think we were in the right place at the right time. That wasn't an accident as we had looked at the market and what people wanted when we launched. We thought we could help independent brands and young brands and the time we started was proven perfect for that. I think we have been proven right because we have a long waiting list, and we trade very well. I wouldn't say it's been a surprise, but I'm very happy it has met out expectations.
How did you come around with the idea of a platform to showcase new fashion talent?
There were two things really. Looking at the big picture, George and I are both interested in art and fashion. I studied History of Art and I was really interested in visual products, and the aesthetics of design. I was always a bit confused as to why you would have fashion stores, and then a shop in ceramics, and then a shop selling art. I found it weird why they were so segregated when consumers would understand combining and seeing them all in the same place, as long as there was that sort of design led approach – which is what we look for in our brands.
From a business point of view we felt that the market was really in a bad way and designers had no real opportunity to get out there, even if they were massively talented. The recession was obviously difficult for fashion designers and it was difficult to sell into department stores. We felt there was an opportunity to create somewhere that we (us and the designers) are all sharing the cost and sharing the upside, like a collective in a way, which it is.
It could be said that the boutique was opened to much critical acclaim?
It was an opportune time to open. A lot of people in the press and in the industry were saying it's quite an unusual way to retail. No one has really retailed in this model where essentially the designers or the brands within the store are acting as their own retailer. If they sell 20 or 30 pieces a month they're getting the full retail price. So it shook up the industry a little bit and I think that's why we got so much press when we launched. What was most interesting to the industry was that it gave power back to the brand itself. You can come in and retail a capsule collection with us for a quarter for roughly the same price it would cost you to have a stand at Fashion Week.
How long did it really take to turn the idea of Wolf & Badger into an actual reality?
I would say about nine months. About six to nine months, we came up with the idea in the summer of 2009. We started working on it doing business plans, research that kind of thing, talking to designers, seeing what people thought about the concept. We started working on it properly, putting the wheels in motion a couple of months later, around September 2009. Then the store was opened in February 2010.
Why the name Wolf & Badger?
Those were both George, my brother, and my nicknames when we were little. When we were trying to think of shop names, we went round and round trying to think of a good name and in the end we came up with this. We actually wanted to do Badger and Wolf, but some of the guys that were advising us at the beginning said that Wolf and Badger sounded better and more memorable. So we went with that.
Before opening the boutique, what did you intend for your average customer to be like?
We always hoped to be a destination location. Such as the likes of Dover Street Market, where people travel from around the world to come and find something that they can't find locally. Obviously when we started no one knew about us so we relied upon the local customer base, which fortunately for us was really encouraging and supportive, and continues to remain a large and significant part of our sales. However, as months go one we're picking up a lot more international clientele and have been featured in the British Airways High Life Magazine, The New York Times, Le Figaro, and this is translating into sales from tourists coming to London. Essentially this is what we want and hope one day to be known as a destination store.
Being such a trendy place, did you always intend to open the boutique in Notting Hill?
No, we always thought central London would be good and we looked at Notting Hill, Knightsbridge, Mayfair and Shoreditch. In the end we were just looking at properties and we just thought it was the most wonderful location, and right in the heart of Notting Hill, near where we used to live around as kids. I knew the area was good for shopping but we felt that we could make it more interesting and bring a little more fun. People around this area are sophisticated in their taste and do want less well known brands and that's what we were giving them. Notting Hill and Portobello Road has always been known for its independent designers.
You must get a fair few applicant designers? How do you narrow the choices down, and roughly how many are showcased in the store at a time?
Presently, we have 72 different brands over two floors, including fashion menswear and womenswear, jewellers and product designers. We have people apply to us via the website where we get several applications a day, and we also go out and actively look for brands that we think could work well within the space. So we go to all the fashion shows, all the graduate shows, anything and everything really in the UK that is showing opportunity to find really exciting brands. It's a balance and fortunately it has resulted in a good mix of products and designers that in most cases you won't find in other stores.
There is currently a waiting list for designers who want to showcase their work in your store? How long are we talking?
We have three month licences, so usually you're looking at two or three months anyway to get into the next quarter. It's a bit of a mixture but at least three months. In some cases longer, because it depends on what is available and when the collections will be ready, as well as what season they are intended for.
Who has been your favourite designer to be discovered through the boutique?
It's a difficult question (he laughs and I begin to doubt if I should have asked. Never mind, you don't ask, you don't find out). I'd be lying if I said I thought everyone was what I liked exactly, but that's the point of the boutique – that everything here appeals to different people. I think that's what is fun about what we we're doing. It's not for one buyer with a prescribed taste. Everyone we work with is extremely talented in their own right, and we make sure they're at the top of their game. We have guest creative directors and at the minute we have Stephanie Wheatley. She was the studio manager at Alexander McQueen, and then was Head Director of Operations at Matthew Williamson. She helps us select and mentor the designers we work with but she won't necessarily be doing that forever. Maybe next year we'll have a similar style of person to help to keep Wolf and Badger evolving. Not only in the brands that are coming and going, but in the taste behind who edits the collection and who chooses the designers. It's a dynamic approach to retailing, which is what we like and what surprises our customers.
And who has endures the most commercial success?
A menswear brand that we have at the moment called Braille. They've been quite successful. We were their first stockists and have been working with them for about five months. At first they gave us a few pieces, and as we sold they gave us more and more and more. Now we're doing quite large volumes with them. They've done very well and I think they have big things ahead of them, and hope to continue working with them in the future. The store has really been a great opportunity, a stepping stone, for brands to come in and gain exposure.
In August 2010 Wolf & Badger held a pop up store in the Wonder Room at Selfridges – how did that come around?
We like Selfridges and we wanted a concession there, we still do. We approached them about opening a Wolf & Badger concession, but they said they didn't have the space, but they may have something in the future. However they said they have got this Wonder Room with a pop up store in it, "I know it's late notice, but if you like you could have a pop up store there in two weeks time". So we had two and a half weeks notice to get it done and we jumped at it. We thought it was a great opportunity that we couldn't miss. We sold a lot of stock, we got a lot of press and got our brand out there.
What has been the highlight of your Wolf & Badger career so far?
The highlight I would say has probably been working with and meeting new designers. (As I ask this question, a designer named Peter who Henry friendly acknowledges comes into the store – he makes scarves, which will be stocked in February). It's a social business. Seeing brands go from relatively unknown, to getting picked up from other stores is what it's about and sharing in their success.
Do you plan to open any more Wolf & Badger boutiques?
Yes we do, we actually just this week launched our ecommerce website, www.wolfandbadger.com, where you have the ability to buy stock from a selected number of the designers and brands that we have in store. That was really like a new store opening for us. In the future we do plan to open more boutiques initially in the UK and hopefully, eventually abroad. Taking the best of British designers to Paris and New York would be fantastic.
You could say that the store's ethos of providing a new platform to showcase the new talent of fashion is similar to the intentions of 1883 Magazine? Do you think this is the way forward for fashion?
I think any business needs to look at where the new blood is coming from, whatever creative industry you are in. That's what makes the business interesting – it's always evolving. There is always the next exciting thing ready to be discovered. The new brands are just as critical to the industry and a lot of big retailers aren't giving them the chance that they need, so we're here to try and change that a little bit in our own little way. So far it seems to be working well because customers want it. It's like how much Louis Vuitton can you really buy. People want something with that interesting approach to compliment the mega brands that are already out there.
Finally, this is such a cliché question, but if you had to sum up Wolf & Badger in three words, which would you choose?
Independent fashion + design.