Press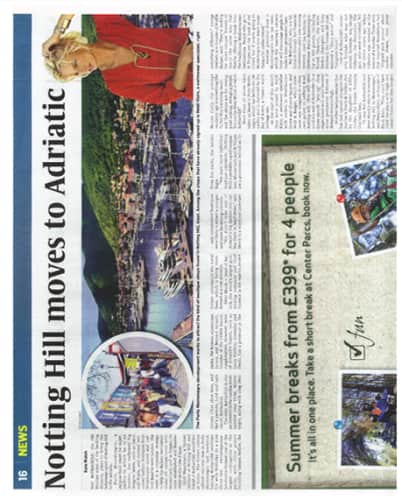 The Sunday Times
July 2011
Notting Hill moves to Adriatic
Nat Rothschild, the Old Etonian scion of the banking dynasty, plans to bring the bohemian spirit of Notting Hill to the Adriatic.
Porto Montenegro, a purpose-built resort for super-yachts in which he is an investor, has eschewed big designer labels, such as Gucci and Prada, and instead welcomed fashion boutiques from Westbourne Grove and Ledbury Road in west London. The move is a conscious strategy to help the Balkan destination shake off comparisons with Monte Carlo and St. Tropez, its more established and brasher rivals on the Côte d'Azur.
Lord Mandelson, a former resident of Notting Hill and friend of Rothschild, would feel at home. The former Labour cabinet minister was in Porto Montenegro last weekend, helping Rothschild celebrate his 40th birthday in a £1m three-day extravaganza. Londoners formed one of the largest contingents at the party, with other guests including Tamara Mellon, the Jimmy Choo shoe boss, and Nat's parents, Lord and Lady (Jacob) Rothschild.
The elder Rothschild is also an investor in the marina development near Tivat, Montenegro, along with Oleg Deripaska, the Russian aluminium tycoon, and Bernard Arnault, founder of the LVMH luxury conglomerate. However, none of Arnault's brands, such as Louis Vuitton, Givenchy and Fendi, has a presence at the former communist-era naval base, which is being transformed at a cost of $500m.
Peter Munk—head of Barrick, the world's largest gold-mining company and chief investor in the marina project—said independent boutiques were likely to attract a younger and more discerning clientele.
"We didn't take any of Arnault's big names: you can buy them in Bond Street," said Munk in a telephone interview from his yacht, the Golden Eagle.
"We want more individual boutique operators. [Notting Hill] is probably a good comparison. Monte Carlo and St. Tropez are a generation behind us. In Monte Carlo the average residents' age is something like 72, but this is a young resort…and the shops are for young, good-looking, swinging people. It's not for Peter Munk or Jacob Rothschild!"
More than 20 stores have taken up leases in Porto Montenegro, which has berths for 185 yachts and is sheltered by the bay of Kotor, a Unesco world heritage site.
At the start of this month they were joined by Heidi Klein, a swimwear specialist with outlets in Westbourne Grove and Sloane Square, and Wolf & Badger, which showcases new designers in a shop-cum-gallery in Ledbury Road, Notting Hill. They will open until the end of September in a three-month "pop-up" shop experiment and could become more permanent fixtures if demand remains high.
Another fashion retailer that has just opened alongside the marina is Irwin & Jordan, run by the daughter of Eddie Jordan, the former Formula One team boss.
"It was Nat Rothschild and Peter Munk's vision to recreate Notting Hill in Montenegro," said Penny Klein, co-founder of Heidi Klein. "They could have filled the place with high-end luxury brands but they wanted something different." George Graham, a co-founder of Wolf & Badger, said: "They're looking for more unique brands in much the same way that they're offering a break from the traditional Mediterranean destinations. People who go to St. Tropez are the 'Look at me' crowd but if you're going to Montenegro you want something a bit undiscovered."
Another potential draw is Montenegro's low tax rates, which the marina's owners hope will encourage people to make it their permanent base.
Nat Rothschild, who is a billionaire through his financial investments and a new mining venture, used his birthday to showcase Porto Montenegro. Up to 400 guests, including Novak Djokovic, the Wimbledon champion, and Tony Hayward, the former BP chief, enjoyed a "disco soiree" and "hangover lunch".
One of Rothschild's university friends who was not invited, however, was George Osborne, the chancellor. The pair, who went to Oxford, fell out three years ago when Osborne was revealed as the source of a Sunday Times story that reported Mandelson had "dripped pure poison" about Gordon Brown, then prime minister.