Press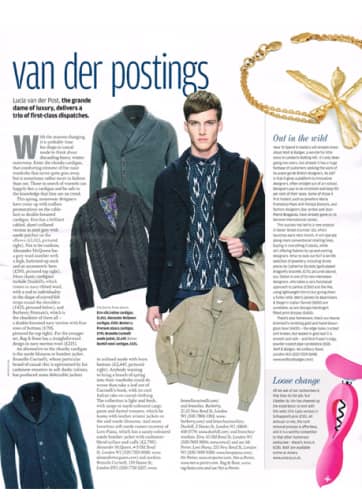 How to spend it
March 2012
Out in the Wild
How to Spend it readers will already know about Wolf & Badger, a wonderful little store in London's Notting Hill. It's only been going two years, but it already has a huge fanbase of customers seeking the work of its avant-garde British designers. Its USP is that it gives a platform to innovative designers, often straight out of art school. Designers pay to be exhibited and keep 90 per cent of their sales. Some of those it first hosted, such as jewellers Maria Francesca Pepe and Tomasz Donocik, and fashion designers Zoe Jordan and Jean-Pierre Braganza, have already gone on to become international names.
This success has led to a new outpost in Dover Street (number 32), which launches early next month. It will operate along more conventional retailing lines, buying in everything it stocks, while still offering fashion by up-and-coming designers. What to look out for? A terrific selection of jewellery, including divine pieces by Catherine Zoraida (gold-plated dragonfly bracelet, £170, pictured above). Lou Dalton is one of its new menswear designers, who takes a very functional approach to parkas (£350) and the like, using lightweight fabrics but giving them a funky twist. Men's jackets by Baartmans and Siegel in Italian flannel (£650) are covetable, as are Georgia Hardinge's fitted print dresses (£405).
There's also homeware: check out Hanne Enemark's ravishing gold and hand-blown-glass bowl (£400) - the edge looks cracked and broken, but sealed in gold leaf it is smooth and safe - and Nick Fraser's edgy, powder-coated pipe candelabra (£58).
Wolf & Badger, 46 Ledbury Road, London W11 (020-7229-5698: www.wolfandbadger.com).