Press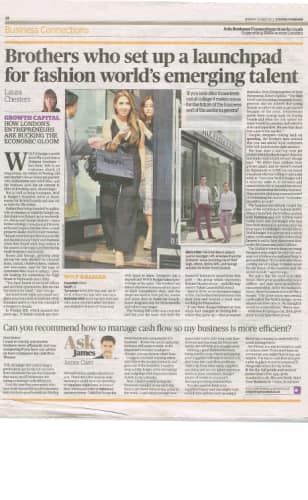 Evening Standard
July 2012
Brothers who set up a launchpad for fashion world's emerging talent
Wolf & Badger sounds more like a pub than a designer boutique — but then, this is no ordinary chain of emporiums. Its outlets in Notting Hill and Mayfair's Dover Street are popular with fashionistas and celebrities, and the business even has an outpost in über-rich holiday spot, Montenegro.
But as well as being boutiques, Wolf & Badger's branches serve as showrooms for British brands and also act as hubs for PR events.
Rather than being founded by a glitzy wife of a banker, or celebrity hanger-on, this chain was dreamt up by two brothers, Henry and George Graham — one a former strategy consultant at PricewaterhouseCoopers and the other a retail property dealer, both in their twenties. The pair were fed up with corporate life and decided to start their own business when they found what they reckon is the answer to the major problem facing small designers and brands.
Henry and George, grinning away among the rails dressed in coloured jeans, casual, crinkled shirts, trainers and moccasins, pass for the type of customers they want to attract — people looking for something the High Street or big brands don't offer.
"You have heard of serviced offices and serviced apartments. But no one has done it for retail," says George.
Serviced retail might not sound very glamorous but a look around one of the branches and it is clear the concept is a designer's dream.
In Notting Hill, which opened two years ago, 71 British brands get their own space to shine. Designers pay a deposit and Wolf & Badger takes a percentage of the sales. The brothers are able to dispense business advice based on their consultancy days, and the shops are used to host parties, events and press days to build the brands. Some designers stay for three months and others stay longer.
The Notting Hill outlet was a success and last year the team won both the Brand of Tomorrow award from Walpole — the group which represents Britain's luxury sector — and Elle magazine's Talent Launch Pad award.
Back in 2009, as the downturn began to bite, the brothers became bored with their jobs and wanted a fresh start working for themselves.
It was their disappointment at how shops had changed in Notting Hill — where they grew up — that prompted their idea. Now, living together in West Hampstead, Henry explains: "The High Street was becoming completely homogeneous and we noticed that young brands wouldn't be able to get started because of the costs. Department stores were cutting back on buying brands and often the only option for some would be a market stall which is risky and expensive. We saw that there was a gap in the market."
Despite shoppers cutting back on spending, the brothers have noticed that you can attract loyal customers who will spend on the right product.
But how does a start-up even get started when landlords expect deposits and banks want a track record? George says: "We didn't have millions from private equity and we weren't owned by Richemont or LVMH but we found a landlord who was willing to take a risk with us." Last year Wolf & Badger sold a minority stake to 12 investors and raised £800,000 to expand into Dover Street and develop the online business. They are now planning a second round of fundraising this autumn "to accelerate online growth".
The business has already caught the eye of the established fashion world. When it launched, the brothers worked with husband-and-wife fashion team Samir Ceric and Zoe Knight who had been instrumental in opening a pop-up shop space in Selfridges. But the key to Wolf & Badger is to spot up-and-coming talent, in the same way the clothes shop Browns is said to have discovered Alexander McQueen and John Galliano.
The Grahams want to focus on young designers who might be only two seasons out of university and need help to get established. "If you look after those coming out of college it makes sense for the future of the business and the sector overall," says George.
The pair's flair for retail is in their blood. Their great-grandmother was a milliner and their great-grandfather ran a sweet shop. As for the business's name, there's a reason it sounds like a boozer. "Our great-uncle once owned a pub called The Wolf & Badger, so we named our store after it. We thought it would be a nice tribute," Henry says.
With how it's going so far, their great uncle would have been proud. Wolf & Badger
Founded: 2009
Staff: 15
Turnover: £400,000 last year, set to hit £1 million this year with new store
Business idol: Lucia Van Der Post and John Ayton (mentors when the team won Walpole's Brands of Tomorrow)