Press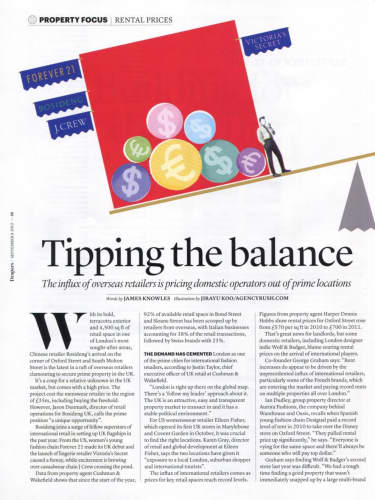 Drapers
September 2012
Tipping the balance

The influx of overseas retailers is pricing domestic operators out of prime locations.
The influx of international retailers comes as prices for key retail spaces reach record levels. Figures from property agent Harper Dennis Hobbs show rental prices for Oxford Street rose from £570 per sq ft in 2010 to £700 in 2011.
That's great news for landlords, but some domestic retailers, including London designer indie Wolf & Badger, blame soaring rental prices on the arrival of international players.
Co-founder George Graham says: "Rent increases do appear to be driven by the unprecedented influx of international retailers, particularly some of the French brands, which are entering the market and paying record rents on multiple properties all over London."
Graham says finding Wolf & Badger's second store last year was difficult. "We had a tough time finding a good property that wasn't immediately snapped up by a large multi-brand retailer from overseas at a ludicrous rent. Luckily we ended up with our perfect property [on Dover Street], but it took almost a year."