Press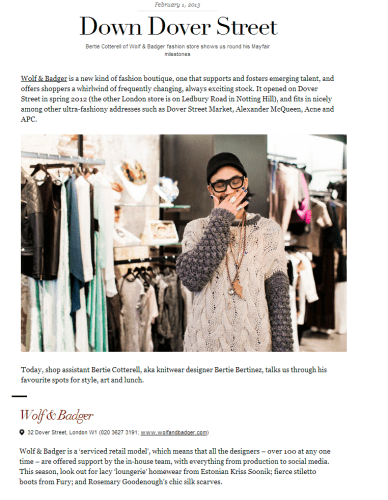 Editer
February 2013
Down Dover Street
February 1, 2013
Bertie Cotterell of Wolf & Badger fashion store shows us round his Mayfair milestones
Wolf & Badger is a new kind of fashion boutique, one that supports and fosters emerging talent, and offers shoppers a whirlwind of frequently changing, always exciting stock. It opened on Dover Street in spring 2012 (the other London store is on Ledbury Road in Notting Hill), and fits in nicely among other ultra-fashiony addresses such as Dover Street Market, Alexander McQueen, Acne and APC.
Today, shop assistant Bertie Cotterell, aka knitwear designer Bertie Bertinez, talks us through his favourite spots for style, art and lunch.
Acne
I came late to Acne design – it wasn't until I first went to Sweden that the brand entered my consciousness. Though a lot of their clothes are too small for me, I do love the look, and the store is amazing. I like its unusual narrow shape, and the top floor with its arty displays. It's always great for inspiration.
Alloro
I just love to eat… and the food is so delicious at this smart Italian, I want to eat everything on the menu, with a glass of barolo. The venison is the best ever; it melts in the mouth.
Le Petit Café
There are daily queues out of the door here, which can mean only one thing: this is the best lunch spot in Mayfair. Whether it's a salt beef sandwich or the freshest salad with the tastiest tomatoes in town, you're onto a winner.
Sprüth Magers Gallery
The place is a legend, and that's for a reason. It exhibits brilliant, compelling work by the best contemporary artists. It's a place where my friends and I visit for some intense inspiration, before sitting down for a coffee to discuss in detail.
Wolf & Badger
Wolf & Badger is a 'serviced retail model', which means that all the designers – over 100 at any one time – are offered support by the in-house team, with everything from production to social media. This season, look out for lacy 'loungerie' homewear from Estonian Kriss Soonik; fierce stiletto boots from Fury; and Rosemary Goodenough's chic silk scarves.