BotanyBlend is an organic skincare brand, with all products proudly handcrafted in small batches by the sea in Devon, United Kingdom. Each blend is developed to give vitality to the skin and indulge the senses. The collection, developed by Aromatherapist Katie Paige encompasses her attention to detail, love for the environment and passion for skincare. We spent 5 minutes with Katie to discover the inspiration behind the brand.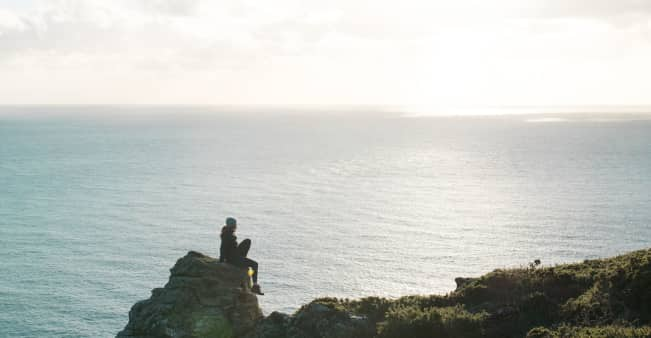 How did BotanyBlend begin? 
I have worked as a therapy based health professional for several years, it was this that sparked my interest in aromatherapy. I specialise in sensory integration, a branch of neuroscience concerned with how the brain processes sensations, such as touch and smell. While studying my first masters module in this I became aware of the therapeutic benefits of essential oils, this led me to study aromatherapy and product formulation. I wanted to harness the synergistic properties of essential oils from a sensory and medicinal perspective for products I was developing for personal use. I had some success and I knew other people would benefit from them too. I found my health background gave me a strong foundation for developing beauty range and Botanyblend evolved from there. Luckily, my husband is a fantastic web developer and designer and he had a real interest in co-developing the brand. We live in a rural part of Devon on the coast, it is a magical place and
we wanted to bring some of that magic to people via Botanyblend. We made it our mission to develop organic botanical delights, handmade from sustainable, fairly-traded resources and to use this as a platform to raise awareness for environmental causes such as global warming and plastics in the oceans.
Have you always been interested in the beauty industry?
YES! Even as a child I was obsessed with products, I loved the exotic ingredients, I thought they were fascinating. I would read the label of every product in the bathroom. I was always curious to know how ingredients worked, and where they came from. My sense of smell is quite acute too, 
I seek out scents all the time and I love going to friends' houses and snooping through all the products in their bathrooms!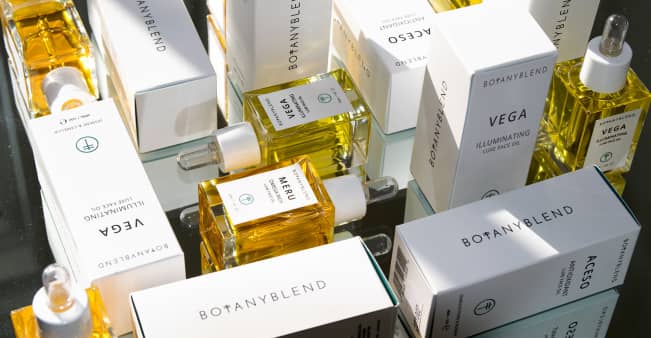 How did you begin to develop your products?

For many years I have had problems with my own skin, often resistant to mainstream products, and as a result I became interested in studying product formulation. I started by blending face oils in my spare time, I found they really worked for me. Since those early days I've made hundreds 
of different products and I've tested them, listened to people's feedback, and adapted them. Because of my background, I'm driven to make products which are effective and evidence-based. I research all of my products thoroughly, until I come up with the right formulations. I then send them to be safety tested with reputable chemists. I'm really proud of the range and the feedback we've had. The face oils alone took me over two years to develop. I searched the world for the best ingredients, then found reputable British suppliers of those ingredients who share the same values as us. We now have a small office and lab where all the magic happens, it's amazing to see how far we've come in such a short space of time.
What have been the highest and lowest points on your journey so far?
The highs have been incredible, I literally have to pinch myself sometimes. Landing our first independent retailer Bibi and Mac in Salcombe was an incredible high, we're so grateful for that. I've found developing a brand is both exciting and scary, a lot depends on you and you truly put yourself on the line. I make mistakes all the time and I expect in the future I'm going to make lots more. I try to reflect on everything that goes wrong and see it as a learning opportunity.
How would you describe your customer base?
Our customers love beautiful things and appreciate quality. They are conscious ethical shoppers, they want to see brands doing more to give back. They love to discover new things, and definitely pioneer new trends rather than follow the crowd.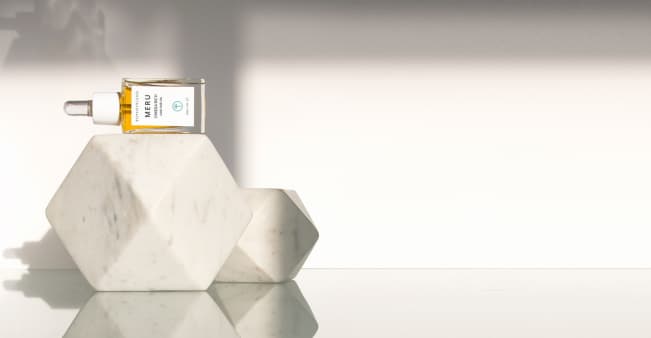 What do you do when you are feeling uninspired?
I like to get outside in the fresh air and have a good stomp in the countryside with my dog Woods. Sometimes I go down to the beach, swim in the sea, relax in the sand and do nothing as my best ideas often come when I'm just being still.
What is your evening skincare routine?
I keep my skincare very simple, less is certainly more with my skin. I use the Amazing Face Cleanser and Bitter Orange Astringent Toner by Aesop, followed by a few drops of Vega, our twilight face oil for luminous glow. I interchange this with Meru, our omega-rich face oil. I tend to use Meru when my skin is misbehaving because it's great for blemishes. I love the Elemental Herbology Detox face mask too, I try and use this biweekly.
What's different about your products?
We are green beauty with a dash of luxury. Each product has a story. They are British, organic, sustainable, fairtrade, and the aromas really move people, providing a moment of total escape. So much time has been taken to make sure each one is just right. We make our products in small batches to ensure they are as fresh and as nutrient dense as possible.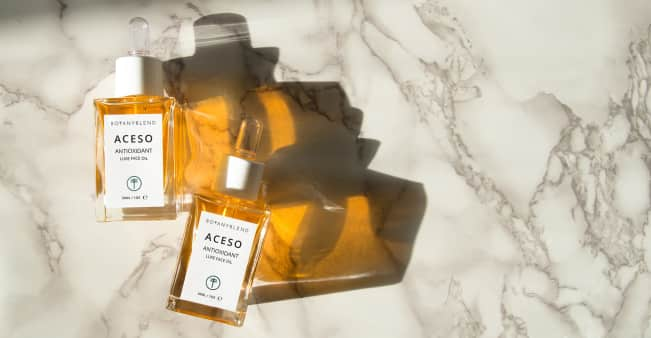 Why is using natural/organic ingredients in your products so important to you?
By using organic we know we are minimising the of use chemicals and pollution, working with natural systems not against them, and contributing to building better soil fertility. In the beauty industry, there is frequent use of additional ingredients, which can be harmful to the skin and environment. It is important to us that we move away from that. There is a real movement into using natural, organic products right now and it is really exciting to be part of that.
What is your go-to product from your range?
I interchange between all three, depending on my skin condition at the time. But, if I had to choose... Meru has always got my back! I originally developed Meru for myself, and now it is my best seller. 
Do you have a mentor?
Not one but many! We're lucky because there are a lot of people that have developed successful brands where we live. We regularly consult with them, and seek their advice and guidance and apply this to Botanyblend.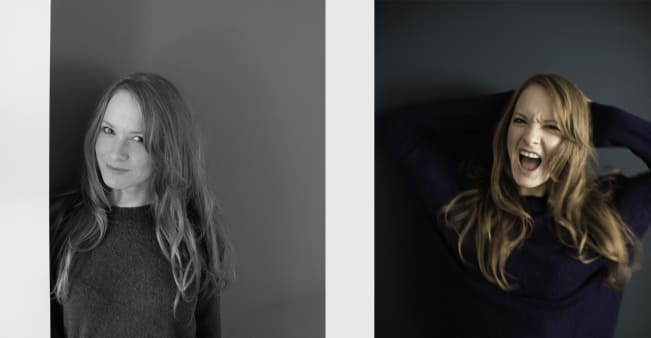 Is there another brand whose work you particularly admire?
I'm inspired by so many brands, especially all the incredible indie beauty brands out there. However, if I had to choose it would be clothing brand Finisterre. I love their causes, they value people and the environment, they are innovative and do their best to make products using environmentally sustainable materials.
What drew you to Wolf & Badger?
I've always loved Wolf & Badger it's such an inspirational platform for emerging brands. It was an honour to be selected and we're thrilled to see our products on the Wolf & Badger website and in the Notting Hill store.
What's next for your brand?
We have more products in the pipeline which we are really excited about. We are still a very young brand and have so many ideas and plans, we are enjoying every moment as it comes right now.
I can't wait for the day we can start supporting some really deserving and interesting causes by making beautiful things.