Emile Vidal Carr
is a tenacious designer creating highly engineered womenswear. The brand was formally founded in 2013 after a 5 year career in high street, then an equal number of years working with some of the worlds most prestigious fashion houses such as Alexander McQueen, Roland Mouret, Peter Pilotto and Kanye West.  We spent 5 minutes with Emile to get an insight inside the brand...
How did your career begin?
My career in fashion spans 13 years. From a young age I grew up in a house seeing my mum sew for various clients, but it wasn't until I got to the age of 17 that I took any interest. I was accepted onto a course at London College of Fashion and after graduating I set up a high street company selling to Topshop and ASOS. I also spent a short time providing fashion courses to London Housing Associations for their residents who were NEET's (Not in Education, Employment or Training).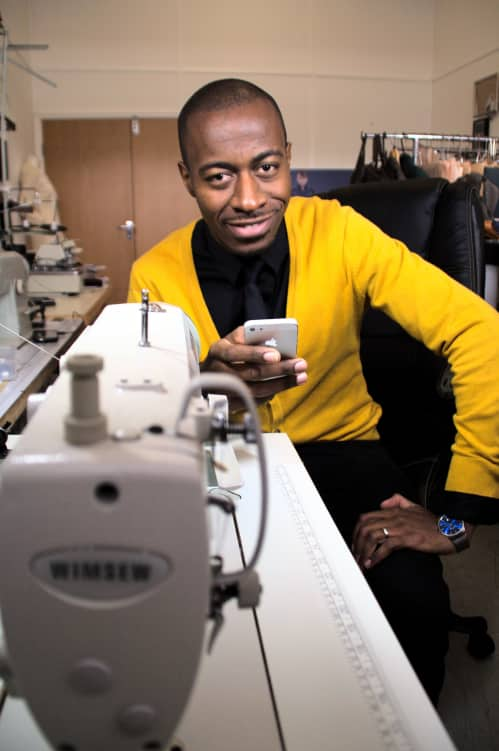 Have you always been interested in fashion?
No, I originally wanted to go into a career in music, however I stumbled across fashion in my late teens and fell in love with it.
What have been the highest and lowest points on your journey so far?
The lowest point was when I lost my first company as a result of the recession in 2009. My highest point was doing New York fashion week in 2008. I had recently graduated so it was a great boost to my career.
What was the inspiration behind your latest collection?
I love architecture and structure. I'm also a major fan of Viktor & Rolf. Those three things have inspired me in this collection and previous collections. I love strong colors so this was also a heavy feature in the collection.
Do you ever struggle to stay inspired?
I never struggle to stay inspired. There are so many rich things to be inspired by especially living in a city as great as London. However I do struggle trying to channel my inspiration into a cohesive concept.
Where is your go-to meeting spot?
Our office overlooks the river Thames so it's a great place to nurture creativity. I simply have to take short breaks by the river banks to collect my thoughts.
How would you describe your customer base?
Our customer base is definitely the professional female. She is driven but considerate. Ambitious but social. Logical and a leader.
Is there anyone you would love to see wearing your designs?
I'd love to have Kate Middleton wear one of our dresses. I have actually designed a couple with her specificly in mind. Also Karen Brady and Kerry Washington.
What are the morals you run your brand by?
As a brand we make regular donations to the A21 Charity which primarily aims to stop human trafficking around the world. We also make all of our garments in the UK. All of our staff are paid the London living wage. We are also about to embark on a mentorship scheme with the London College of Fashion Alumni which will see us supporting fashion undergraduates.
Do you have a mentor?
Yes, I have a business mentor and a life mentor. They are both very strong individuals who have advised be in times of difficulty.
What apps keep you sane?
My wife keeps me sane. Also playing on computer games and going on regular holidays.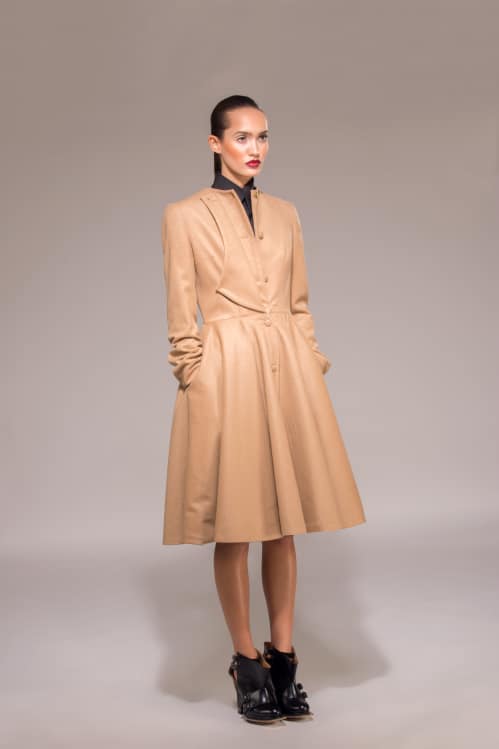 If you could only wear one piece from your collection, what would it be and why?
That's a funny question as I design women's clothes but my favourite piece is our multicoloured brocade jacket that has a backless feature.
Is there another designer whose work you particularly admire?
I love, love, love Viktor & Rolf and Alexander McQueen, so it was a bonus being asked to work on those technical teams.
What drew you to Wolf & Badger?
W&B have built up a reputation of prestige. Many of the brands that I see as competition have been in Wolf & Badger at some point, so I saw it only good to target them as a stockist even though we were turned down twice before we got the thumbs up.
Where do you see the brand in 5 years?
The aim is for the brand to achieve 50 international stockists and then we will focus upon opening up a london Flagship store.