Whistle + Bango is a British jewelry company, founded in London in 2013. Their mission is to create statement jewelry that stands the test of time, be that in its distinctive style, its enduring quality or in its sentiment. Each design is their own, materials are expertly sourced and each piece is bespoke, made by hand in London using a distinctive embossing method. To create the unique jewelry, it takes patience, precision and ample time. There are no shortcuts. And thus, you will never find a style like Whistle + Bango anywhere on the high street. From their Postcode Bangles that celebrate a home to the Personalised Signature Range that allows customers to get creative, their Men's and Women's jewelry makes for the ultimate luxury keepsake.
We sat down with Rosie, the founder for a quick catch up.
How did Whistle + Bango begin?
Whistle + Bango became famous for our unique range of London Postcode Bangles, designed to celebrate the city it was founded in. We now offer have a larger range of personalised enamel jewelry for Men and Women, hand-made in London and shipped worldwide, loved by celebrities all over the globe.
Since 2013 we have been on a mission to create jewelry that stands the test of time, be that in its timeless style, its enduring quality or in its sentiment. When our London Postcode Bangles took off in the first 12 months of the brands life, we began designing a wider range of personalized enamel pieces including the Men's signature Cuff, the Barrel Roll Necklace and range of Alphabet Bangles. Their statement yet timeless designs are created with the finest enamel and 18ct gold or silver plating, ensuring high quality that lasts. The statement design and high quality have attracted worldwide press from Tatler, Elle, Baby London, GQ, Daily Mail, Stylist and Woman and Home as well as being a favourite of Carole Middleton's.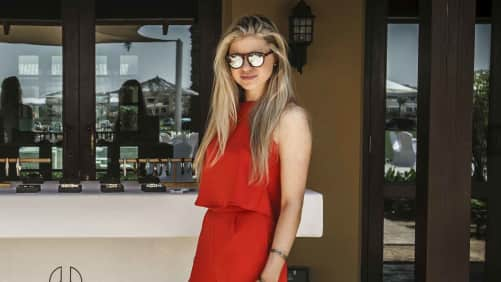 Have you always been interested in fashion?
Yes absolutely. Myself as the Founder have always had a creative flare. All of my life I have enjoyed painting, sketching and textiles whist always being covered in jewelry, particularly bangles.  Designing relaxes me and the challenge to get my jewelry just right is a thrill.
What have been the highest and lowest points on your journey so far?
The high has been having Carole Middleton as a fan of my Signature Bangle plus being listed as a gifting partner to British Polo Day – I am a huge fan of Polo so this was the perfect match for me.
A low point was one Christmas when I had sold out of my best selling Cream Signature Bangles and I couldn't make a new batch on time due to the demand in other orders. It meant that there were lots of people unable to gift the item they wanted to gift to their loved ones  – it was very sad but most of them came back to me and gifted for a birthday instead which was nice.
What was the inspiration behind your latest collection?
The ambition of my latest pieces, the Slimline Cuffs were to be simple, striking and timeless in design.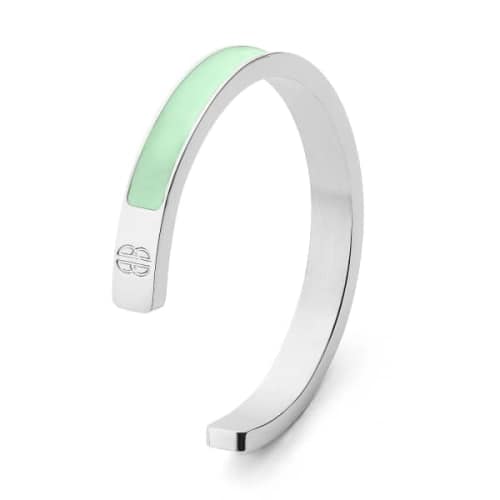 Do you ever struggle to stay inspired?
With access to so many wonderful places in London such as museums, galleries, markets and fashion houses, you can never run dry of ideas. When I get out and about, I come home full of ideas which I then cherry pick to prioritise.
Where is your go-to meeting spot?
I always go to The Hoxton. Great coffee, delicious food and everyone is very chilled out.
How would you describe your customer base?
They're sentimental hence the love for personalised jewelry and confident – you have to be to wear your initials or name on a piece of jewelry.
Is there anyone you would love to see wearing your designs?
I would love to see Kate Middleton in a bangle, she is classy, elegant and has a faultless style. I think she'd suit the Grey and Gold Signature Bangle.  
What are the morals you run your brand by?
Firstly, my customers are my number one priority, I will bend over backwards to ensure they get what they would like, when they would like.
Secondly, quality is paramount. I will never be a brand that sells poor quality product that leaves a customer at a loss after a short time using it.
Thirdly, designs must be my own. I will not copy others and I believe in karma – hopefully in turn people won't make fake Whistle + Bango's either!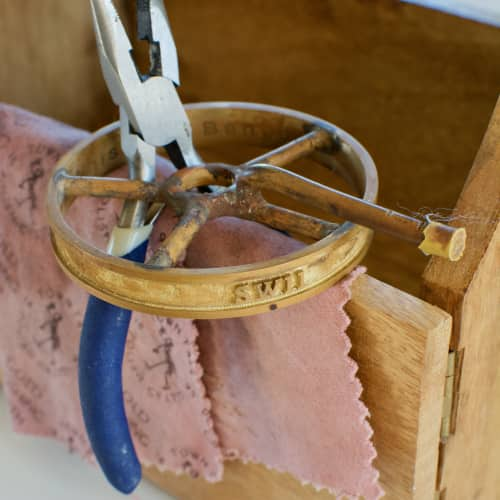 Do you have a mentor?
I have two mentors but I cannot tell you who they are unfortunately.
What apps keep you sane?
Preview to run my Instagram.
Pure to run my online chat service.
Pages to manage facebook and Instagram.
Uber for when I am late to meetings!
If you could only wear one piece from your collection, what would it be and why?
My Barrel Roll Necklace embossed with 2018 – this is an important year for me so I want to be reminded of my goals each time I look at it.  I am also proud of the Barrel Roll Necklace design.


What's the biggest style mistake you've ever made?
Cutting corners. Employ people you trust and get things done properly. Short term gains are useless.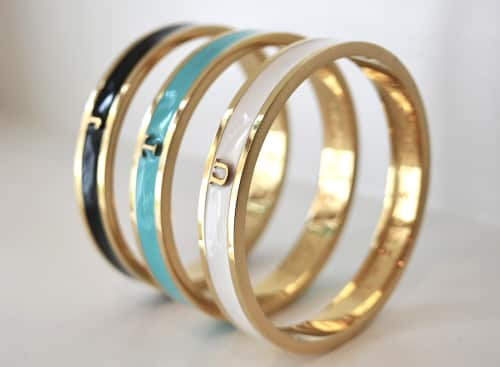 Is there another designer whose work you particularly admire?
Yes, there is a jewelry and bag brand called Monocrafft set up by Merrel Westhoff – I am obsessed with her style and authenticity.
What's the best piece of advice you've ever been given?
Don't stress about the small things.
What drew you to Wolf & Badger?
People come to W&B to discover new brands and new products, meaning they are open minded and looking to be influenced. My jewelry is not mainstream so W&Bs customers are ideal for me. Creative types with style.
Where do you see the brand in 5 years?
I am currently setting up a sister brand filled with new designs, watch out for it's launch! In 5 years I will be running the brands in tandem, I would like 2 or 3 little shops to showcase my jewelry, outside of London in upmarket towns.