Mother-daughter trio Becky, Amina and Rosanna Aranaz are the creative forces behind ARANAZ, a brand which began in Manila, Philippines about 15 years ago. We spoke to Amina, the designer to find out the story behind the brand.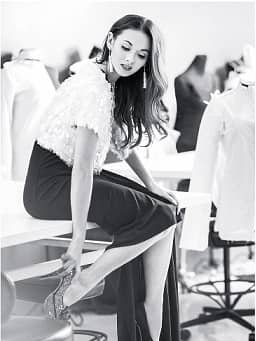 Our mother owns a handbag manufacturing and export company of over 30 years, so we grew up with her factory as our playground. As I got older, I started to dabble more in design and starting dreaming of creating our own namesake brand. Soon after, we created our own label - ARANAZ. Yet we only began introducing our brand to the international market in Spring 2013. As a global brand, I would say that ARANAZ is only a year old.
I was designing informally with no formal design training while I was in University. Which is also when we started the brand and would sell through annual Christmas trunk shows. I then moved to Milan, Italy to take an Accessories Design program at Istituto Marangoni. Upon my return, we opened our first stand alone boutique and received invitations to open shops in 3 of Manila's most premium shopping establishments. This signalled our evolution from a small "hobby" to a legitimate Philippine fashion brand.
I also collaborate immensely with eco-ethical brand Rags2Riches and design co-branded collections for them. Apart from my design work, I am very active in the field of design education. I co-founded the Philippines first specialized design school, SoFA Design Institute (www.sofa.edu.ph).
The past year has been very fortunate for the ARANAZ brand as we began our initial expansion outside the Philippine market: we were awarded with the Best in Fashion Accessories award at the Fashion Access show in Hong Kong, ARANAZ is now available in about 6 countries, we've also spotted a couple of notable international personalities wearing our pieces such as a necklace I designed for Rags2Riches was seen on Amal Alamuddin and several of our clutches have been worn by the Queen Mathilde of Belgium.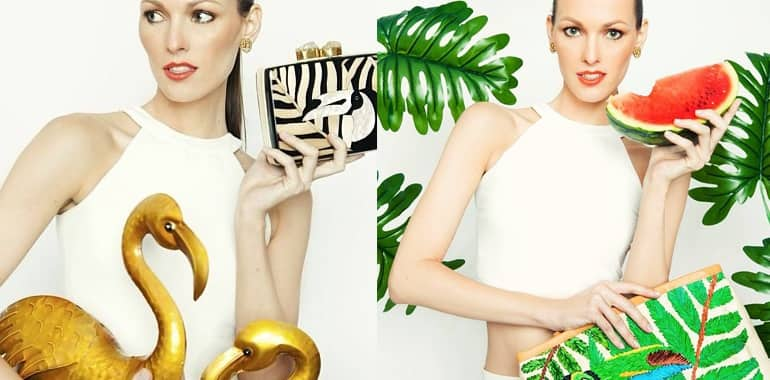 ARANAZ SS14
What have been the highest and lowest points on your journey so far?
Highest: Our first international wholesale order and seeing the Queen Mathilde of Belgium wearing our clutches! It was surreal! Never in my wildest dreams did I ever think that our pieces would be worn by royalty.
Lowest: Being a Filipino designer based in the Philippines is not easy. There are many challenges for us to be able to penetrate the international market. But with patience and perseverance it is possible.
How would you describe your customer base?
We cater to women who are well travelled and appreciative of other cultures. They are women who understand and appreciate the uniqueness and beauty of handcrafted artisan pieces utilising natural materials. Our pieces are everyday luxuries because nothing is mass produced.
What are the morals you run your brand by?
We love all things artisan and handmade. Each piece gives one a form of escape and luxury. Also, our culture is rich in local crafts, we make it our mission to help develop and sustain them through design. We aim to make Filipino crafts and natural materials relevant to the modern woman's lifestyle and sense of dressing.
Who is your mentor?
My mother Becky Aranaz. She's been in the bag business for over 30 years and has worked with countless International brands as a result. Her knowledge and experience especially when it comes to production is valuable.
What inspires you?
Many things, but nature always seems to be a constant source. You will always find hints of it in my designs.
What building holds the most sentiment for you?
My apartment building when I was studying in Milan Italy, because it reminds me of a time that I first immersed myself into the mad world of design. I always go back to those sleepless nights I spent with just me and my creative fantasies.
What is your most treasured possession?
Sadly my iPhone. It's my lifeline. It allows me to capture moments with my family and friends, outbursts of inspiration, or random ideas. When an idea strikes, sometimes ill send an email to myself or a text message to my sister, Rosanna, who has become my creative bouncing board.
What motto do you live your life by?
DREAM BIG. WORK HARDER.
How do you keep your body and mind healthy?
By going to the beach. I love the tropical life. Living in Manila, it is easy to get my sun, sea and sand fix.
Where do you see the brand in five years?
Hopefully stocked in more major department stores and boutiques globally and recognized as a global fashion brand.
What drew you to Wolf & Badger?
Being a brand operating from Asia. Wolf & Badger has a great store concept, a good mix of merchandise and it understands the needs of young brands. It makes being in a premium international retail location accessible.
What one thing would make your life better?
If I had a magic prototyping/production machine that could seamlessly and perfectly create anything I dream of in a snap.
ARANAZ is available online and in our Mayfair store.