Charlotte Hudders was born and raised in Lancashire England, where she grew up in a very creative family of artists and musicians. She studied BA in costume and set design at Paul McCartney's Liverpool Institute for Performing Arts. She began to create her own label in Bali Indonesia, where she spent some time working as a print designer, and drawing inspirations from the local culture and the natural environment. Charlotte's debut collection showcases her ideas on exclusive fashion accessories through her visual perception - 'All Things Bright and Beautiful'. Her wide range of silk scarves were made in the region of the famous lake Como, Italy.
 - Can you give us a bit of background on your brand, when you started it and why?
After studying costume and set design I worked freelance creating unique fashion and costume pieces for clients as well as painting commisions. An opportunity in Bali took me to work as a print designer for the clothing label Motel. I also travelled to India whilst being away. I developed my collection 'All Things Bright and Beautiful' during my Eastern adventures. I like to call it 'Art To Be worn'. I treat the silk like a blank canvas, enabling me to combine my passion for painting, drawing and fashion.
I'm currently based in Lancashire and will be moving to London in the summer. Some photos from my latest editorial shoot, I'm modelling my collection at Blackpool North Pier…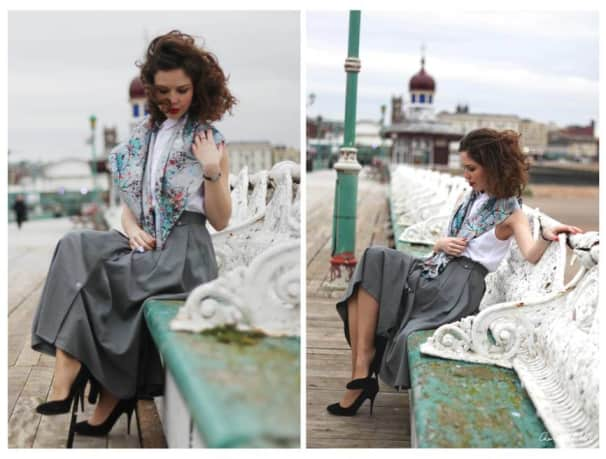 - What inspires  your work?
Travel, culture, nature and personal treasures.
 - What is the most difficult aspect of running your own label?
Book keeping, calculations. I think in pictures not numbers!
 - Which part of the creative process do you enjoy most, and least?
I love the early stages of creating something new. Exploring and discovering new ideas and techniques. It is very rewarding when you feel you are developing something that you are really pleased with. I am a perfectionist with my artwork, it takes time for me to realise something is finished. I have to step away from the work for a while otherwise I start to get square eyes.
 - Is music important in your working day, what is on repeat at the moment?
Yes absolutely, it's an essential ingredient to motivate and inspire. I've been listening to a lot of David Bowie recently, what a legend! I need to get his new album downloaded.
Life on Mars?…

http://www.youtube.com/watch?v=v--IqqusnNQ
 - If you had a chance to do it all again, what advice would you give to a younger you?
My A Levels were all creative subjects. In retrospect, I think Business Studies would have been a very useful subject to take. Apart from that, keep calm and carry on!
 - What is your guilty pleasure?
Hmmm Walter. The new little puppy in my life. He's sporting the Blossom . Peachy scarf in this pic. It's not so guilty really!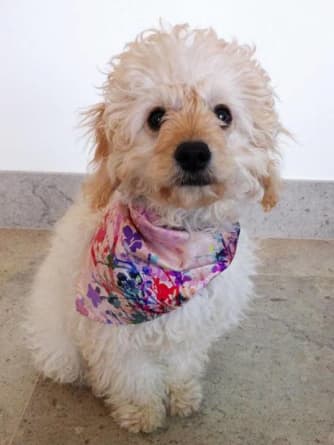 - Where is your favourite city/place?
I have a big soft spot for Bali. I have been travelling there for 12 years now. My brother has been living there for that time and has a family there. A beautiful part of the world, with wonderful people and cultural values. A truly inspiring place to be for creative people.

 - Who inspires you?
Many different people from my family and friends to the people I have met on my travels.
 - Wolf or Badger?
It has to be Badger. In my final year at university I designed the costumes for the stage production of The Wind in the Willows. I loved Badger's character!