Gabriel Vielma, a Chile born designer studied and worked as an industrial designer in Europe. Having learnt the aspects of fashion design and construction through courses in Madrid and  in London, Gabriel decided to create clothes that matched the shapes, colors, textures and movements that he visualized.
-  What inspires  your work?
Where I am and how I feel. For example, my new AW 2013 collection, Polar Dreams, was inspired by a typical London winter. I like to convert everyday experiences and everyday things into something poetic and romantic.
- What is the most difficult aspect of running your own label?
The business side. Creating beautiful designs is hard work but something I can control myself. Turning those designs into production and sales needs a whole separate structure.
 - Which part of the creative process do you enjoy most, and least?
The best part is when I'm reaching for those first ideas and inspiration, thinking about colors, textures, and shapes. Or just as good is when I've finished my samples and get to organize a team for the photo shoot. Honestly, there's no part of the creative process I don't enjoy.
- Is music important in your working day, what is on repeat at the moment?
Music is always important and always changing. Right now it's Hercules And Love Affair I Can't Wait
http://www.youtube.com/watch?v=xjRG99lfFXU
- If you had a chance to do it all again, what advice would you give to a younger you?
Just keep going. There are good times and bad times. You fall over, you get up, you keep going.
- What is your guilty pleasure?
My dog and my rabbit with moustache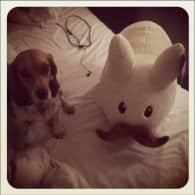 - Where is your favourite city/place?
The cities of my dreams.
- Who inspires you?
It's a Secret
- Wolf or Badger?
In my studio always Wolf. Outside more Badger.